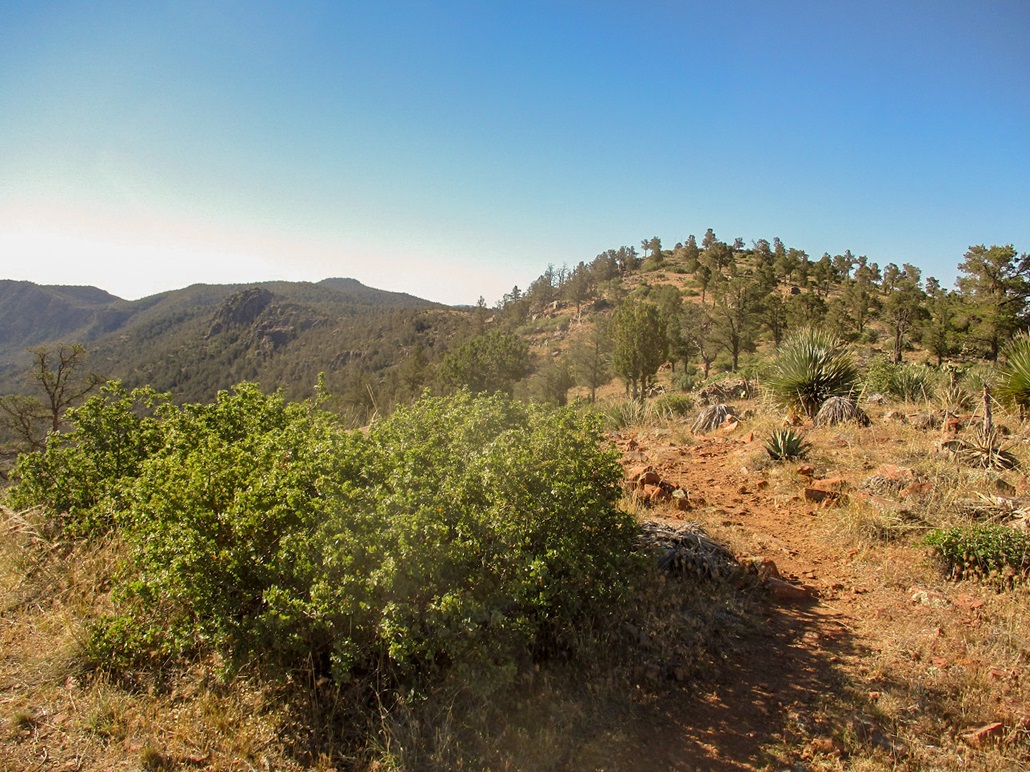 Peak 5446 up ahead, Gibson Peak in the distance.
&nbsp


Peak 5446's top.
&nbsp


Descending from Peak 5446, Peak 5502 is to the left, Gibson in the distance.
&nbsp


Peak 5502 from the south.
&nbsp


Gibson Peak.
&nbsp


Peak 5502 in front, Peak 5446 in back.
&nbsp


Top of Peak 5502.
&nbsp


Peak 5502 from the north.
&nbsp


Reascending Peak 5446.


All images
• • •

The Arizona
Mountains Gazetteer
Click to find out more!
Stewart Ridge
Peak 5446 • Peak 5502 • Point 5640
The Stewart Ridge has one end at the south end of Payson, and runs generally southeast, overlooking the Stewart Pocket and its jumbly rock formations. There are two small peaklets on this ridge: Peak 5446 comes first and happens to be the highest point within Payson's city limits, and Peak 5502 is a rockier outcrop about a mile to the southeast.
My hopeful goal was Gibson Peak, which lies south of Peak 5502. I was able to follow a fence line and elk paths (and occasional human paths and cairns) for another mile in the forest, but gave up when the brush became too thick, about a half-mile short of the summit.
Peak 5446

• Highpoint: City of Payson
• Gila County

Date: May 18, 2020 • Elevation: 5,446 feet • Prominence: 106 feet • Distance: 6 miles total • Time: 3 hours total • Gain: 1,300 feet (gross) • Conditions: Warm and sunny
Arizona • Main • PB • City HPs of Maricopa County
I parked at the Round Valley Trailhead on Gibson Court Road. This is an area of big homes, but there is room for a few vehicles near the let-in point. I was hiking at 8 a.m., heading uphill to where the trail topped out at a saddle. The main Round Valley Trail continues south from here. Another trail angles left (east), heading uphill through sparse forest with moderate brush. I met a man here walking his dog and we had a short chat. He was familiar with the area, and offered me good information
I headed up the hill, the trail bending to the southeast. It wastes no time and leads directly to the top of Peak 5446. I was here in about 20 minutes since starting, covering about a mile. The views were excellent, and soon, the man and his dog arrived. This was as far as they were going. We had another quick talk and I soon departed, heading southeast on the trail.
The trail drops about 120 feet across a large meadow (an old burn). It stays generally east of a fence line, then crosses through an opening at the lowpoint. I soon came upon the base of the rockys of Peak 5502.
Peak 5502

• Tonto National Forest
• Gila County

Elevation: 5,502 feet • Prominence: 122 feet • Distance: on the way • Time: on the way • Gain: included in above
The rocks lie back and offer many option to ascend. I followed what seemed like logical lines and always found a way through, a mix of slopes, ramps and easy scrambles where I only needed hands briefly. I was soon on top of Peak 5502, which was rocky and open, also with great views down into the Stewart Pocket.
I descended off the south slopes, soon off the rocks and back on ground. I found the fence again and started following it southbound. The forest closes in fast and the fence would be a vital navigational tool.
I gained about 200 feet through manzanita, keeping to paths whenever I could. I was on top of a soft summit, elevation 5,680 feet. I descended about 50 feet then up more hill, now a little north of Hill 5724 shown on the map. I was about at the 5,640-foot contour to the north.
The fence ended here. It was brushy, but with some care, I was able to glean paths in the forest and undergrowth. I found cairns, and sometimes the path would open up for a hundred feet, but invariably I ran into heavy brush. It was warm now and I was concerned about snakes, and not really enjoying the heavy brush. Thus, I called it here and chose to turn back.
I hiked out the same way, reascending both Peaks 5502 and 5446 as I exited. I used this chance for better photographs. I was back to my car at 10:30, a total journey of 3 hours and about 6 miles of hiking, plus more new scratches on my legs.
I was not disappointed to miss out on Gibson Peak. The way I came is viable but probably better hiked when it's cooler and the brush not so heavy. I should have brought along my GPS with a summit waypoint. However, the peaks along the way were lovely and worth the hike on its own, and I had an enjoyable time.