Peak 5180 rises behind a tank
&nbsp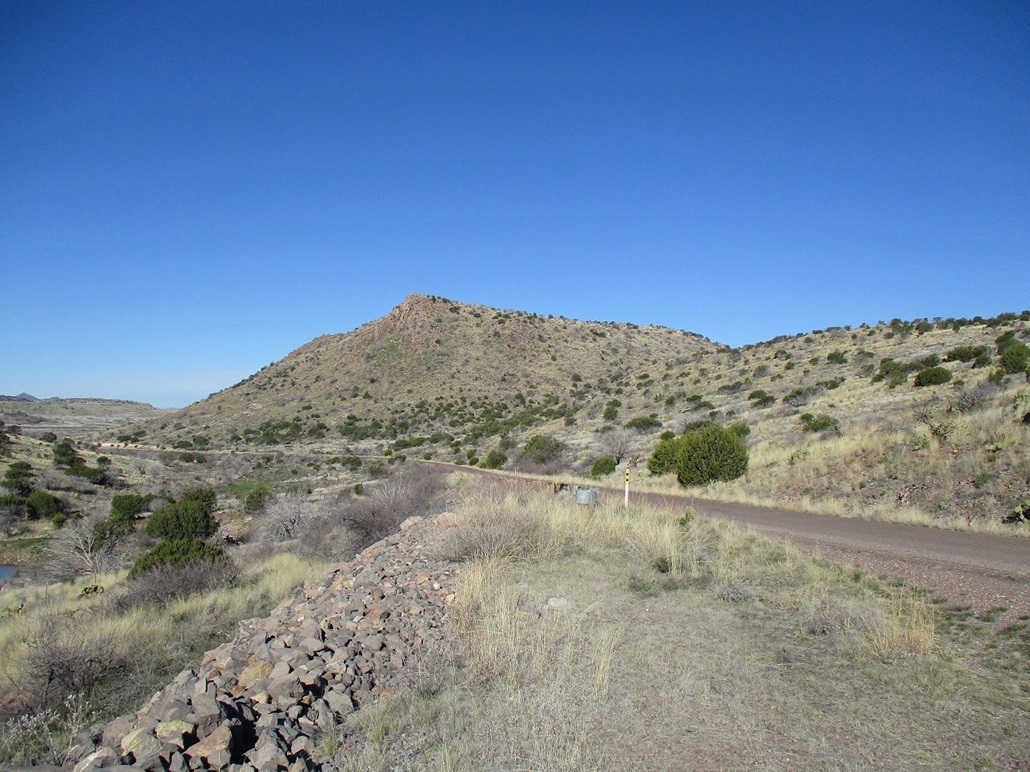 A little closer now
&nbsp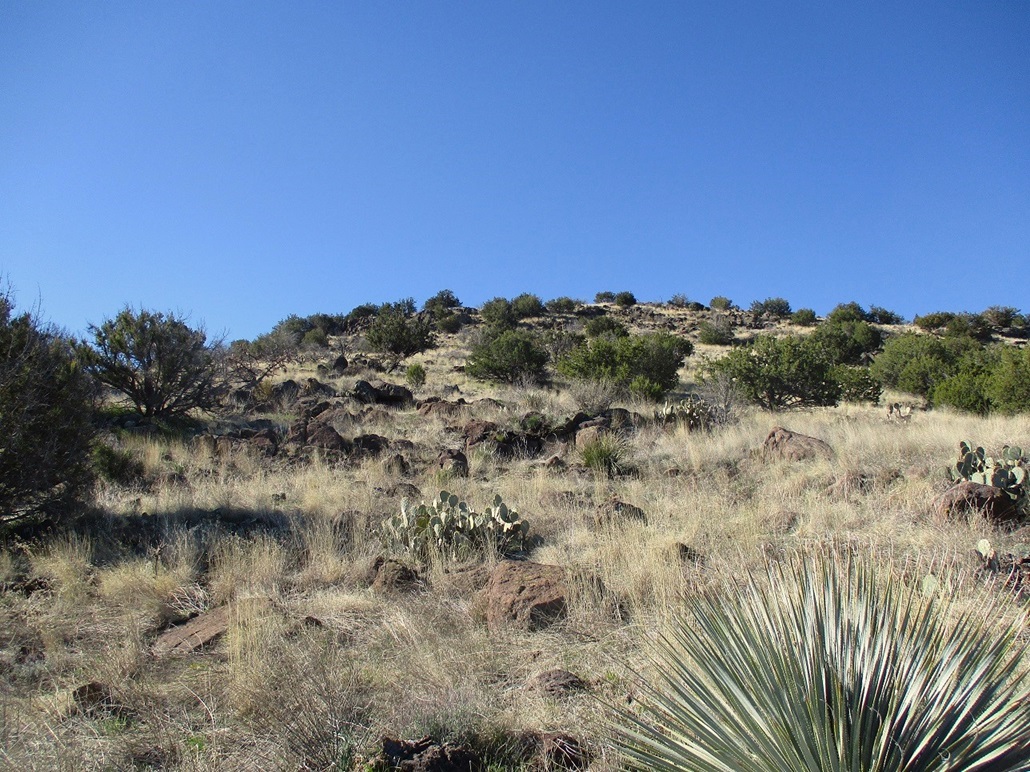 Now on the main uphill portion
&nbsp


The highpoint is slightly behind the left cliff
&nbsp


The actual summit
&nbsp


Look down from where I came, the tank is visible, my car is a speck near the road above the muddy tank
&nbsp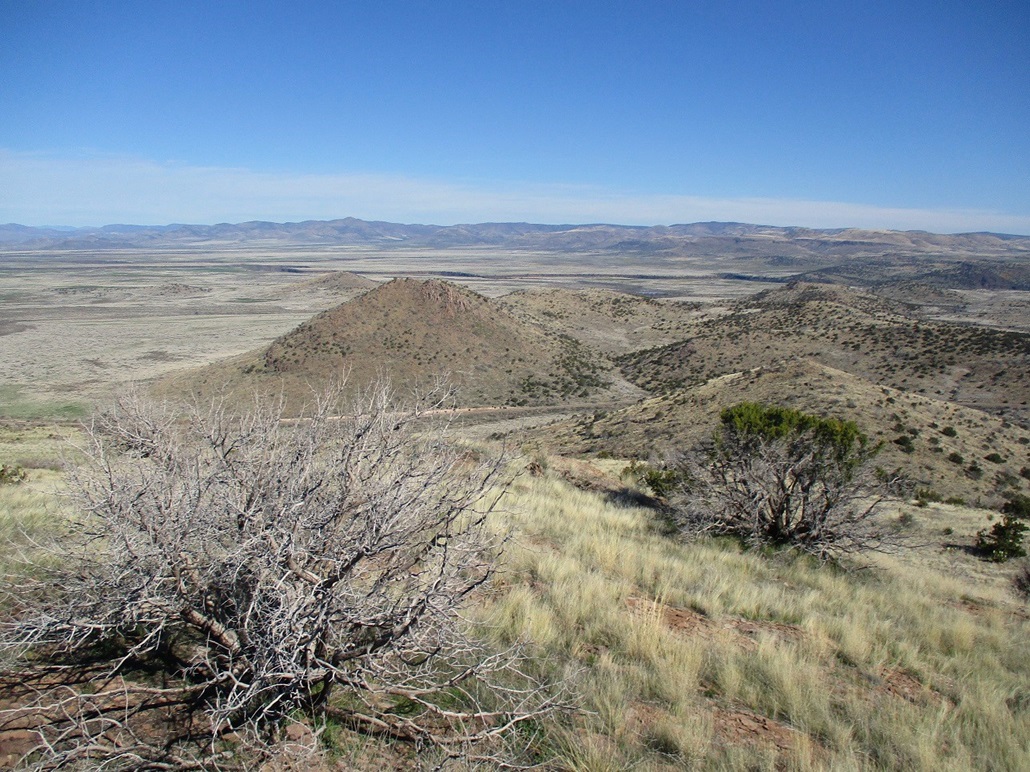 Hiking down, a look over at Peak 4921
&nbsp


Now almost to the top of Peak 4921
&nbsp


Summit rocks behind branches
&nbsp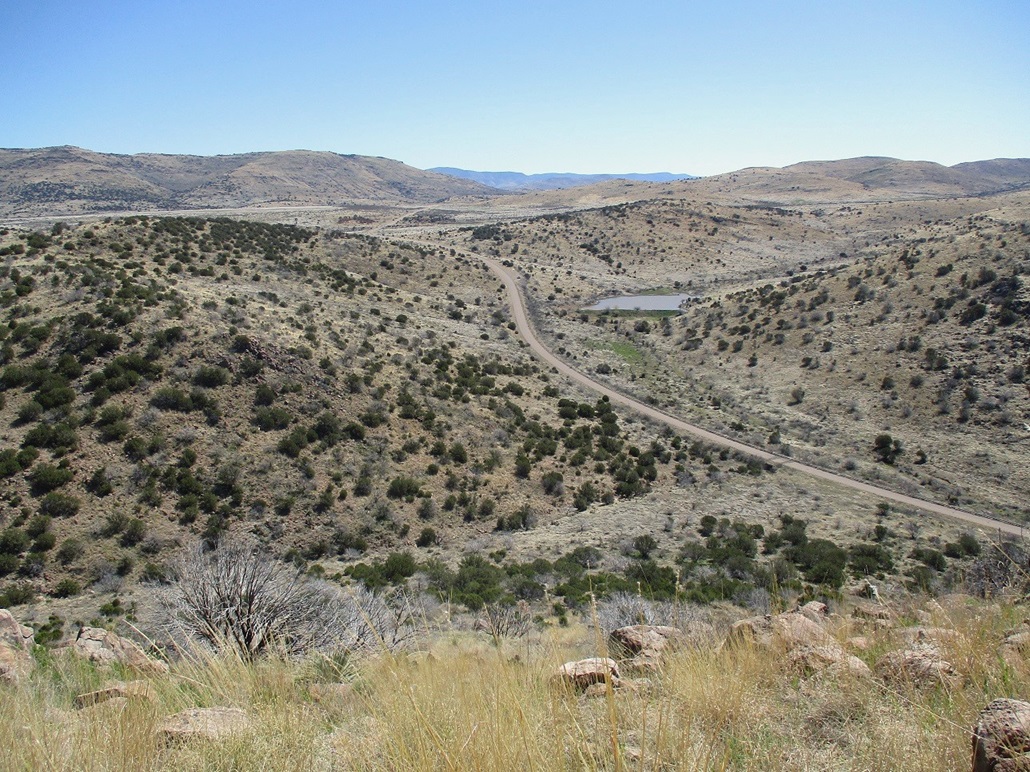 View down the hill I ascended. My car can be seen again
&nbsp


View of Peak 4921
&nbsp

All images
• • •

The Arizona
Mountains Gazetteer
Click to find out more!
Antelope Flats - San Carlos Nation
Peak 5180 • Peak 4921
I was to meet Matthias, Scott Peavy and Adam Walker later today for a hike up Ash Benchmark, located on the San Carlos Indian Reservation about 50 driving miles east of Globe. They were hiking another peak first and I had originally planned to drive there to meet them about noon. However, last minute, I looked at maps online and found a couple peaks that were close to the road, that I could hike while they were doing their thing. That's how I came upon these two peaks, which straddle Indian Route 8 east of Antelope Flat.
I was on the road about 6 a.m., driving into the sun most of the way into Globe, at times the glare so intense I couldn't really make out anything in front of me while driving, which is never a good feeling. I stopped in Globe for snacks and a permit for the San Carlos, but they no longer sell them "off rez". You now have to go into Peridot, the main town on the Reservation, to get one. That's what I did. The process is very efficient. The lady asked if I was there to see the poppy bloom. I wasn't per se, but the orangish hue of fields of poppies were everywhere.
From highway US-70 a few miles east of Peridot, I got onto the Point of Pines Road, Indian Route 8. I have been on this road one other time, back in 2017 when I hiked Willow Mountain. The road goes north then east, gains some elevation, then tops out onto a broad mesa called Antelope Flat. The two peaks I wanted were a few miles up the road through a band of hills. Neither hill has a name, and no ascents of either hill have been logged on Peakbagger or Listsofjohn. Even the super-hard-core peakbaggers don't come here.

Peak 5180

• Natanes Foothills
• San Carlos Indian Reservation
• Graham County

Date: April 1, 2023 • Elevation: 5,180 feet • Prominence: 380 feet • Distance: 1.8 mile • Time: 90 minutes • Gain: 760 feet • Conditions: Sunny and warm
Arizona • Main • PB • LoJ
I followed the road up a grade and over a bridge spanning a muddy draw. I eased onto a pullout near the top of the grade, overlooking a cattle tank. Peak 5180 lies south of the road and was "right there" in front of me. Peak 4921 rises north of the road, downhill from where I stood. My plan was to hike both on one big loop hike. The terrain for both looked friendly, both with abundant rocks and small cliffs, but nothing too concerning.
I found a spot in the barb-wire fence where someone had cut through a strand, so I scooted through the fence that way, walked downhill toward the tank, which was full of water. I did an end-run around it so that I could cross it and not have to deal with mud. This put me on the lowest slopes of Peak 5180, the summit not too far, about a half mile distant.
The hiking was easy and the terrain open, but the grass was heavy and dense, and underneath the grass, rocks ready to roll at the slightest touch. I moved carefully, being sure I had my balance. I tried to keep to open lanes where I could see my feet most of the time. I was mindful of snakes, as usual. The day was sunny and clear, tenmperatures now in the mid 50s. Probably too chilly for snakes, but the sun was intense and could be enticing to a snake if they wanted to warm up.
The route comes to a saddle, then continues up the remaining slope toward the top. Things got a little rockier here, big heaps of volcanic boulders and a few tiny cliffs to ease through, but nothing that elevated to proper scrambling. If I used my hands, it was to hoist up a three-foot rock here and there. Up above was the summit cliff band, two main walls about two hundred feet apart. I aimed for the closest one and was soon on top of the peak.
The summit is flat, with rocks everywhere. I kicked and tagged about twenty rocks that could be the highest. There was no register, but someone ages ago had built a small cairn at the lip of the nearby cliff. Whoever that person is (was), he or she did not log their ascent on Peakbagger or Listsofjohn. I did earnestly wonder how many people have actually been up here. This is an anonymous peak in the middle of nowhere. The usual crew who climb everything have not been back here. Maybe the occasional hunter or ranch hand, but I would bet that this peak may go years without anyone setting foot on it.
Views were decent. I got a good sweep of the distant hills and peaks from the northwest to the northeast. To the south were hills much closer in, part of this little range of hills. I didn't spend too much time, mostly using that time to wander the top and look at things. It had taken me exactly an hour to get here. Across the way stood Peak 4921.

Elevation: 4,921 feet • Prominence: 361 feet • Distance: 0.6 mile • Time: 70 minutes • Gain: 500 feet • Conditions: Same, a little more breezy
PB • LoJ
I descended Peak 5180 by following a more northwesterly tack, aiming for the saddle down below but easing off it to the left as viewed from above. The downhill hike went well but I found myself on a slope with much more rocks and small cliffs than I had coming up. Fortunately, nothing was difficult, but I had to use my hands and butt more often to scoot and shimmy down the rocks.
I was soon back to the saddle and then downslope onto the flats below. Here, it was much more grassier and more tangly, with cactus and catclaw in spots. I kept to open lanes but still had to push through a couple thick spots. I got back to the road and crossed it, crossed another fence on the north side, placing me directly below Peak 4921.
Peak 4921 has an impressive rocky prow on its southern tip, overlooking the road. Climbing it directly was not an option. On its east flank is a drainage that goes in a ways. I planned to hike in maybe a quarter-mile then catch an easier slope up, then double back to the summit. However, as I hiked in, and grew tired fast of the thick grass and brush, I eyeballed a steep grassy slope right in front of me, this leading directly to the summit rock crown. It looked very steep but doable.
I hiked upward, and yes, it got steep, but I was able to find ways up the slope and through rock jumbles to place me at the foot of the rocky crown. I never really scrambled on the ascent, but as on Peak 5180, used hands here and there to balance myself on some of the more awkward rocky heaps.
The closest rock outcrop was not the highpoint, but the next one over was, just a hundred feet or so. I got to it easily, a clump of three or four pointy boulders about three feet high being the highest point(s). I tagged each one, and as before, looked around and shot a few images. The views from atop both peaks are nice in a general sense, but what really catches one's attention is the feeling of remoteness up here. No one comes up this way. This is way off the beaten path for virtually everyone. Again, I wondered if anyone has ever been up here. Did I just do a "first ascent"? Maybe, but I have no way to verify that.
For the hike down, I just went slow, literally rolling with the rocks at times. I located myself back onto the road and walked it back to my car. I had been gone about two hours and thirty minutes. I figured a little under a mile (I call it 0.9 mile) from my car to Peak 5180, with a gain of 760 feet, then another 0.9-mile drop back to the road. Then a very short (0.2 mile) ascent to the top of Peak 4921, with a 500-foot gain, then the 0.2-mile descent, then about a 0.2-mile walk back to my car.
Now, to meet up with the fellers. We had been texting one another whenever there was a cell signal. I knew they were close to being done with their peak. So I drove in another ten miles or so through the hills and onto the elevated Ash Flat, where Ash Benchmark Mountain stands. I parked where the road into the Ash Flat Ranch branches off of IR-8. This was a shade after 11 a.m.. I was there nearly an hour, which wasn't a bad thing. I napped a little and walked around the area, marvelling how quiet and remote it is back here. During that hour, no one drove by. It was totally quiet and still, except for the soft woosh sound of the wind. Other than the road and fencing, it looks the same now as it did in 1723, or probably even 1023.
The guys rolled in a little after noon, and we got started on our main objective, Ash Benchmark.