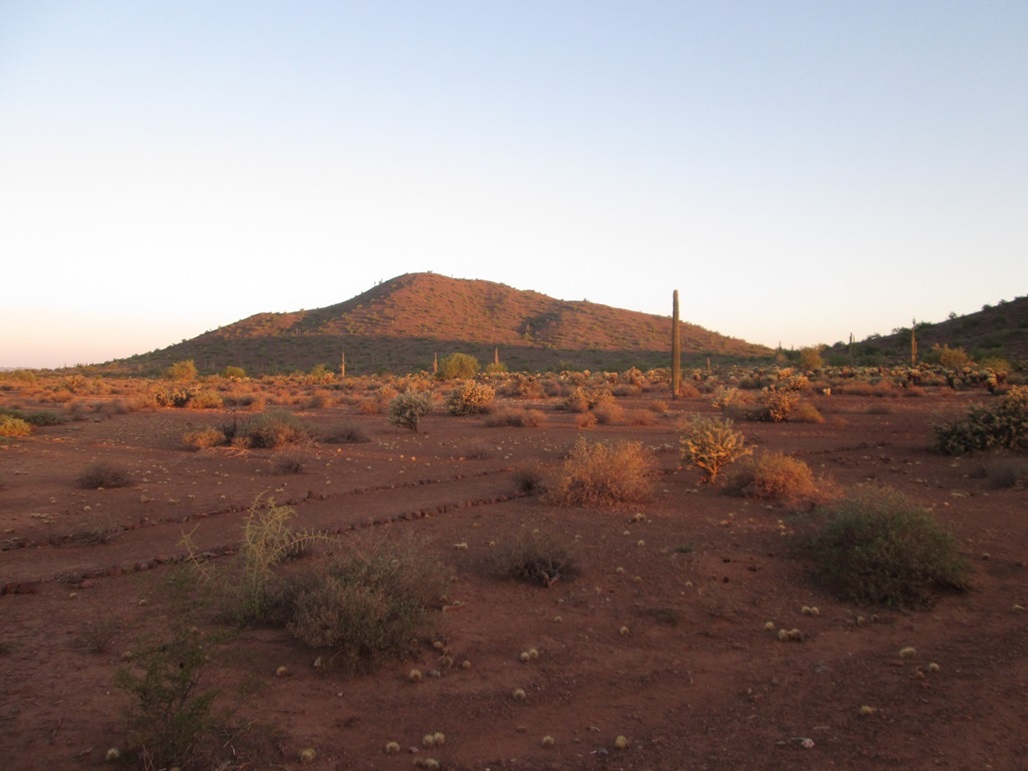 From the parking lot
&nbsp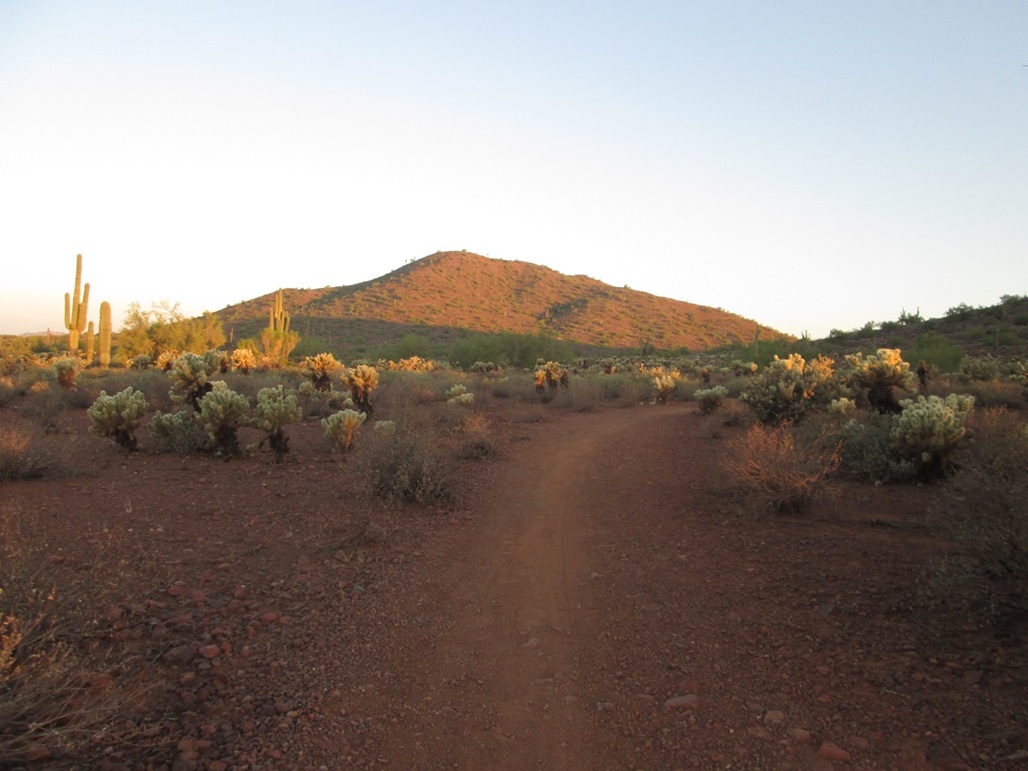 Now on the trail, the sun still low
&nbsp


Closing in on the top
&nbsp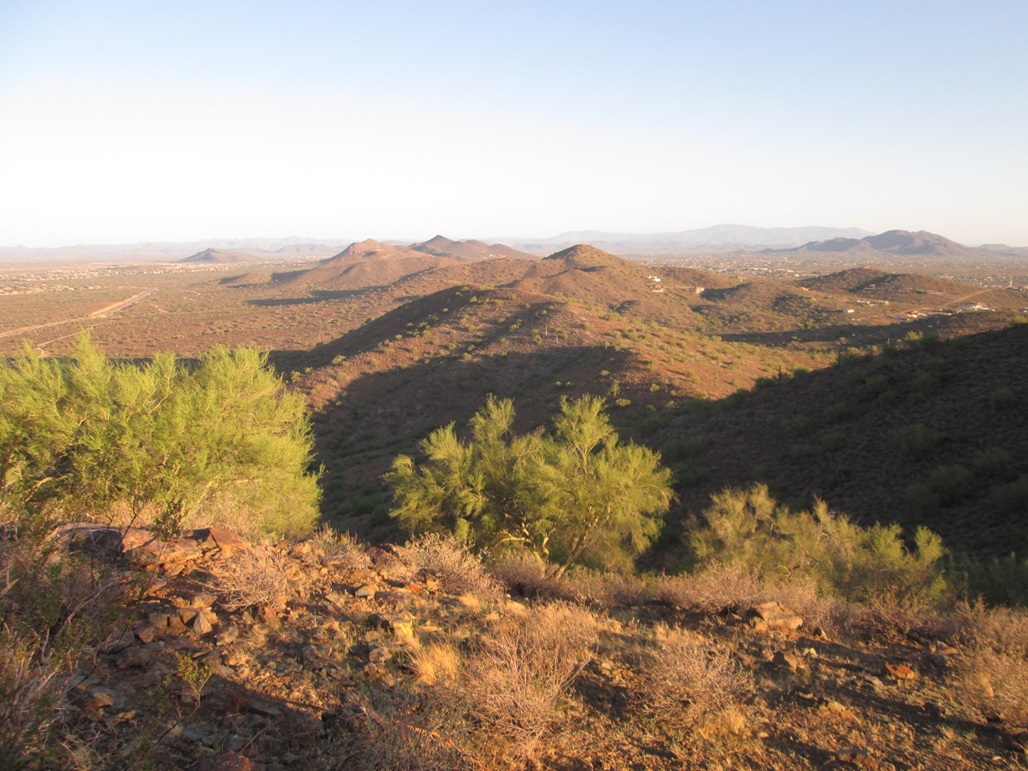 Northwest view of more hills
&nbsp


Northeast view of Skull Mesa
&nbsp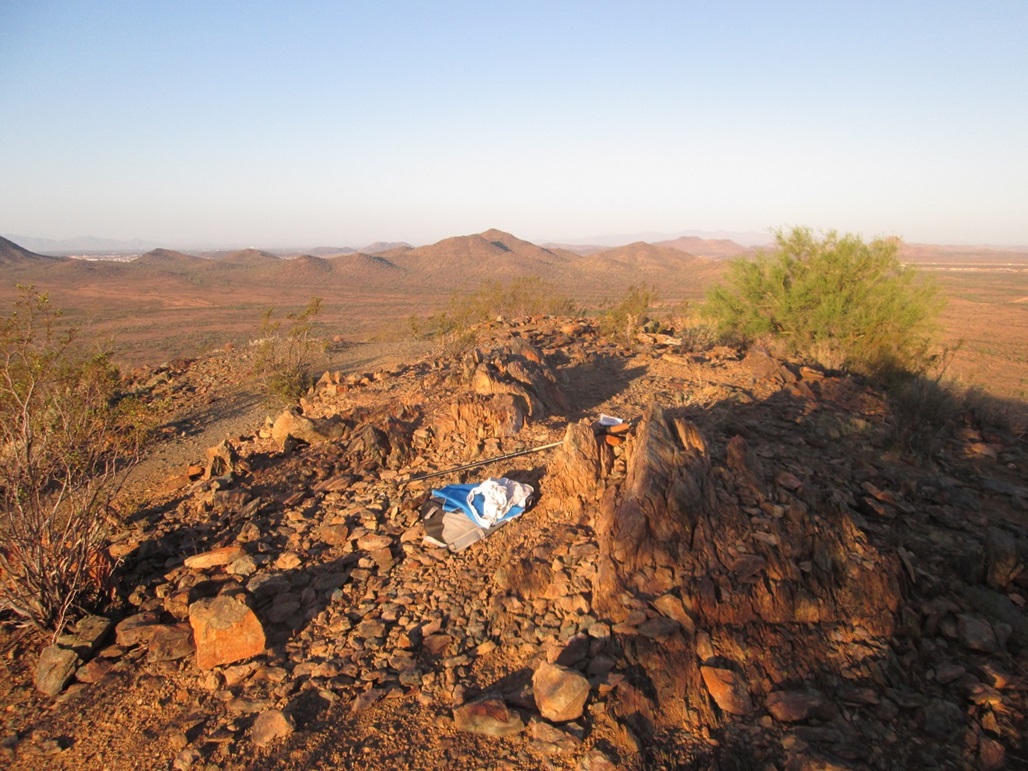 The summit and my shirt and pack
&nbsp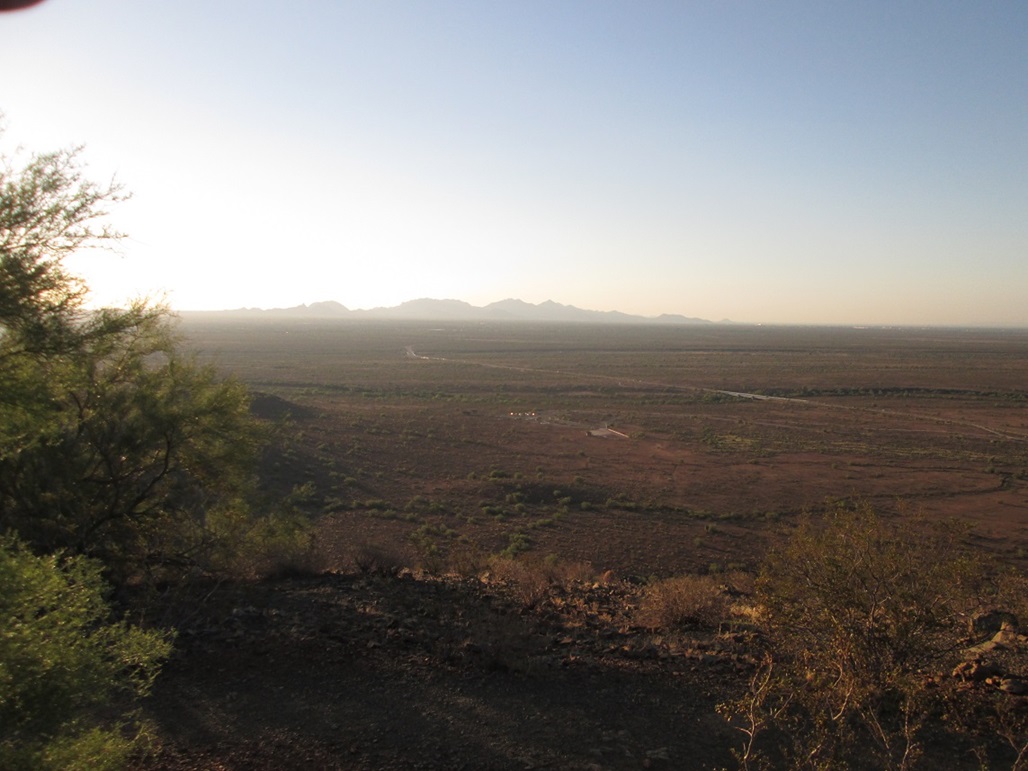 Southeast view of the McDowell Mountains and the parking area
&nbsp


As I descend
&nbsp


One more shot as I exit


All images
• • •

The Arizona
Mountains Gazetteer
Click to find out more!
Date: August 12, 2016 • Elevation: 2,164 feet • Prominence: 324 feet • Distance: 2.7 miles • Time: 1 hour • Gain: 445 feet • Conditions: Humid and still with mosquitoes. Very uncomfortable • Teammates: Mosquitoes
I had not hiked at all in about 7 weeks, the weather being too hot, and me being too busy. However, I really wanted a short hike, just to get out for an hour. Anything would do. I was not picky.
I found this little hilltop mentioned on some websites. It's a recently-developed park with a nice trailhead and a number of trails, located along Sonoran Desert Road, which used to be called Dove Valley Road, north of Phoenix. This would do nicely. From my home, the drive covered about 15 miles. I left early and was at the trailhead a little before 7 a.m.
The weather was hot yesterday, would be hot today, with no chance of anything cool for at least another month. It was "cool" now, about 85 degrees, which isn't that bad, but the humidity was heavy, with no breeze at all. It had rained in recent days, so there was standing water in nearby areas, which begat a number of mosquitoes.
I walked to the developed trailhead. There was a guy there, a docent or volunteer, mainly to say hi, and see if people need an extra water. He was being bitten alive by the mosquitoes. I was getting zinged a lot too. As long as I kept moving, they left me alone.
I went west on the Ocotillo Trail for 0.7 mile, aiming for Ridgeback Mountain. Gaining slightly onto its southeast flank, I then went north on the Ridgeback Trail for a half mile, as it curls around the peak's north side. Then I angled onto a loop trail to the top, arriving about 25 minutes and 1.35 miles after starting.
The views were nice. The sun was still low in the east so I had good lighting, and the clouds were gone for now. A mountain biker was at the top as I walked up. We both commented on the humidity. I was completely soaked, and frankly, it was very uncomfortable.
If I sat for any length, the mosquitoes would buzz me, so I didn't stay long. I continued along the loop path back to the main trail, then retraced my route back to the trailhead. I had been gone for exactly an hour, covering 2.7 miles. It was a good, short hike.
I drove home, showered and took a small nap, then went to work for the latter half of the day. As much as I love Arizona and its peaks, August is nasty in the deserts, but it was nice to get out if even for just an hour.

The End of an Era
This was my last hike with my trusty truck, a 2001 Nissan Frontier that I purchased brand new back in February 2001. I had put on 254,000 miles on it, and it had held up remarkably well. It has had two timing belts, the clutch went only a year ago, the transmission has never been a problem. I bought it when I was a member of the Central Arizona Mountain Rescue team, needing a good 4-wheel drive vehicle. It performed well for me.
For years, it was our mobile camping unit. βð would commandeer the cab and set it up precisely to her liking. As her mobility has decreased in recent years, this allowed her a chance to camp and be my base-camp manager when I would hike.
However, in the last year or so, it has developed some breaches in the main block, likely with the gaskets. It has trouble going up hill or accelerating. The starter would sometimes not start. I couldn't depend on it as much as I have in the past, and it was time to move on. The following weekend, we traded it in for a new vehicle, a 2017 Subaru Forrester, which, if our habits remain the same, we will have until about 2030 or so.
Thanks, Mr. Truck, for the memories :).