Date: July 10, 2010 • Elevation: 9,407 feet • Prominence: 2,687 feet • Distance: 2 miles • Time: 1 hour • Gain: 500 feet • Conditions: Cool and pleasant • Teammates: Scott Casterlin, Scott Peavy & Chris Gilsdorf
Pastora Peak is the highest point in the Carrizo Mountains of northeast Arizona, close to the Four Corners on the Navajo Nation. From a distance the Carrizos have a uniform profile, with some peaks jutting above 9,000 feet. Pastora Peak comes in at 9,407 feet but does not stand out among its neighbors. Nevertheless, I had a strong interest in visiting Pastora Peak as it is a highly-prominent peak in Arizona, located in a beautiful part of the state.
I was here in May of 2007 with βð. Our trip to the Navajo Nation was unplanned (fire closures shooed us away from our original destination), and I had brought no maps. We ventured up the main road into the range from the north and decided to drive as far as possible. We got about 9 miles up the bumpy road, but opted to turn around and exit when storm clouds began to build. I had no idea how close (or far) I was to the top anyway, and the roads looked like they could get nasty when wet. I took a GPS reading of our position and recorded it for later reference. When we got home I discovered I had turned around about 5 miles short of the summit. In retrospect I felt good about the decision to turn around.
Its distance from the Phoenix area (over 350 miles one way) makes Pastora Peak rather difficult to visit over a weekend as a singular destination. However, an opportunity arose when a group of pals, Scott Casterlin, Chris Gilsdorf and Scott Peavy, were planning to hike a few peaks on the Navajo Nation, including Pastora Peak. This would be an excellent opportunity to go get this distant summit and add it to my records.
Scott Casterlin drove up from Tucson and picked us all up in the Phoenix area, and made the long drive onto the Nation via Flagstaff, Cameron (where we got our permits), Tuba City and Kayenta. We had spells of rain along the drive, and the weather was somewhat unsettled as we approached the Carrizo Range, arriving in the early evening. We drove up the road, bumping over the rocks, slowly and steadily. The road was kind of wet from the day's sprinkles, and we skidded in places. The road was steep, but never too bad as long as we went slow.
Finally, we arrived onto the upper plateau. Here, the road was very slick and goopy, and by now the weather had turned to a misty rain, so we slid more along the road, finally stopping at a road junction marked by spot elevation 9,120 feet, an air-mile away from the top. Our camp area was a grassy meadow ringed by stands of juniper, pine and mountain oak. Peavy and Gilsdorf set up their tents, just as it got dark. Casterlin crashed in the back of the vehicle, while I slept up front in the folded-back passenger seat, which wasn't too bad.
The next morning started clear but the air was very moist. We got ready quickly and were walking along the road by 5:30 a.m. Arizona Time, 6:30 Navajo Time (The Nation is one hour ahead of Arizona). We walked the road up over a small hill, then lost a hundred feet as it dropped into a saddle below Pastora Peak. The gain from here to the top was just over 300 feet, all of it up steep rocky slope covered in low brush, mainly mountain oak. It was short, steep, minorly strenuous, and momentarily we were all on top, the one-way hike having taken us a half-hour total.
The summit is rocky, covered in mountain oak plus a few scattered pine. We inspected a few candidate highest points, then sat around a rocky clearing to take in the views. Roof Butte and Beautiful Mountain, two peaks on our agenda, were immediately south. Off north we could see the faint outline of Abajo Peak in Utah, another objective for this trip. Big Navajo Mountain was to the northwest. We could also see a lot of the upper Carrizo highlands, a pleasant scene of gently-rounded summits with patchy forests and meadows. A very serene place. We stayed up top for about 30 minutes, then made the easy hike back to the vehicle, our total time out just over an hour.
The drive out went well, the roads having had time to dry out a little from yesterday. By 8 a.m. Arizona Time we were back out on the paved highway, US-160. I had suggested we venture into Utah to visit Abajo Peak near Monticello, and that's what we did. The tale continues here.
The Carrizo Range is used for grazing stock during the summer, and we saw many corrals and an occupied homestead (see photo at left) while up top. The map shows a warren roads all over the range. There's a small community of homes at the base of the range, and in our brief encounters with the locals, they were very friendly. In winter, we surmise the Carrizos probably get slammed with snow, and getting up top would be essentially impossible. It's too far to hike from the road, and driving as far as we did was nice. As mountaineering objectives go, Pastora Peak is not much of a challenge, but the drive, the camping and the scenery is very lovely. I'm glad we were successful, and really enjoyed my time up there.
Images by Scott Peavy: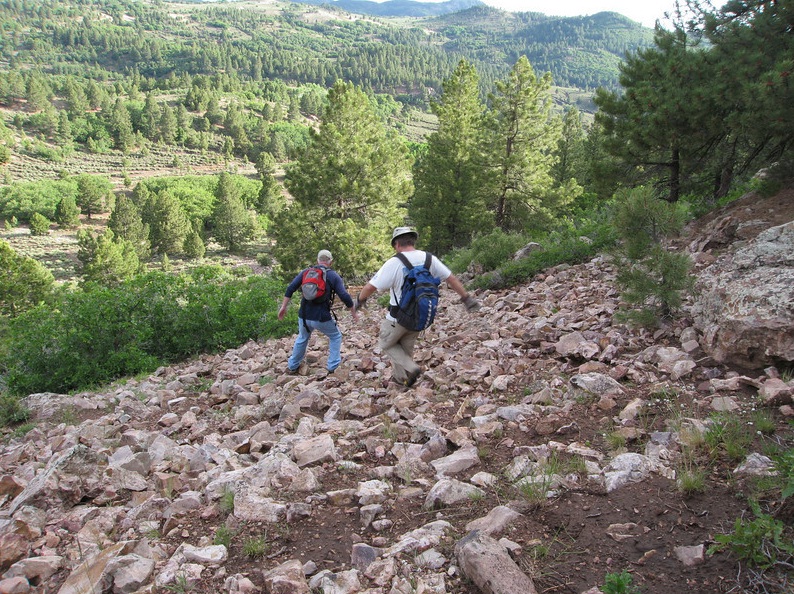 Descending.
The following is a report from Gerry and Jennifer Roach, who visited the peak in March 2014. It underscores some of the things one must deal with when travelling the Navajo Nation. A willingness to be flexible and roll with the punches is vital.
In searching for Indian Route 5034 from Highway 160, please note that the road is very close to virtual milepost 459.6. Also, that road is now marked with a small wooden sign and easily seen from the highway.
We obtained permission from the Navajo Nation office in Cameron. We were sold a permit, which cost us $10.00 ($5 per hiker/day) We were informed that we could hike anywhere on the Reservation Lands with this permit. We showed the office person on a map where we intended to go and she replied that it was fine to do so. Just carry the permit with us and show it to anyone who questions our presence. No problem, right? However, a Navajo woman driving on IR 5034 challenged us and said that $5 was "not enough money" and we should have been charged $15 or $20. She also said that in Apache County, it costs more to hike on Navajo Lands. Of course, we all know this is a crock, and it came around to the fact that the woman wanted $20 from us. We gave her $20 just to get her off our backs and then she was suddenly friendly and offered help if we got stuck on the rough road above. (she would be the last person we would call, given her boozed up state) At any rate, the point to this long story is that a permit from Cameron is not necessarily going to satisfy the locals and climbers should have some $5s and $10s ready.
We camped in a flat spot about seven miles up IR 5034. It was well past the ranch houses and driveways. We had some bovine visitors. We kept our dog leashed up at all times while we were camped. Now that we knew that the "natives were friendly," we had a nice car camping night.
The road up to Pastora Peak is quite rough, although it appears to have been graded at one point. Four WD and High clearance is a must for this road. It should be avoided if the road is wet. The shelf section is steep and narrow and very slippery if muddy. The road is quite rutted in sections from others trying to force their trucks up a muddy roadbed. We were lucky because the winter was so light there and we were able to drive higher up the road than normally done in late March which was about 10.7 miles. We walked from there and the road was squishy muddy from snowmelt as well as blocked by small snow patches.