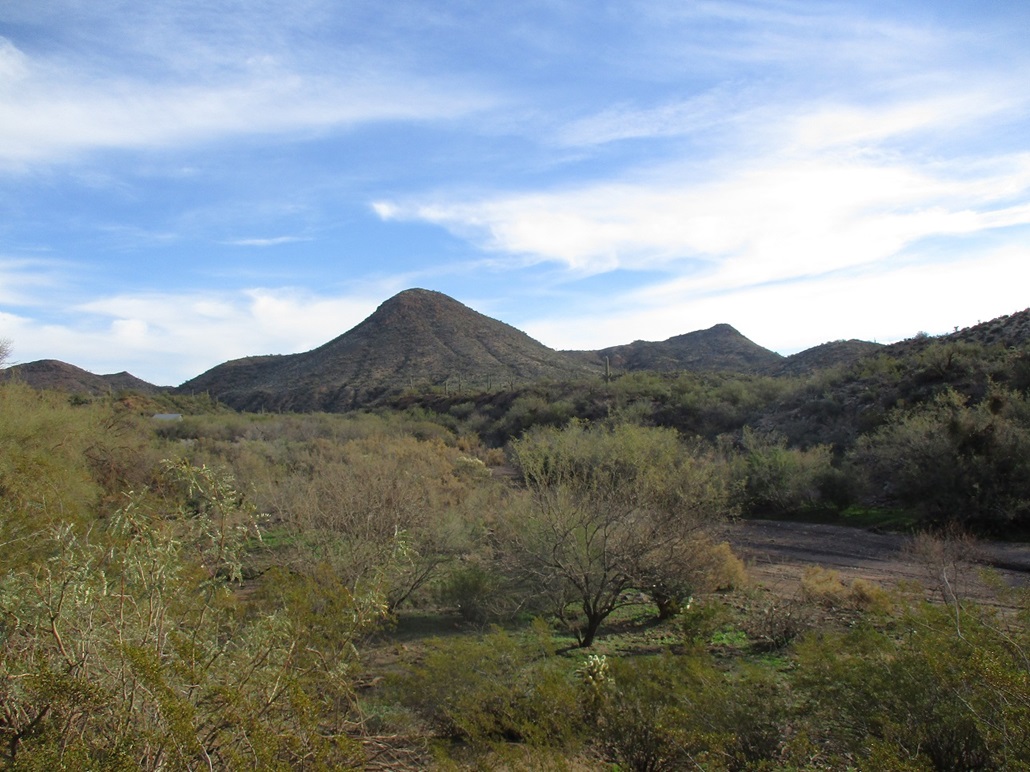 Peak 3235 is the left peak, viewed from the south along the main road
&nbsp


Now viewed from the north
&nbsp


On the slopes, looking over at Red Picacho and a mine or quarry operation
&nbsp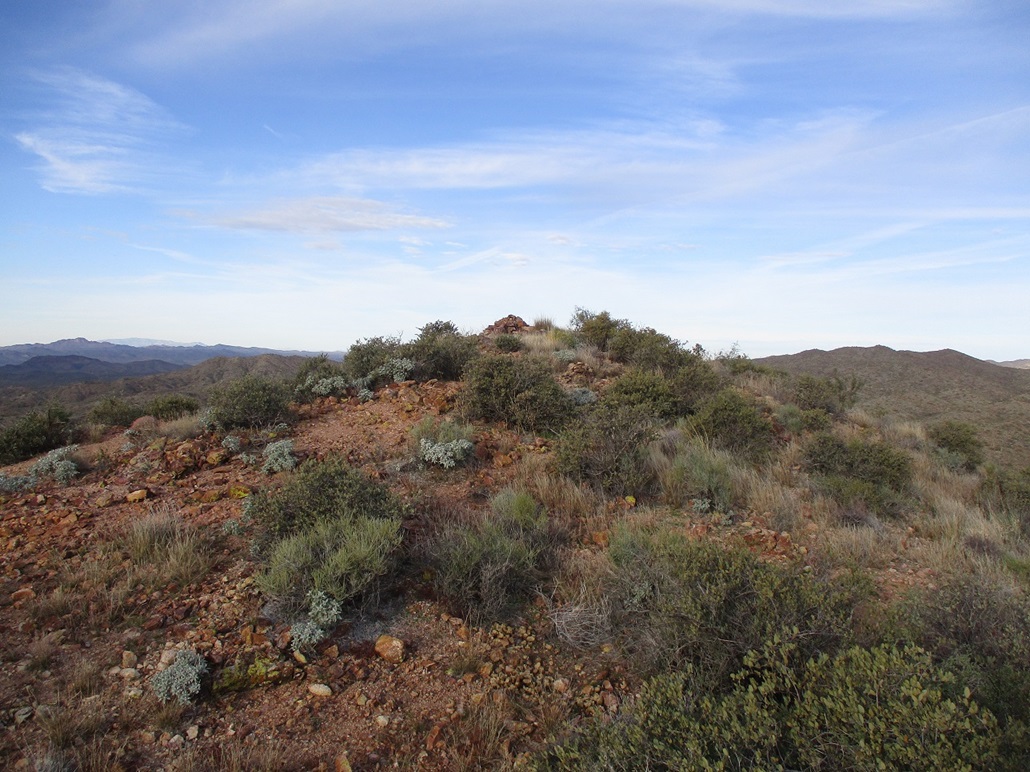 Summit cairn of Peak 3235
&nbsp


View of Orion Benchmark Peak as seen from atop Peak 3235
&nbsp


Orion Benchmark Peak
&nbsp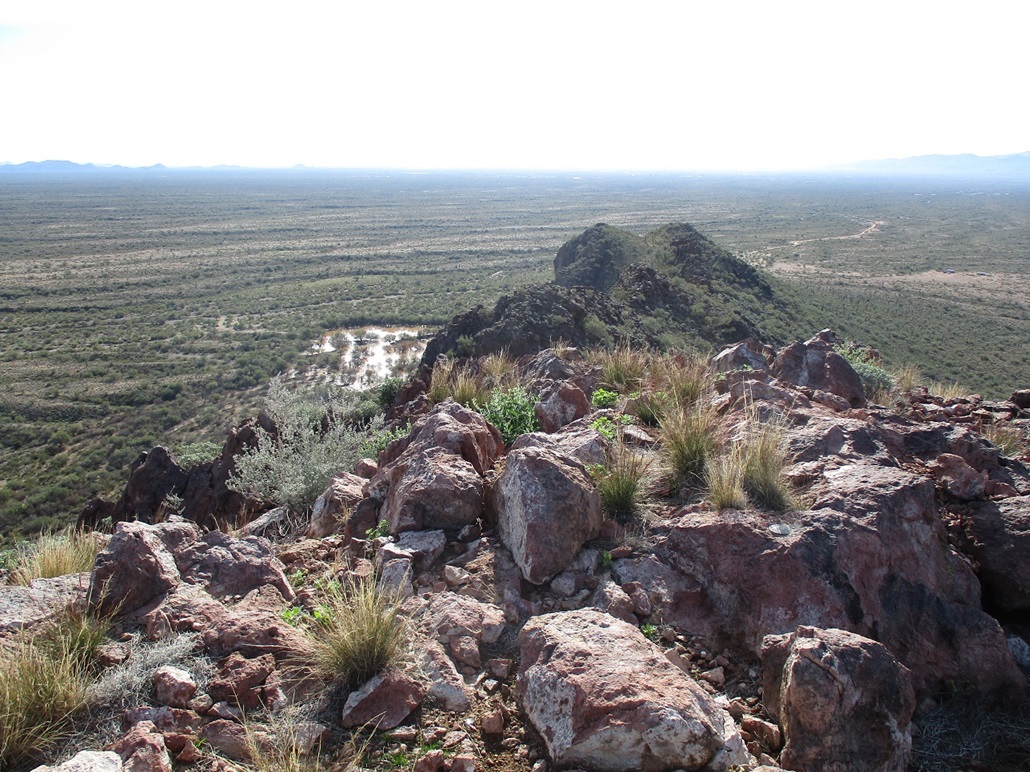 The summit of Orion
&nbsp


View to the north. The summit benchmark is seen toward the left side in this image
&nbsp


Looking down the rocky spine
&nbsp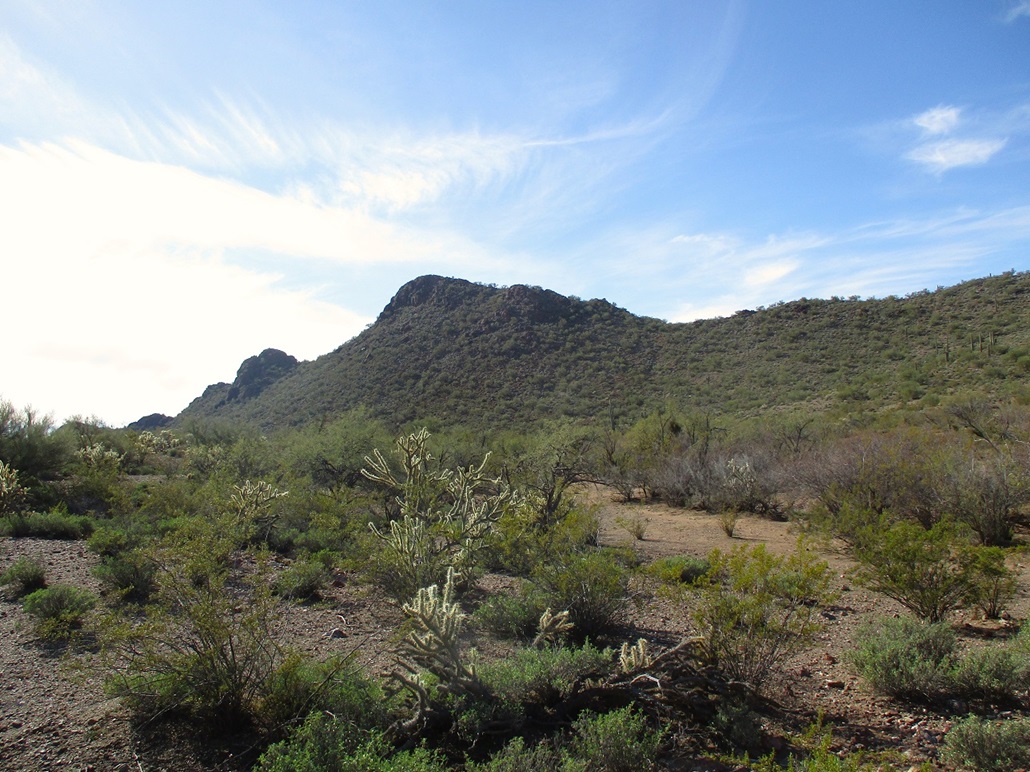 The peak again, as seen from closer in as I exit
&nbsp


View north, Red Picacho is the blocky peak, Peak 3235 is dead-center
&nbsp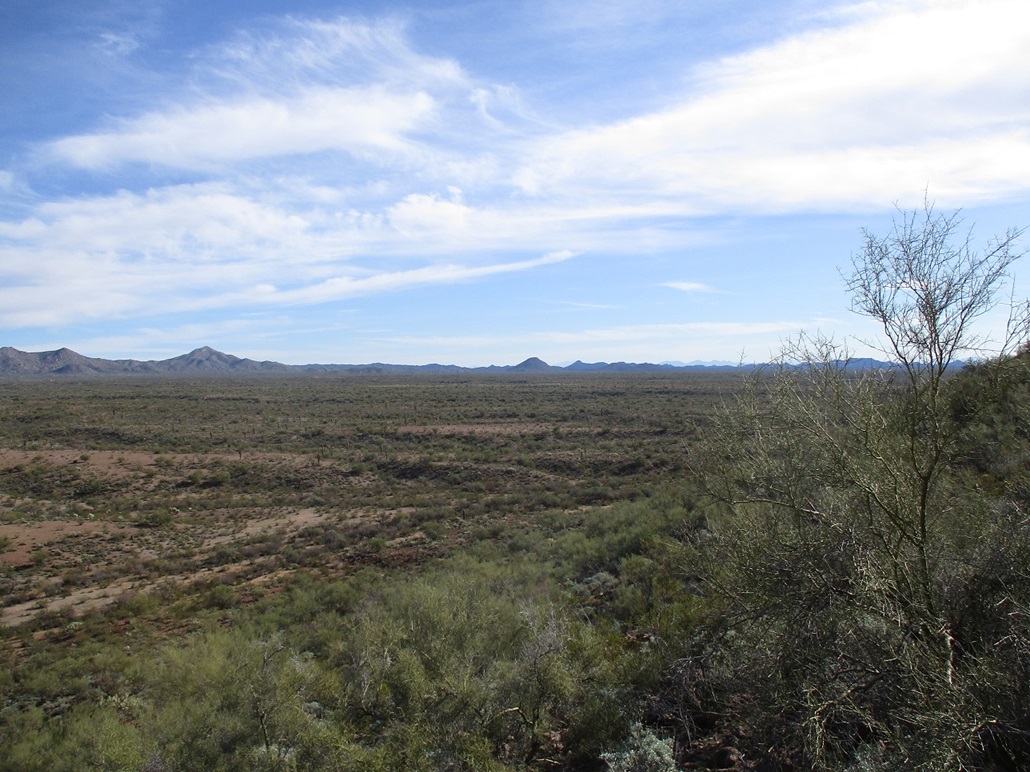 View east. Hiero Benchmark is the hill at center, slightly to the right and behind is Syenite Peak, which I climbed about three weeks ago
&nbsp


Now seen from the other side, from the road as I drive out
&nbsp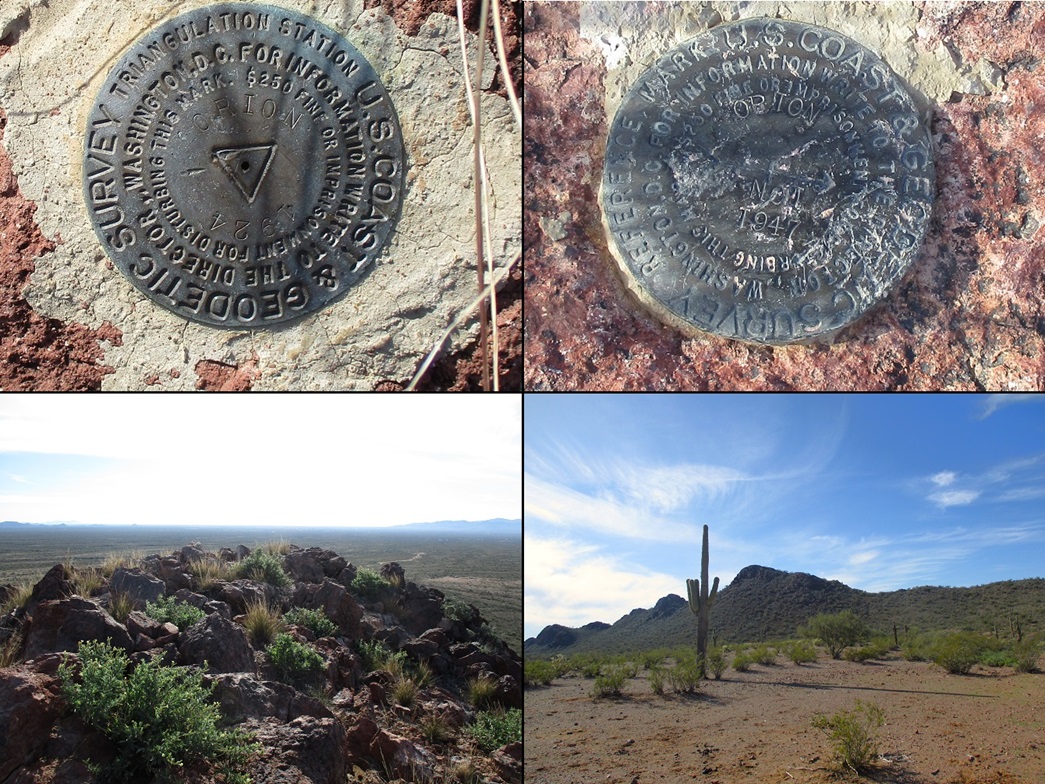 Montage: the benchmark, one of the reference marks, a glarey summit image, and another view of the peak
&nbsp

All images
• • •

The Arizona
Mountains Gazetteer
Click to find out more!
Castle Hot Springs Road
Peak 3235 • Orion Benchmark
I've been coming back to the peaks here in the Hieroglyphic Mountains now for the better part of a month, each time I'm here, I see two more peaks that I want to do ... next time. Today was no different. Earlier this week I hiked Peak 2422 which lies east of Lake Pleasant, west of New River Road and Interstate-17. I came back today intending to hike two or three peaks that lie north of Peak 2422, Doe Peak and two of its neighbors.
However, I was unsure what the road access would be like to get within striking distance of the peaks, so to hedge my bets, I had a back-up plan in mind, a trio of peaks to the west, where the western terminus of Castle Hot Springs Road meets highway AZ-74 near Morristown.
I was on the road before dawn, covering the 45 miles to the Table Mesa Road exit in about an hour. I exited, went west a tiny bit, then north on a frontage, and parked. It was still early, just the barest amount of dawn light to see things by. I walked around a little bit and also sat in my car. After 15 minutes, it was light enough to see things. I drove a little farther to where my desired road branches off, near a big tower.
It was clear immediately that this road would be too much for a Subaru Forester. I parked and walked the road, it being steep and uneven. It was marginal at best. I wanted to see what was past it. If the road was better beyond the tower, I would have carefully coaxed the car up, but it wasn't. Just then a guy rolls up near my car, with a Polaris in a toy-hauler. He's been here many times and said the road is "nasty". I checked one other ingress point, with no better results. So... I abandoned my plans here, and went with my back-up.
I now looked west at three peaks: Orion Benchmark Peak, Castle Benchmark Peak, and Peak 3235. Each lie close to the road and looked "easy", insofar what the map showed. I've been on this road once before, and it's a good road, so I wasn't concerned about another "nasty" road.

Peak 3235

• Hieroglyphic Mountains
• Arizona State Trust Land
• Maricopa County

Date: January 8, 2023 • Elevation: 3,235 feet • Prominence: 315 feet • Distance: 0.6 mile • Time: 45 minutes • Gain: 485 feet • Conditions: High clouds, then sun
Arizona • Main • PB • LoJ
It took another hour or less to place myself onto Castle Hot Springs Road. I went north about 6 miles, intending to hike the two northern-most peaks — Castle Benchmark & Peak 3235 — first, then work south and hike up Orion Benchmark.
I followed the road to where it starts to enter into the hills and become more curvy, going in and out with the terrain. The road drops into Trilby Wash. One side road that leads to Castle Benchmark Peak starts here, but it was gated closed, this being a tiny parcel of private property anyway. Castle Benchmark Peak rises about a mile north, and Peak 3235 rises immediately east, adjacent to Trilby Wash and the private inholding. In other words, it was right beside me, a stone's throw away. So I put off Castle Benchmark and aimed for Peak 3235.
I drove to a bend in the road, where a side road leads to a gate, which was dummy-locked. I went in a few more feet and parked. This is State Trust land and I put my permit in my dash, being a good citizen. The summit of Peak 3235 was literally yards from me, but obviously too steep to be climbed directly. Instead, I went east a little bit, walking up a wide sandy creekbad about 0.2 mile, then turning right and walking up a moderately-steep hillside covered in grass and spotty cactus to gain a saddle east of the summit.
Now elevated, I looked over at Castle Benchmark and saw a bunch of trucks and a big cleared area. This looks to be a mine (gravel?) or something; regardless, it would have shut me out if I had gone that way. (Update: When I drove by at a later date, it's signed for Ewing Irrigation). So, suddenly, Castle Benchmark Peak was off the agenda. I continued upward.
I then angled right and up to the top of Peak 3235. The hike was very short, about 0.3 mile one way, nearly 500 feet of gain. The sky was cloudy at first, muting the sun, but just as I arrived onto the summit, the sun came out and lit everything up nicely. The register held just a few names, about one visitor every year or two. Looking north was the big pimple-shaped summit of Red Picacho. East was Peak 3565, which I climbed five years ago. To the south was Orion Benchmark Peak, and farther south, sweeping from left to right, were the White Tank Mountains, the Vulture Mountains and way in back, the Harquahala Mountains. I spent about ten minutes up top.
I egressed the same way and was back to my car, a total elapsed time of less than an hour, and that includes my stop at the summit and other stops for photographs. This peak was enjoyable, but not something to do by itself. It certainly went fast with no impediments. I proceeded south...

Elevation: 2,625 feet • Prominence: 361 feet • Distance: 3 miles • Time: 90 minutes • Gain: 325 feet • Conditions: Sunny and pleasant
PB • LoJ • USGS BM Datasheet
...toward Orion Benchmark Peak. The first challenge was to find a spot to park off the road. The road here is very wide, about 60 feet wide, but there are few good spots to pull completely off the road, and what few spots there are, are taken over by the RV crowd. Nevertheless, I was able to find a cleared area being unused, so I took it. I was about a mile north of the peak.
I walked south across the desert flats, through fields of cholla, palo verde and creosote, and scattered saguaro. I had to dip into and out of about a half-dozen arroyos of various size, but overall, this was an easy hike. The cactus and brush was never too thick and the arroyos never too steep or awkward. I had to scoot under a fence about two-thirds of the way in, and there was a small group of cattle, about four of them, standing on a nearby hillside. This segment took me 15 minutes.
I was soon at the base of the slopes leading up to the ridge. I was aiming for a saddle northwest of the peak. Here, the brush got thicker and the rocks looser, but it wasn't steep and I just had to watch my footing. I was soon on the ridge, now staring at the slopes toward the summit.
At first, it looks intimidating, a rocky outcrop with brushy and steep slopes, but once on the slope, it was not a problem. It angled back well, footing was mostly solid, and there were no barriers to block me. This put me at the base of the rock spine that takes up the remainder of way to the top.
The rocks here are big jumbles, tinted red, not the big blobby volcanic boulders common to the area. It looked granitic to me. The USGS data sheet for the benchmark calls it malpais, which is not a type of rock, just a general term for "bad land". In this context, it just means the rocks lie in a big chaotic heap. I think, but don't take my word as gospel, that this is dacite rock, volcanic with lots of iron, which would explain the red tint.
The good news was that they were rock-solid (pun intended). They never moved. Hand and footholds were everywhere. Brush was light and only one palo verde got in my way. There was always an easy option to bypass the jumbliest of jumbles. Toward the top, the spine narrowed, but not that narrow, maybe 4 feet in width. I was liking this. I kept thinking that the next pile ahead is going to block me, but it never happened. And lo, I was on top of the peak! This segment went extremely well, didn't take much time, and was a heap of fun (pun intended again).
The top is flat, but rocky too, with good views and decent places to sit. I had good views in all directions and snapped a number of images. I also took a proper break to relax and enjoy the fruits of my labors. The benchmark is affixed flush to a rock about three feet lower than the highpoint rocks nearby, and I found one scratched-up reference marker nearby. I didn't look for the other one. The Orion Benchmark was stamped 1924, so 99 years ago.
I've mentioned this before on my site, but has the USGS ever prosecuted anyone for defacing a benchmark and collected their $250? How would they know? Also, $250 was a lot of money back in 1924. That would be about $4,350 in 2023 dollars (I looked it up). They should update their newer benchmarks to reflect the equivalent fine in today's dollars.
The one-way hike covered about a mile and a half, and only took me a little over a half hour. I spent a good 15 minutes up top. The register was buried well within a cairn. I was the first to sign in since 2016, but according to List of John, someone was here in 2019. It's possible others hike it but just don't sign in or even look for a register. But still, one visitor every three years seems so low. This peak is close to a highway, has decent access, looks like fun, so I would think more people would come here.
I exited down the same rocky spine, having a merry time. I was then back on the lower slopes and then the flats. I couldn't see my car, so I aimed in the general direction, using Red Picacho's summit as an azimuth bearing (I knew to stay to its left). I got seduced by some dirt-bike tracks and followed them out to the road, placing me about a hundred yards from my car. The round trip took just 90 minutes and it was still not yet noon.
I did my usual post-hike routine, changing into dry clothes, getting stuff put away and driving back home. My initial plans didn't happen, and this back-up plan worked well, even if one of the three peaks was not easily accessible. Peak 3235 was easy but nothing special, but Orion Benchmark was a lot of fun, the scrambling about as easy and un-annoying as could be.
There is a private-property inholding at the north base of the small ridge, where it abuts Castle Hot Springs Road. The rest of the land here is State Trust, so have your permit handy. There were a few dirt-bikers around, a couple passed me and I could hear others but it wasn't over-run with them. Logistically, Orion Benchmark Peak is simple and enjoyable.