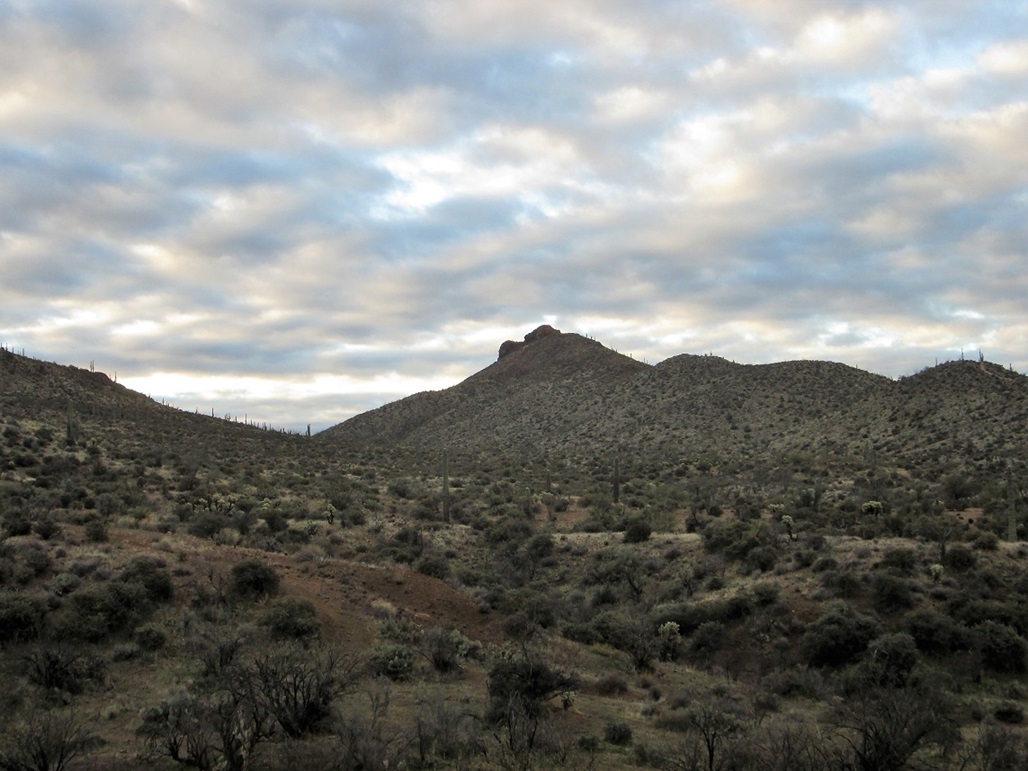 Hieroglyphic HP as seen in the early morning, with high clouds muting the sun
&nbsp


The last little bit to the top
&nbsp


View south: Sierra Estrella to the left, White Tanks Range closer in, and to the right, way in back, is Woolsey Peak
&nbsp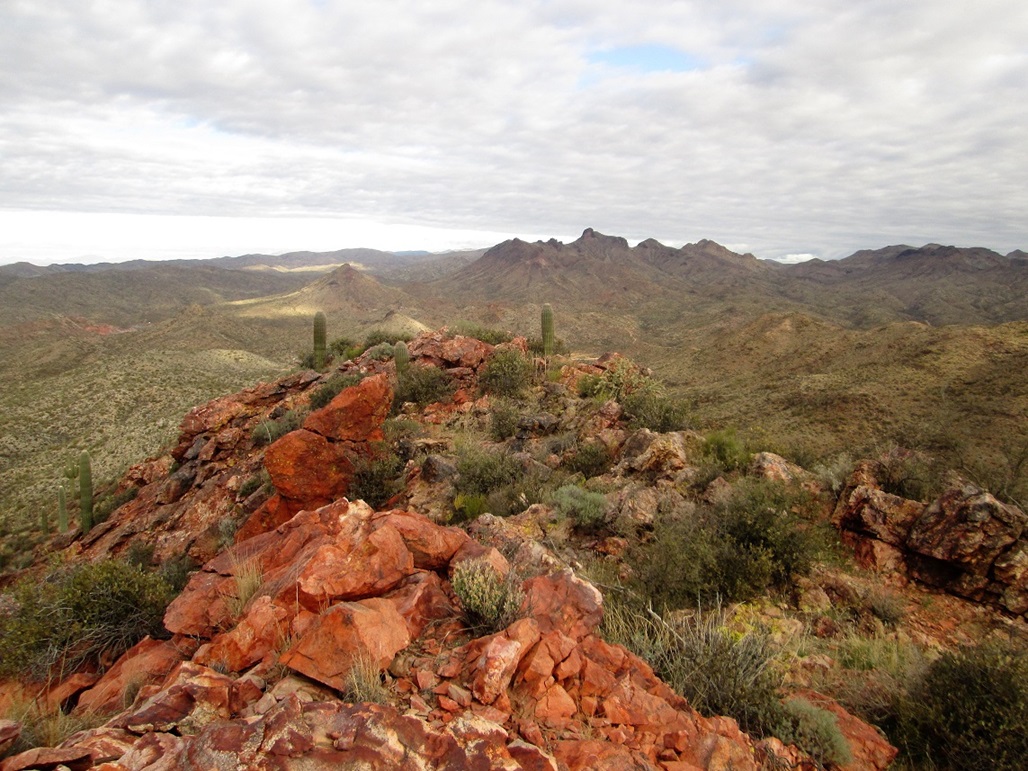 North view at Red & White Picacho Peaks
&nbsp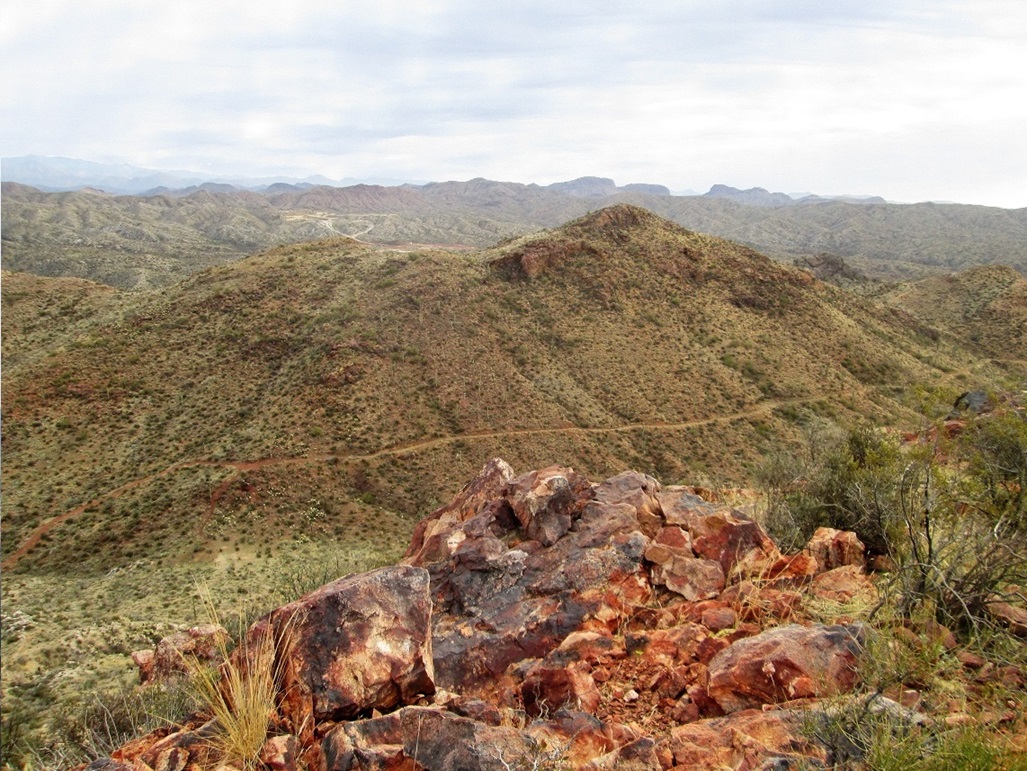 Looking at Peak 3540
&nbsp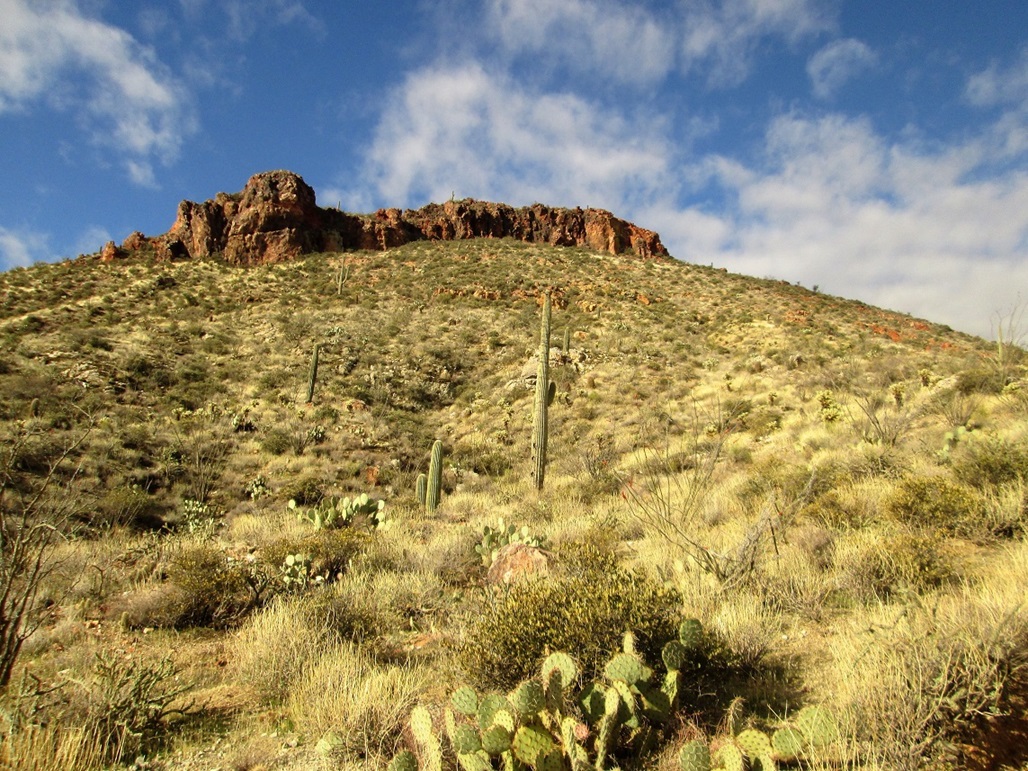 View of the peak as I descend, now with more sun
&nbsp


Lots of cactus on the hillsides
&nbsp


Hieroglyphic Peak as seen from Peak 3540
&nbsp


Hiking out the road
&nbsp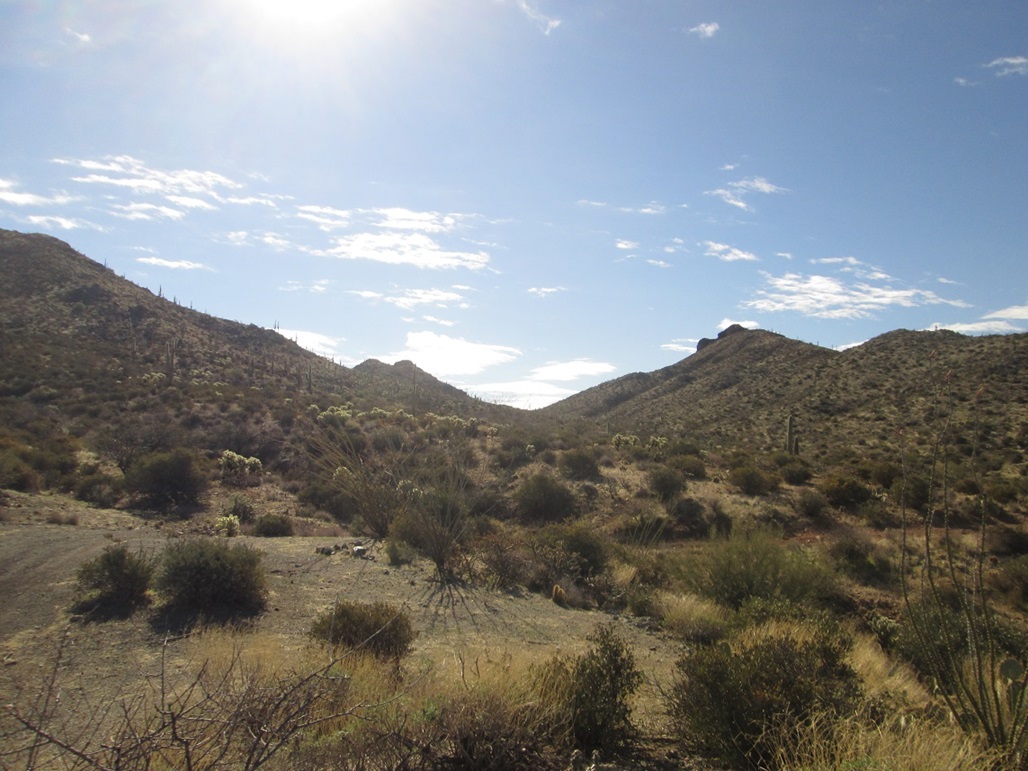 View back at the peaks: Peak 3540 is immediately left of the saddle, Hiero HP is to the right


All images
• • •

The Arizona
Mountains Gazetteer
Click to find out more!
Hieroglyphic Range
Peak 3565 • Peak 3540
Peak 3565 is the ostensible highest peak of the Hieroglyphic Mountains, while Peak 3540 is a ranked bump about a quarter-mile to the east. I was coming off a cold and wanted something fairly easy to hike. These two peaks would do nicely.

Peak 3565

• Hieroglyphic Mountains
• Maricopa County

Date: March 4, 2018 • Elevation: 3,565 feet • Prominence: 565 feet • Distance: 3.7 miles • Time: 2 hours • Gain: 650 feet • Conditions: Clouds, then spotty sun, cool
Arizona • Main • PB
The Hieroglyphic Mountains lie in north Maricopa County, east of Lake Pleasant and generally north of state route AZ-74. These mountains are known for many mines, both old and current, that are within the range. I wasn't feeling very strong, but felt good enough for a couple-hour hike to get back into the regimen.
The Hieroglyphic Mountains are one of three (or so) "ranges", along with the Wickenburg Mountains and the Buckhorn Mountains, that are essentially the southern foothills of the Bradshaw Mountains. Physically, they all appear to be one range, their boundaries not well-defined. Standing on Peak 3565, there are higher peaks just three miles to the north ... but apparently in a different range (the Buckhorns). The only way this makes any sort of sense is to assume that the Hieroglyphic Mountains lie south of the Yavapai-Maricopa county line, and the Buckhorns lie north. If that is the case, then yes, Peak 3565 is the highest peak in the Hieroglyphics. All this underscores just how arbitrary identifying a range can be.
Scott Peavy was here a couple months ago, and I used his report and photos to help guide my way there. It looks simple. A good road gets close, then lesser roads and ATV tracks run nearly to the summit. It's not a long hike nor is there much gain. Concerned I may be still weak after dealing with the flu, this would be a good "safe" hike to do, to see how well I perform.
I left home at 5:30 a.m., drove west through Phoenix, caught Loop-303 to US-60, then followed that to Morristown, near where US-60 and AZ-74 connect. I turned onto Castle Hot Springs Road and followed it north. It loses its pavement a milepost 2, but is a good hardpack road that even small passenger vehicles could handle. I followed this road past a few ranch properties and into the hills, the road winding into and out of a few washes and around many small hills. I parked off the road about milepost 8.5, where a meager gravel track goes south, splitting almost immediately into two forks. I rolled in about 7 a.m., parked and walked the area to be sure this was where I wanted to be.
The day was cool and cloudy, but the clouds were not thick and moving through quickly due to a steady breeze. From where I parked, I walked up the road a few dozen feet to a rise and could see my objective in the near distance, the summit topped by a small band of cliffs. I continued south on the old road for a little over a mile to a saddle. The road gained about 300 feet to this point, but involved a lot of up and down along the way.
I picked up a side road that dropped a few feet to the saddle proper, then started up the slopes toward the top. This old road soon narrowed into a footpath, way too narrow for a vehicle and probably too rough even for an ATV. It was steep and heavily rutted, with loose gravel and scree lying atop exposed rock. This meant that footing was undependable. Whenever possible, I walked along the side near the brush, where footing was slightly better.
I followed the footpath to where it bent north and paralleled the cliffs. I then scampered up about 30 feet of off-trail slope to the base of the cliffs. Here, I found a jumble of rocks and one easy scramble segment (about 5 feet high with hands needed for one move). Once above the scramble part, I was on top. I walked over to the summit cairn, signed into the register and took a 15-minute break.
The breeze was heavy up here and still chilly. The clouds were moving through and I could see blue sky to the north, but for now, it was still cloudy. I took a few photos and could hear the braying of a wild burro somewhere below me. The register had the usual famous Arizona peakbaggers signed in, all of whom agreed this was a questionable range highpoint. Not many names, the register holding about 12 names going back 20 years.

Peak 3540

• Hieroglyphic Mountains
• Maricopa County

Elevation: 3,540 feet • Prominence: 300 feet • Distance: 0.7 miles (side trip) • Time: 15 minutes • Gain: 310 feet • Conditions: The same
PB
Hiking down, I took those steep segments carefully, and by the time I was back to the saddle, the sun had come out and I had better lighting for photographs. I was feeling pretty good, so I decided to hike over to Peak 3540, immediately east of Peak 3565. I found a footpath that angled north, following it to where it met the ridge north of the summit. From here, I went cross-country to the top. This little side hike covered just 0.7 miles round trip, with a little over 300 feet of gain.
I did not stay long up here, kicking a few rocks, before heading back down. Back to the road, I walked out to my car, arriving back about 9:45 a.m.. I didn't linger. I just piled in and started driving out, still in my hiking clothes and boots in case I wanted to hike another bump nearby. I was actually interested in the City of Surprise city highpoint, but discovered it is not easily accessed. I think it lies on the Chevrolet Test Track that's up here. So I didn't hike it. Maybe later some day.
From here, I drove home, arriving a little before noon. I had hiked 4.4 miles with nearly a thousand feet of gain. I felt pretty good, happy to be over my cold and back to hiking. Range highpoint or not, this peak was a fun and easy hike, albeit loose in spots.