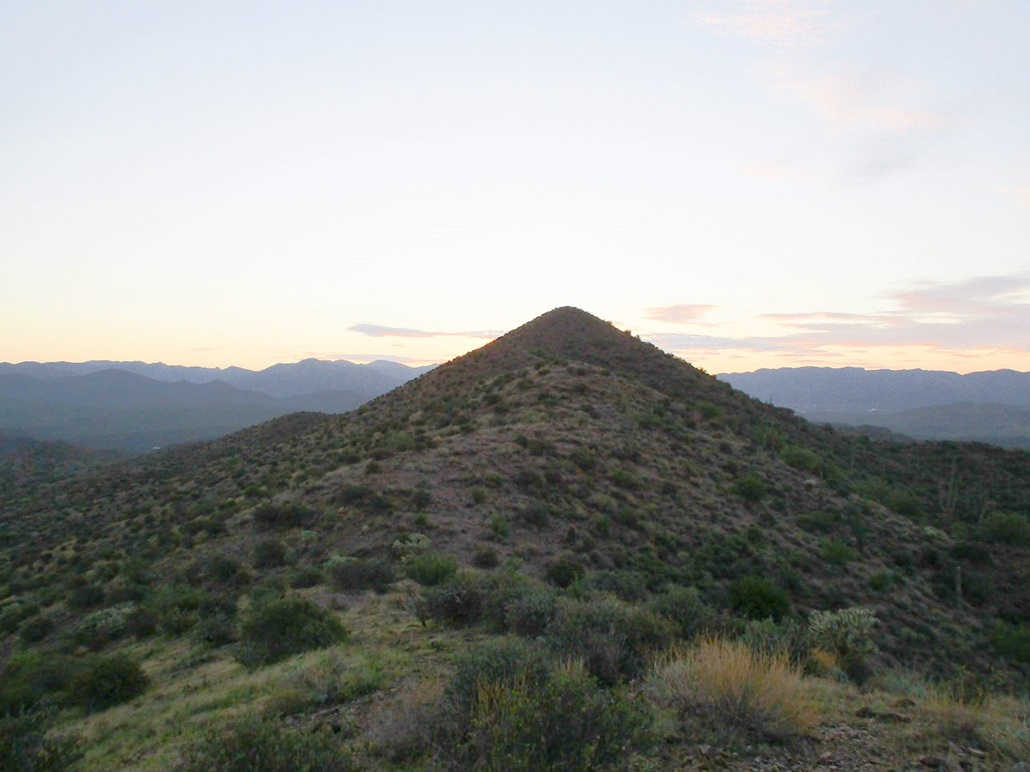 Peak 2901 at dawn
&nbsp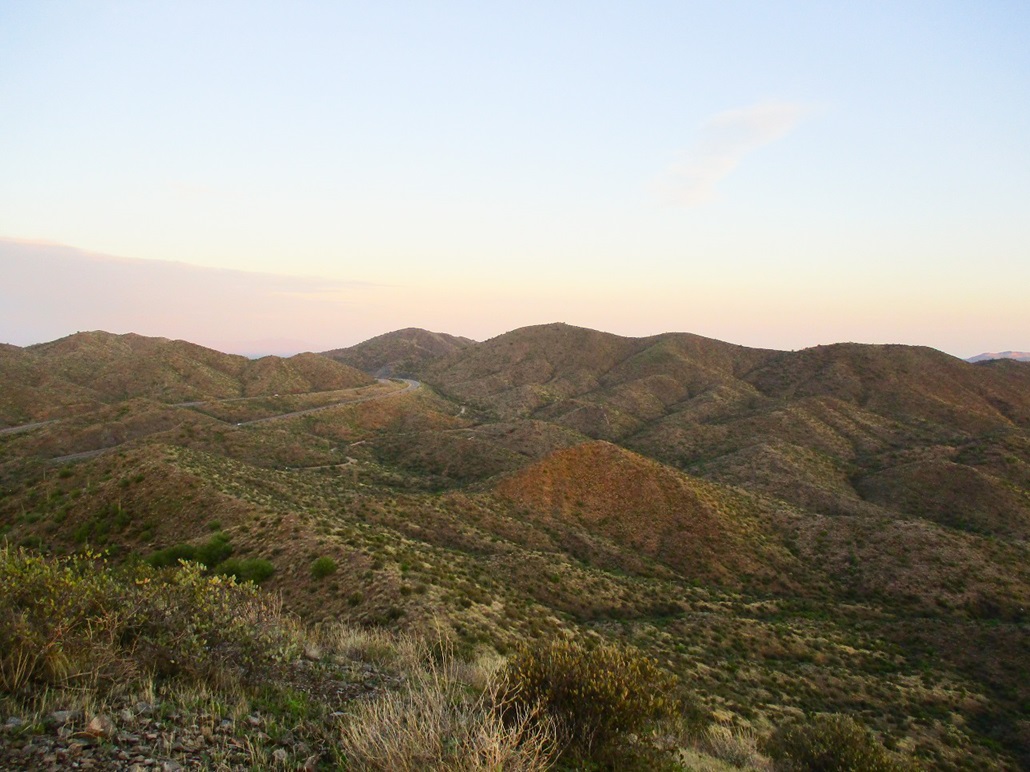 Looking back at Summit BM
&nbsp


Summit of Peak 2901
&nbsp


Summit of Summit BM, north toward the Superstitions. Weavers Needle can be seen
&nbsp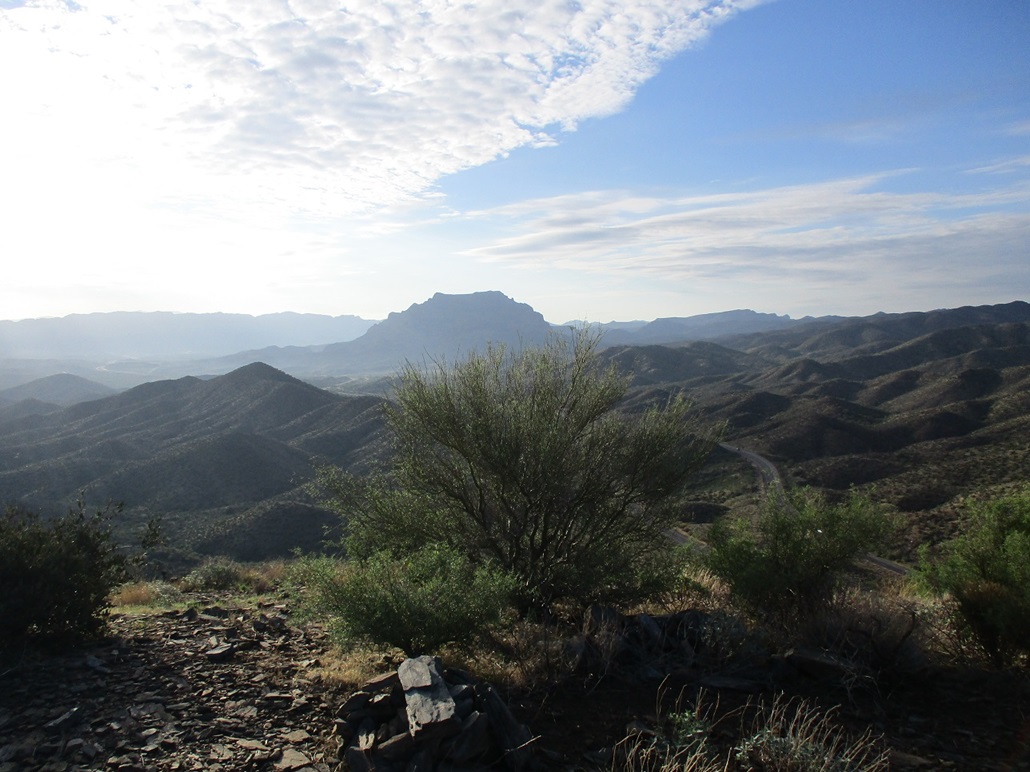 View east into the morning sun, Picketpost Mountain is the big shadowy mass, Peak 2901 is the closer pointed peak
&nbsp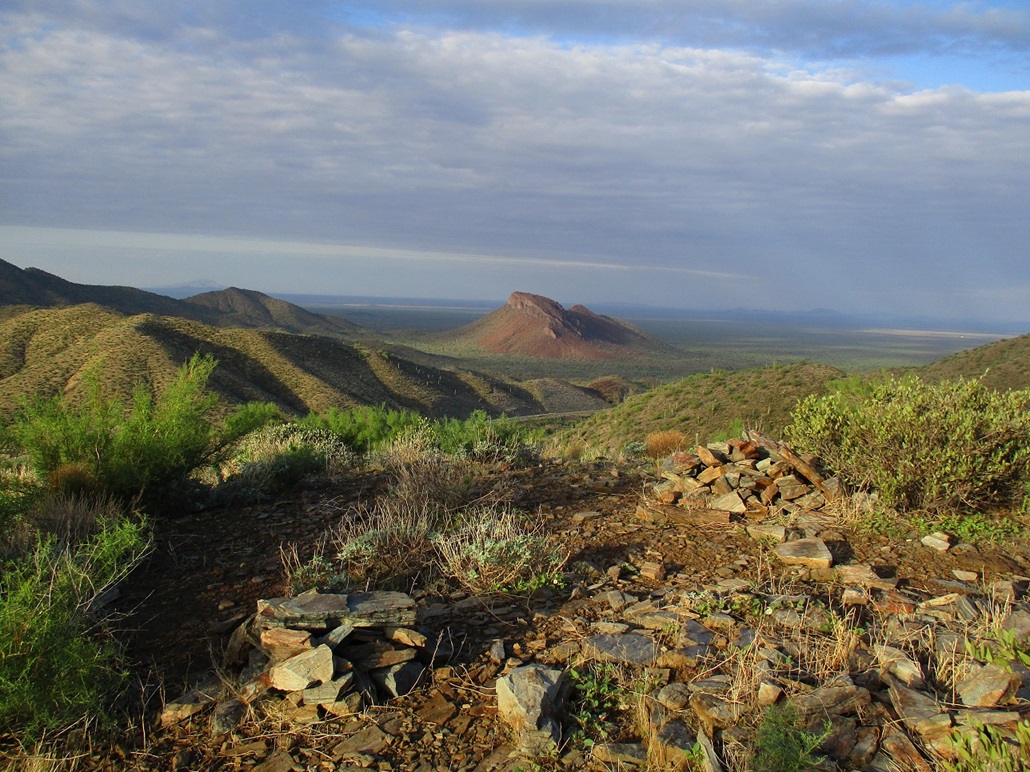 View west, Dromedary Peak
&nbsp


View south at Gonzales Pass, US-60, and my car down there
&nbsp


Montage: Top Row: Gilbert's ugly HP, Stacey and Recker sign, Chandler's HP; Bottom Row: three views from atop Hill 1311 in veterans Oasis Park
&nbsp


Peak 3002 (January 2023)
&nbsp


Approaching the top of Peak 3002
&nbsp


Cairn on top
&nbsp


View east, with Summit Benchmark hill, then slightly set back, Peak 2901
&nbsp


Dromedary Peak, and the shiny thing I drive
&nbsp


This here is Old US-60/70
&nbsp



All images
• • •

The Arizona
Mountains Gazetteer
Click to find out more!
&nbsp

Gonzales Pass Peaks
Peak 2901 • Summit Benchmark • Peak 3002
Gonzales Pass is about six miles west of Superior, where US-60 starts uphill from the desert flats (if heading eastbound) toward the Superstition Mountains and its subsidiaries. There are three ranked summits at or very near the pass. I was interested in two of them, as the third one (westernmost one, Peak 3002) has uncertain access. Also, the first two have easier access off of old US-60/70 (the precursor to modern US-60) which still exists in its heavily-decayed state.
The state has been under a persistent storm pattern for the past five days now, with heavy rain both in the high country and down in the deserts. Apparently, a "heat dome" in the midwest and northern Rockies is keeping this low-pressure pattern in place over Arizona. The result has been some of the heaviest accumulation of rain in the state since 2006 (according to one report I read). The downside is that roads get flooded, Priuses get washed down stream, and the ground gets so muddy that rock slides, mud slides in fire-scarred areas, and subsidence can happen in places. The upside is that temperatures have been greatly mitigated, with highs in the deserts in the low 80s, which is about 25 degrees below normal. The trade-off is heavy humidity. However, we need the rain and anything we can get is helpful. Hopefully it's all going somewhere useful.
I was up before dawn. Today would be mostly sunny with lows in the mid-70s, highs in the high 90s. I wanted to be hiking as close to dawn as possible, figuring I had a window of about two hours for the hikes. I located myself onto US-60 heading southeast from Apache Junction, then east toward Superior, aiming for Gonzales Pass.
Note: I would return in January 2023 to hike Peak 3002 (scroll down).

Peak 2901

• Superstition Foothills
• Tonto National Forest
• Pinal County

Date: July 26, 2021 • Elevation: 2,901 feet • Prominence: 321 feet • Distance: 1 mile • Time: 35 minutes • Gain: 361 feet • Conditions: Cool but very moist and humid
Arizona • Main • PB • LoJ
Peak 2901 is the eastern-most of the three peaks lining Gonzales Pass to the north of US-60. I studied the online map programs and satellite images. An approximately one-mile segment of old US-60/70 still exists in the canyon north of modern US-60. I would use this old road to park and access the two peaks.
This road is labelled Old US-60/70 on the map programs, which I find interesting. The multiplex name ("60/70") is a relic from many decades ago when two US routes would coincide for a siginificant distance. Currently, US-70 starts at the east end of Globe, where US-60 branches to the north. The old US-60/70 name would date from 1969 at the latest. Thus, it begs the question why the online mapper programs use this name because I doubt anyone calls it anything these days. The El Paso Gas Line runs through the pass and I suspect this tiny segment of Old US-60/70 was kept around for the workers to access the pipeline, which actually is above ground in portions herein.
It's not possible to access this old road from the eastbound lanes of US-60, so I drove to the Boyce Thompson Arboretum, then took the turnaround onto the westbound lanes. I knew to look for the access to the old road just west of a small concrete bridge, but even knowing this, I drove past it. It really does hide in plain sight. I pulled into the emergency lane and slowly inched backwards to get back to this access point. There are no restrictive signs, and the gate was dummy locked with bungee cords.
I drove the old road a little ways, parking in a wide spot slightly west of the peak, on a gentle downhill slope. I got suited up and started hiking at 5:25 a.m., the sky starting to light up but the sun still behind the eastern peaks. My car's temperature gauge said it was 71 degrees outside. It was pleasant, but you could feel the humidity. Five steps into my hike and I already had sweat stains.
I walked back to a small apex in the road and eased onto the toe of the ridge, then uphill to gain the upper ridge crest. I walked east, up to Hill 2729, then down about 80 feet to a saddle. The terrain was mostly open, rocky and not too loose. The rains had loosened some rocks, but it wasn't an issue. I gained steeply up the slope, then briefly along a level segment, then one last slope to the top of Peak 2901. The top has a decent-sized cairn, but no register. I took a water break, and snapped a couple images. It was still pre-dawn gray so lighting was not ideal.
I hiked down the exact same way and was back to my car in 35 minutes total after starting. The hike had gone well and went easier than I expected, insofar that the brush was light and the slopes not overly loose.

Elevation: 3,011 feet • Prominence: 351 feet • Distance: 0.8 mile • Time: 35 minutes • Gain: 366 feet • Conditions: Sunnier, humid but still
LoJ
I drove along the old road toward Summit Benchmark, which is the main peak of the threesome. It is the highest and the one overlooking the pass itself. I parked just before where the old road re-meets the modern highway. I was within feet of the highway but on the other side of a guard-rail barrier and slightly downslope, essentially invisible from the traffic.
The hike to this summit simply proceeds up the south slope. I picked a line and followed it, and within 20 minutes, was at the top. The hiking went fast and easy with no challenges. The summit has three large rock cairns, possibly from the original surveyors. I could not locate the benchmark. Maybe it's under one of the cairns. I did find a register and signed in. The last person before me was over a year ago. With the sun higher, I had better light for photos, so I took a few and also a couple-minute break.
I hiked down essentially the same line. The crux of this climb was a barb-wire fence that needed to be crossed down low. It was loose enough to just push down on the wires and step over them.
I looked over at Peak 3002, about a half-mile away to the west. It would not be difficult, but to get there from here meant going up and over an intervening bump, gaining and losing about 180 feet each time. It was warming now and still very humid and I opted against hiking that peak today. I was pleased with the two I visited and figured losing 5 pounds of sweat in the process was a decent price to pay.

Stacey & Recker

• Highpoint: Town of Gilbert
• Maricopa County

Elevation: 1,411 feet • Distance: Drive up • Time: 2 minutes • Conditions: Cloudier now
PB • City HPs of Maricopa County
Driving back toward the Phoenix area, I had time to kill so I took the scenic route south through Florence, then west and north along the Hunt Highway back toward San Tan Valley and Queen Creek. For whatever reason, a huge cloud bank had settled over the whole area, so lighting was dimmed but the temperatures stayed cool, in the mid 70s about now.
I drove along with the morning commuters through San Tan Valley, then got myself onto westbound Empire Road, which then becomes Hunt Highway again. Hunt Highway runs along the Maricopa-Pinal County line. To the south are a few scattered homes and then the Gila River Indian Reservation. To the north is the slightly-more developed fringes of suburbia. It's kind of a hodge-podge out this way.
My new goal was the highpoint of the Town of Gilbert (it's officially incorporated as a Town). Gilbert is completely flat, nary a hill, bump, or hummock to be found within its borders. The lands slope imperceptibly from the southeast to the northwest, so the highest point within Gilbert is at its southeasternmost corner, at the intersection of Stacy and Recker Roads. This may make no sense, so click the City HPs of Maricopa County link for further discussion and a map that may help splain what's going on.
I found Recker off of Hunt Highway, and drove in a quarter-mile to its intersection with Stacey Road. The city limits would presumably run along the streets so that the northwest corner of the intersection is within the city boundaries. That's where I went. I parked, kept the car running, got out and looked around. A pile of crud lies at the highpoint. Good enough for me. I got back in and returned to Hunt Highway.

Val Vista & Hunt Highway

• Highpoint: City of Chandler
• Maricopa County

Elevation: 1,293 feet • Distance: Drive up • Time: 3 minutes • Conditions: Cloudy and sultry
PB • City HPs of Maricopa County
Back on Hunt Highway, I proceeded west until the road forced me northbound on Higley Road. For a two-mile stretch, Hunt Highway does not exist. Instead, I went north on Higley, west on Riggs, then south on Val Vista Road a mile, to where Hunt Highway picks up again. This is the southeastern corner of the City of Chandler. Like Gilbert, there are no natural hills of any sort within the city, so its highpoint is this flat, non-descript corner.
Across the street along Val Vista Road is the Goat Yoga farm. It is what it sounds like. It is minorly famous as a stop made by Ozzy Osbourne and his children on his travelling-America television show in about 2018.
The highpoint itself is uninteresting. A housing development abuts the two roads, I lived in Chandler for 13 years and this was my first time to its highpoint, and I assure you, my last too.

Veterans Oasis Park

• City of Chandler
• Maricopa County

Elevation: 1,311 feet • Prominence: 30+ feet • Distance: 0.4 miles • Time: 15 minutes • Gain: 30 feet • Conditions: Cloudy and humid
PB
I drove northbound on Val Vista for two miles, then turned left on Chandler Heights Road for about a half-mile. I turned in to the Veterans Oasis Park and parked.
This park was built as Chandler was building out its water reclamation facility in 2008. It features a man-made lake and a couple streams that feed into this lake. The water is naturally cleansed as it travels within these streams. With all the dirt removed to form this lake, it was piled into a low ridge about 30 feet high. A park was developed with paved paths, dirt hiking paths, playground equipment, and picnic ramadas.
The highest point of the ridge, Hill 1311, is the highest point on land within Chandler city limits. It is clearly artificial, so technically not the city's true highpoint. However, in this case, a short hike to this hilltop is far more satisfying than driving to the corner at Val Vista and Hunt.
I walked the paths in my flip flops. It was still decently cool and humid. Lots of people were here doing their morning walk. My hike took just 10 minutes. The top features a couple lookout platforms and healthy cactus plants. If you didn't know the history of this hill, it'd be easy to assume it's natural. My compliments to those who built this out. I am glad I stopped in to visit.
All of these hikes, plus the driving, still had barely put a dent into the day. It was just after 9 a.m.. I had nothing more on the agenda, so I left the area, put up with traffic, and drove home.

Date: January 5, 2023 • Elevation: 3,002 feet • Prominence: About 320 feet per Lidar • Distance: 1.2 mile • Time: 70 minutes • Gain: 620 feet • Conditions: Cloudy and breezy
PB • LoJ
I returned here in January 2023 to finally hike this bump, to complete the three "Gonzales Pass" peaks. I had not forgotten it, I just wasn't eager to drive all this way for this one hill. However, earlier today I had hiked two peaks by the Reymert Mine a little to the south, so now would be a perfect opportunity to hike it.
I was finished with the Reymert hikes about 11 a.m.. I got back on westbound US-60, then over Gonzales Pass, where the highway starts to drop elevation. I parked in a tiny clearing on the north side of the highway near the "You Are Leaving the Tonto National Forest" sign. I was already dressed and my pack packed, and other than to veg for a few minutes, I was on the move quickly, starting at 11:20.
The weather was cloudy and breezy, temperatures about 55 degrees. I carefully stepped over a barbed-wire fence near some gas-line signs, and aimed for the peak. Within feet, I came upon the old road-bed for Old US-60/70, mentioned earlier above. Asphalt still lies there in spots, but the road is nearly-completely rotted back to nature. This is a good demonstration of what 50+ years of no maintenance will do to a road. Up until about 1970, this was the main highway between Phoenix and Superior.
Anyway, I simply hiked uphill, avoiding drainages. The ridges naturally merge the higher I got. I angled left up a steep slope to place me on the main west ridge, then proceeded uphill until I reached the top. The slopes were open, mostly shin-high grass and scrub, some palo verde, cholla and prickly-pear. The rocks were solid.
The summit features a large cairn and a well-hidden register jar in a "side" cairn. I had to look for it. I re-hid it the same way, so the next person will also have to look for it too. Just a few people had signed in, the usual signer-inners like Barb Lilley and Bob Moore, and a few others.
I sat for a spell to relax. The wind was blowing, maybe 20 m.p.h. at its heaviest, but I was bundled up and stayed warm. I was hoping the sun would pop out because I wanted an elevated image of the peaks to the north, with Weavers Needle being the most obvious, plus all the other peaks surrounding it. But the sun stayed hidden.
I followed the same line down, and had been gone a little over an hour. I got in the car and relaxed, then changed into my driving clothes for the exciting 40-mile drive through Apache Junction and Mesa back to Tempe. I stopped at the "El Jefe" Taco restaurant on Price Road in Tempe for ... tacos. They make good tacos and I recommend them. That's my "influencer" comment for the day.