View from about two miles away, Crosby Mountain is to the left
&nbsp


Another view, closer in as I gain elevation
&nbsp


View from the higher junction
&nbsp


Crosby Mountain. Note the saguaro on its slopes to the right of the summit
&nbsp


The top, peeking out behind a foreground ridge, as viewed from where the road ends in the saddle
&nbsp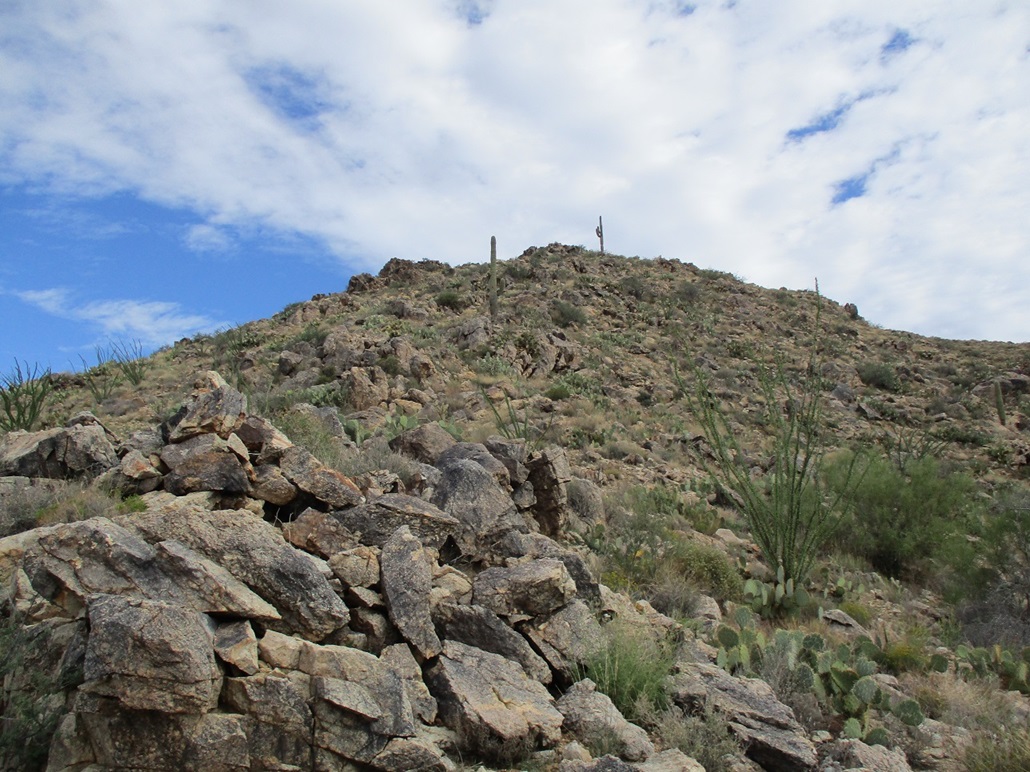 On the ascent, this is the last rock outcrop before the summit. There's that saguaro again, with it's "hug me" arms
&nbsp


The top is up ahead
&nbsp


The summit, looking southwest
&nbsp


View north, the peaks on the distant horizons are Mohon and Hope, which is the pyramidal one. Note the gentle shadows in the atmosphere created by the clouds
&nbsp


West view, that would be Grayback Mountain
&nbsp


Hayes Peak, which lies to the south of the saddle, and beyond it is "Santa Maria Peak" (Peak 3513), then beyond that, lots more peaks. Also, that saguaro again
&nbsp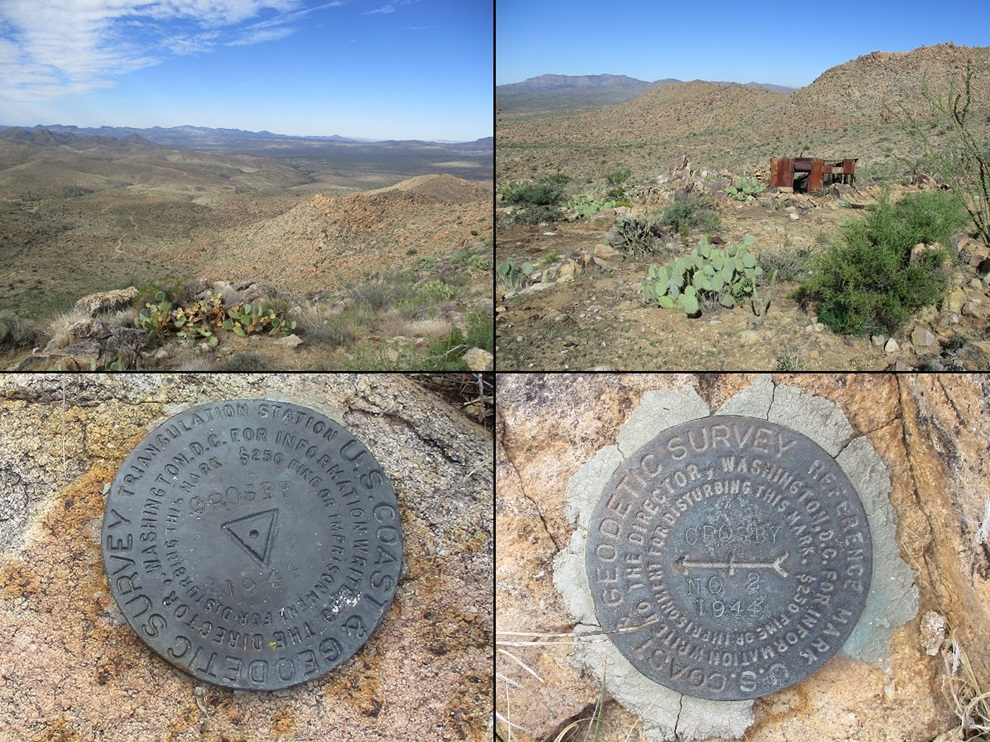 View of the road I hiked in on, some structure at the saddle, the benchmark, and a witness marker too


• • •

The Arizona
Mountains Gazetteer
Click to find out more!
Date: October 9, 2021 • Elevation: 4,344 feet • Prominence: 1,144 feet • Distance: 7.4 miles • Time: 3 hours, 30 minutes • Gain: 1,574 feet (gross) • Conditions: Cloudy at first, then sunny and absolutely stunning
Arizona • Main • AZ P1K • PB • LoJ • USGS BM Datasheet
I was on a 36-hour hike-camp-hike mini-vacay from home, the temperatures finally moderating down into the pleasant range (70s, 80s) in the daytime. I drove up yesterday and hiked Date Creek Mountain, then spent the rest of yesterday parked and camped in a pull-out along 17-Mile Road, which is about 30 miles north of Wickenburg along US-93.
Camp was pleasant. I slept in the open on a cot. It had been cloudy with a spell of rain yesterday, but by the late afternoon, the clouds were moving out, and the resulting sunset was stunning. Below are a couple images.
| | | |
| --- | --- | --- |
| Yellows | Then corals | Peak 4449 the next day |
I was up about 6:30, the sun still low in the east, but lighting things up already. Some people with horse trailers were rumbling in on this road, so I figured I wouldn't stay much longer. I got my stuff packed up and was on the road by 7 a.m.. There were a few high clouds and it was cool, about 55°
Back on southbound US-93, I drove about 10 miles to the turn-off to highway AZ-97, which goes to the mining town of Bagdad. Crosby Mountain is the highest peak in a batch of unnamed mountains east of AZ-97 and northeast of US-93. The Santa Maria River runs to the east and south of this range. Peak 3513, which I hiked early last year, lies across the river about four miles southeast of Crosby Mountain.
This area is unpopulated and remote. There are a few scraggly homestead properties along AZ-97, but for the most part, few people live here and no one really stops here either. The land is rugged and beautiful. Both highways AZ-97 and AZ-98, which starts in Bagdad and goes east to Hillside, are curvy, scenic highways through this hilly high desert, with few people driving driving them.
On AZ-97, I was looking for the entrance to a dirt track that runs about 3 miles to a saddle south of Crosby Mountain. I had scouted this before so I knew what to look for, but it does not stand out, and it is easy to drive past it... which is what I did. There is a sign, with white lettering on a black background, that this is private property, the public is welcome to drive in, but access may be shut at any time. I remember this from my last time here. Otherwise, this road doesn't look like a road at all. It looks like some random drainage off the highway into the hills.
I drove in 0.8 mile, which was good, about 0.7 miles farther than I was expecting. The road is rocky, but as long as I went slow, it was manageable. I drove to an apex on the road, where it drops into a drainage. I could have driven this but did not want to take any chances. There was a nifty cleared area to my right, so I backed in and parked. I would start my hike from here. I started walking at 7:45 a.m., still some clouds to the east, but very nice overall, the temperatures in the low 60s.
The road drops into a small drainage, then levels, passes a windmill and tank, then drops into the main drainage. A massive tree on its side blocks the road, but a section has been cut away to the left. Past the tree, the road starts to gain elevation at a gentle grade. When it achieves a local highpoint, I had my first distance views of Crosby Mountain, and its lower neighbor to the south (my right), Hayes Peak.
The road is a good road. It appears someone was driving it within the last week, since the tire prints in the dried mud looked well defined. After a mile of hiking, gaining about 250 feet, I came to a junction, marked by spot elevation 3,161 feet. The better road went right, uphill. The one I wanted went left. The tire prints stopped here (I assume they went right).
The road runs level, going in and out of the folds of the terrain, then it drops about a hundred feet near Dry Tank. Afterwards, it continues uphill, coming to a second junction, spot elevation 3,352 feet, all this in about a mile since the first junction. I went left again. A little forest of ocotillo lines both sides of the road. Today, they were covered over in little green leaves.
The road runs about another mile, aiming for the saddle between Crosby and Hayes. I covered the distance from my car to the saddle in about an hour. The road up to where it dropped down near Dry Tank was pretty good, most stock high clearance could get in most of the way, the crux being the messy part near the downed tree. After the drop and regain, the road gets progressively more unkempt. I did not see any hint of a tire print on the road once past Junction 3161.
I took my first break at the saddle, elevation about 3,760 feet, and studied the rocky slope ahead of me. Crosby Mountain was temporarily hidden behind this lower slope. The slope itself looked inviting, rocky and brushy but mostly open. After my break, I resumed the upward trek.
The slope was cake. The rocks laid back well, the brush was spread out and I had nearly unfettered hiking, nothing poking me or grabbing at my ankles. In fact, I sensed a path. Maybe a trick of the eye, but it sure looked like a path. So I followed it, and when the slope leveled off and came to a flat area, there was fresh cow poop everywhere.
I am always amazed that cows can get so high. They are completely stupid, but evidently capable of getting fairly high up slopes through rocky and brushy terrain. If a cow can get here, then surely so can I. This motivated me. Cows tend to only get so high. Some day, cows will figure out how to get to the summit, and that will be a great leap forward for cowkind. Once that happens, they will become the dominant life form on this planet. And I for one will welcome our new cow overlords, and as a trusted member of academia, I can be helpful in rounding up others to toil in their underground hay caves. 1
The grade resumed, but it was easy hiking all the way up. Never once did I need to scramble or battle ungodly brush. It was an enjoyable trek and I made excellent time. After yesterday's brush and rocks on Date Creek Mountain, and last weekend's nightmare on Buckhorn Mountain, this was like walking on a sidewalk.
The summit is topped by a small rocky crown, and only now did I need hands to ease up some spots, and I was on top quickly, a total of two hours since starting. Conveniently, the remaining cloud cover was moving out and leaving me with blue, clear skies and unbelievable views in all directions. I snapped an image of the USGS Benchmark and of the surrounding countryside. This is like Arizona was in 1850. I bet I could see thousands of square miles in which maybe 500 people total lived. I spent about 15 minutes up top. I was the first to sign into the log since April, just the second for 2021. The log went back to 2013 and held just a few names, most years seeing at most two or three teams up here, some years nobody.
Going down, I kept largely to the ridge as I had coming up, and was back to the saddle quickly. I walked over to a peculiar "gate" structure, not sure what it was supposed to be. There is no fencing up here. There is a metal tank nearby, rusted and falling apart. I was able to get better photos of Crosby Mountain from this vantage.
The hike back to my car took a little over an hour. I made good time, and was back to my car at 11:15 a.m.. I had not seen a single person all morning, but not surprised either. I changed and started driving out. Only now did I see other large life forms, a group of cows lazing near a tank. I drove slowly so they would run away, not in front of me or into me. You never know what they're thinking.
The hike had gone extremely well and I was pleased how easy it had been, the off-trail parts being so gentle. My poor legs appreciated not being stabbed every five feet. This is a lightly-visited part of the state and I would not be surprised if the next person up there comes a year from now.
Now it was time to head home. Instead of going down US-93, I took the scenic route along AZ-97 to AZ-98 to Hillside, then county routes through Kirkland back to AZ-89 at Peeples Valley, then to Yarnell, where I stopped in for drinks and snacks.
I was in no hurry and the day was so blue and lovely, I wanted to take the drive slowly and enjoy the views. I started the downhill portion of the Yarnell Grade (AZ-89) then pulled into a little scenic view parking lot. I had it all to myself for a few minutes, so I got out my camp chair and had a lunch, staring out over hundreds of miles of deserts and peaks.
Suddenly, about thirty motorcyclists roll in on their Harleys, blasting all sorts of lousy 1980s rock on their stereos. I was a little annoyed. I had me a nice quiet overlook all to myself, and now this. They had on patches but nothing I could recognize. The font was hard to read. It wasn't one of the famous 1%-er outlaw clubs. Now I was really annoyed. Heck, if you're going to ruin my peace and quiet, please have the courtesy to be one of those famous clubs so I'd have a good story to tell later. They paid me no attention, so I just slowly got my stuff packed up and left.
I took more scenic routes back home, AZ-74 east to the Carefree Highway, then Scottsdale Road south. I was home about 2 p.m., a good weekend out on the peaks.