Grapevine Mesa in the distance, Blackjack Point would be on the far right.
&nbsp


Closer in now.
&nbsp


Hill 5052.
&nbsp


Forest Road 597 cuts below the peak.
&nbsp


Looking east, into the sun. The peak is above in the distance.
&nbsp


South view, Grapevine Mesa.
&nbsp


North view, the Cedar Mountains.
&nbsp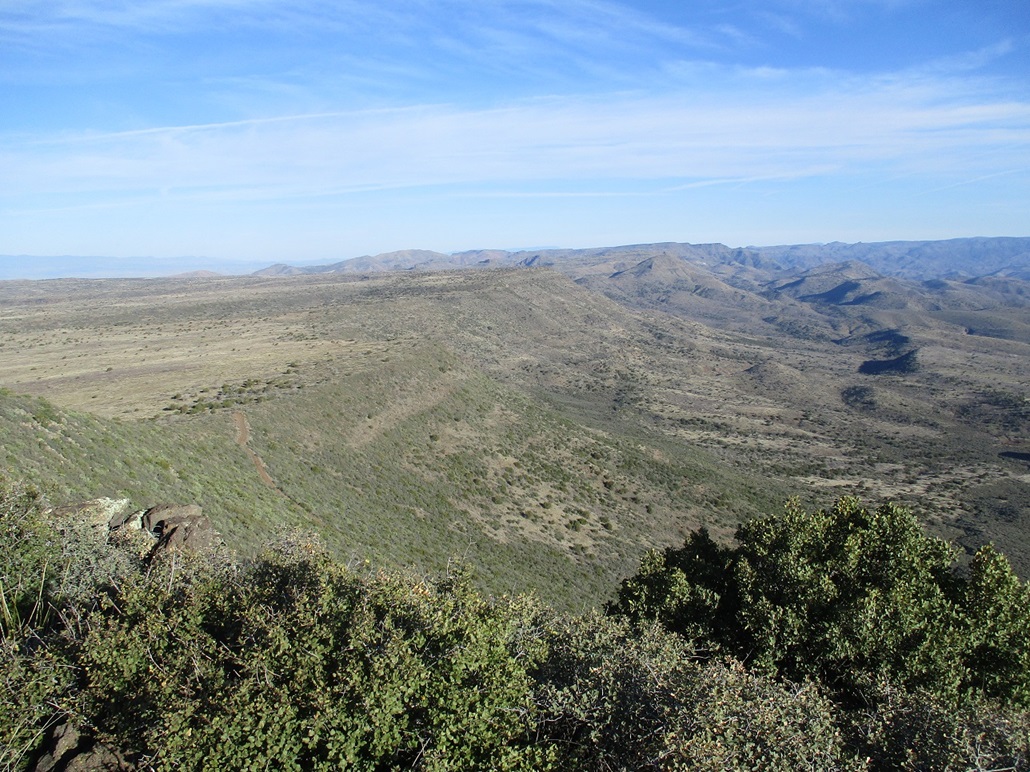 Northwest view, the road I hiked is below.
&nbsp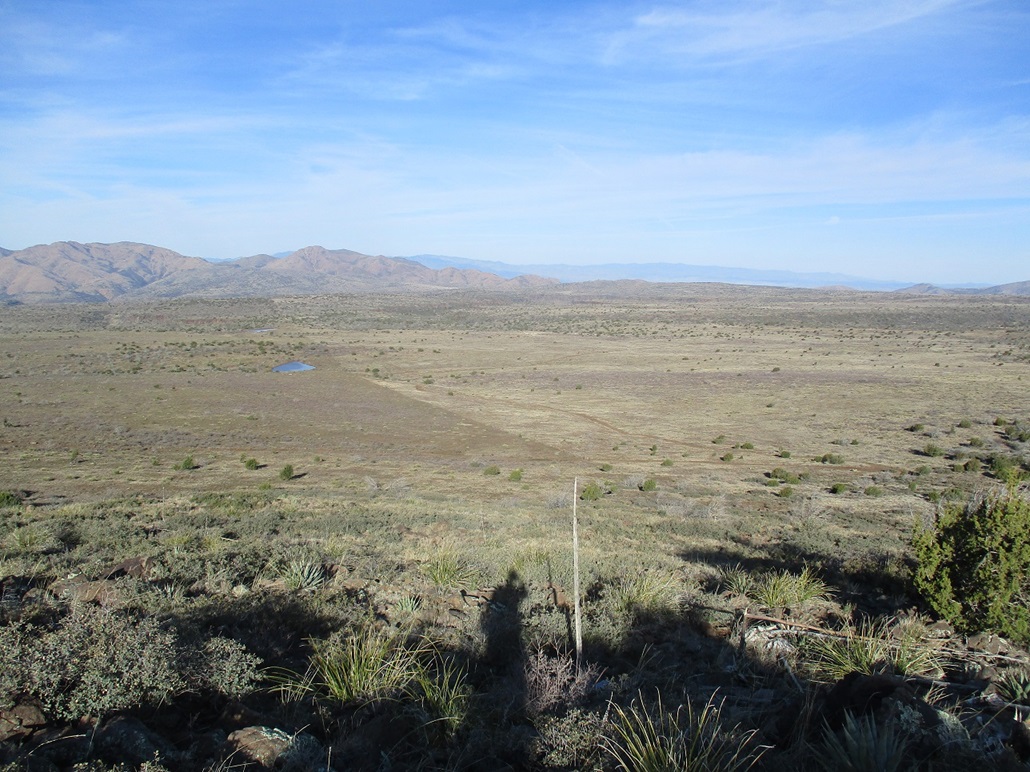 West view of Cooks Mesa and the new River Mountains.
&nbsp


View of Blackjack Point and Hill 5052 from the northeast.
&nbsp


High Mesa from FR-24.
&nbsp


Now seen from the road/trail.
&nbsp


Approaching the top, ooh a fence.
&nbsp


South view, the FAA dome on Humboldt Mountain can be seen. Rover Peak is the bigger peak in the foreground.
&nbsp


View of Blackjack Point, my earlier hike.
&nbsp


North view, East Cedar Mountain.
&nbsp


Blackjack again, now with power lines.
&nbsp


The power line stanchions look like giant horn-headed alien robots holding onto wiring that will be used to enslave us all.


All images
• • •

The Arizona
Mountains Gazetteer
Click to find out more!
Verde River Valley
Blackjack Point • High Mesa
Blackjack Point is the eastern-most point of a gigantic mesa north of Cave Creek that stretches about 15 miles east to west and 10 miles north to south. The New River Mountains lie on the western side of this monster mesa. The mesa itself has a few names for its individual lobes. To the south of Blackjack Point is Grapevine Mesa, and to the northwest is Cooks Mesa. Down below are more mesas, that eventually drop east down toward the Verde River. This morning, I wanted to hike Blackjack Point, and nearby High Mesa.

Blackjack Point

• Cooks & Grapevine Mesas
• Tonto National Forest
• Yavapai County

Date: February 18, 2020 • Elevation: 5,380 (5,404) feet • Prominence: 780-800 feet • Distance: 1.6 miles • Time: 90 minutes • Gain: 580 feet • Conditions: Cold at first, sunny and warming up
I left home at 6 a.m., going against traffic, heading north on Loop-101, then north on Scottsdale Road into Cave Creek. Slowly, all the other cars heading this way stopped at their various destinations. I continued on Cave Creek Road, which merges into Tonto FR-24, by which time it was just me. The sun was rising as I entered into the hills north of Cave Creek and Carefree.
From where the pavement ends, I drove FR-24 for 14 miles to the east base of this mesa, where FR-597 starts, directly below the top. The drive went well. The road is good until the Seven Springs Camping area, then a little bumpy and narrow the remainder. The creeks were flowing and there were three water crossings along the way, but these were easy. The mesa becomes visible about a mile or two north of the Seven Springs area.
Once at the FR-597 "exit", I parked where I was not blocking the road, but there really wasn't a good place to park. I was at 4,820 feet elevation, and it was cold, 34 degrees outside. The sun was still low, but the day was clear with just a few high clouds.
I walked westbound up the road, which is a rough road, only suitable for a Jeep or better. There is a gate where FR-597 starts, then two more along the road to where it surmounts the mesa. The lowest gate was open, the next two were closed but dummy locked. I was surprised to see small snow patches on the hills and in the road. It's February, and summer is right around the corner.
Once past the third gate and on the mesa proper, I angled back east up the slopes. I was able to follow lanes through the brush, but often, the lanes were narrow. The brush was grabby and thorny, and the underlying rocks loose. This slowed me down a little. The gradient was lenient, so walking it was easy and not tiring, but I slipped and slid a few times on the rolling rocks.
I had to breach two easy barbed-wire fences along this cross-country segment. I was soon on top, where I had great views, especially north and south, looking up and down the long Verde River Valley and its many smaller canyons and valleys. Looking west, I could see the full extent of this big mesa, and the distant New River Mountains. I spent ten minutes up top. The highpoint is one of four or five big boulders, so I tagged them all. I found no benchmarks or a register. The temperature had warmed nicely, now in the mid 40s.
I hiked down the same way and was back to my car in 90 minutes, by now, the temperature in the mid 50s. I enjoyed this little hike. It's not much of an epic, but I enjoyed the viewing perch and did get some good information on FR-597 ... mainly, I'll need a much stronger vehicle if I ever want to drive onto this plateau.
The point's elevation is currently unstated, wihin a 5,360-foot contour. However, an older topographical map shows the top within a tiny 5,400-foot contour, and a spot elevation of 5,404 feet. The rough mean, 5,380 feet, is used here.
My next hike, High Mesa (Peak 4821), was just a couple miles up the road. I was there in no time.

High Mesa • Peak 4821

• Verde River Valley
• Tonto National Forest
• Yavapai County

Elevation: 4,821 feet • Prominence: 311 feet • Distance: 2.4 miles • Time: 1 hour • Gain: 430 feet • Conditions: Sunny and pleasant
Arizona • Main • PB • LoJ
This peak is a softly-sloping mesa that reaches an apex on its north rim, overlooking canyons over a thousand feet below. The elevation is 4,821 feet, and by coincidence, another peak about three miles north is also 4,821 feet elevation. To differentiate between them, I refer to this one as High Mesa, named after a nearby stock tank.
I was up this way to hike a couple easy points, and to do a little homework on the roads up here for future hikes. I had just hiked Blackjack Point about two miles to the west. Individually, each peak was not enough to warrant the drive to get here, but together, I could justify it. Cumulatively, I'd be hiking a little under 5 miles and gaining about a thousand feet.
From Blackjack Point, I drove on Tonto Forest Road 24 northbound a mile or so, to a set of massive power lines spanning the road. Below the lines is a rough track, FR-1059. I pulled in and parked, the road too rough for my vehicle.
I walked FR-1059 under the power lines. The road angles left and drops about 120 feet to a low saddle, then passes the High Mesa stock tank. Once past it, I looked for a chance to start up the open slope to the top. The main challenge was to find ways through the catclaw, which was much more abundant here than on Blackjack Point.
The open-slope hike went well and I was soon on the top, the crux being a barbed-wire fence that I carefully stepped over. The top itself was flat, with low rock piles and brush. The views were fantastic, looking down into the low canyons that feed into the Verde River. It's rugged country down there.
I did not spend much time up here. I hiked back generally the same way, met the road and walked out, a one-hour hike covering about 2.4 miles round trip. It wasn't that shabby, and I enjoyed it. This was a nice bonus peak.
I really have my eyes on Rover Peak, a major summit in the line of peaks south of Blackjack Point to Kentuck Mountain. The road I hiked is the same road that gets somewhere near Rover Peak. I was able to spot it from my elevated perch and got a much better idea what to expect. So, in that regard, my scouting mission was a success.
The time was just shy of 11 a.m. and warming quickly, into the 70s. I slowly drove out FR-24, taking about an hour to get back to Cave Creek and North Scottsdale. Slowly, more cars materialized so that by the time I was back to the Loop-101 freeway, it was crowded and noisy. I worked from home the rest of the afternoon.