Date: October 7, 2012 • Elevation: 8,012 feet • Prominence: 2,892 feet • Distance: 19.4 miles • Time: 10 hours and 45 minutes • Gain: 5,700 feet • Conditions: Superb • Teammates: Scott Peavy
Mount Bangs is tucked into the northwest corner of Arizona near Mesquite, Nevada, and St. George, Utah. It is the highest point in the section of the Virgin Mountains that extend into Arizona from Nevada (the highest point in the Virgin Range is Virgin Peak, in Nevada). The Virgin Mountains form a formidable wall, serving as a natural boundary between the Mojave Desert to the west, and the higher plateau country of the Arizona Strip lying east. To get here from Phoenix means driving through Las Vegas, then another hundred miles up Interstate-15 to the range, a four-hundred-mile-plus one-way journey. Largely for this reason, I had put off hiking Mount Bangs indefinitely.
Scott Peavy and I started talking about this peak a few months ago, but wanted to wait until summer was over before making the effort to get there and hike it. We decided early October offered a good chance of stable weather and pleasant conditions. Ultimately, there is no easy and convenient way to get to the Virgin Mountains for us Phoenicians. It would require a long drive and likely, a long hike. We allotted nearly the whole weekend for this attempt.
Scott drove, picking me up at my place at 9 a.m. on Saturday. The drive to Mesquite took about 5 hours. The day was bright and clear and still warm, with temperatures around 90 in the Vegas area. Other than a gas stop and another for food, we rolled into Mesquite around 3 p.m., then followed local roads south and east, re-entering Arizona at the small community of Scenic. Mount Bangs rose impressively behind Scenic, 6,000 feet higher, its rocky summit evident even from our low position.
We followed local paved roads to Red Hawk Road, which is also signed for Elbow Canyon. Red Hawk Road is a bladed dirt residential road for about a mile, then degenerates into a rugged desert track as it slowly climbs the slopes abutting the range. Scott eased his Subaru Forester up the road, and after about 15 minutes, we had arrived at a big corral at the mouth of Elbow Canyon. Here, I got out and walked the road as it dropped into and out of a drainage, then up a bend, inspecting it for rocks and quality. I motioned for him to come to me and he did, and we drove another few hundred yards to top out on a small knoll, elevation 3,000 feet. A cleared space beside the road looked like a good place to camp for the night.
It was almost 4 p.m. when we got situated. From our knoll, we could see more of Elbow Canyon and the road snaking up it. Naturally, we wondered about driving higher, so we walked up this road into the canyon about another mile. The road looked pretty good, but there were no good places to pull aside for a camp. We weighed our options and decided that it may not be worth the trouble to drive the road, and that our camp at the knoll was adequate. We sat around and had dinner, watching the sunset and looking at the lights of Mesquite and of the vehicles on the interstate.
We were both up by 3 a.m. the next morning. The weather was cool and pleasant, temperature about 50 degrees, and still. A waning gibbous moon had risen around midnight and would provide more than adequate light for our initial walk up the road into Elbow Canyon. We had almost six miles of walking to get to the pass at the head of Elbow Canyon. Given the tediousness of hiking a road, we felt that hiking it in darkness would help, not being distracted by the desire to look up all the time. We started at 3:55 a.m., and made excellent time and kept a steady pace. We could sense a transition from lower desert scrub to higher, more forested terrain, but not much else. We arrived at the pass at 7 a.m. as the sun was rising.
At the pass (which is also a boundary for the Grand Canyon-Parashant National Monument), we could see our next objective, another pass in the mountains to the north, the map showing "Littlefield Reservoir" tucked in here. Scott's GPS measured our walking distance to the pass as 5.8 miles, with over 3,400 feet of gain. The road drops about 250 feet, angling north then east, then north again, coming to a lowpoint in a drainage near Cougar Spring. We took a food and water break here. Back in the shade of the range again, we quickly got chilled and kept our break short. From here, the hike to the Littlefield Reservoir pass took 45 minutes, following a lesser road and a trail up the easy gradients. The rocky summit of Mount Bangs stood high above us, its white rocks nicely contrasting with the thick manzanita and scrub-oak hillsides.
We arrived at Littlefield Reservoir, amused to see it nothing more than a murky, shallow stock tank full of brown, muddy, fecal-tainted water. It was 8:30 a.m., and to here we had covered slightly over 8 miles of walking and had gained nearly 4,000 feet of elevation. Mount Bangs now rose southwest of our position. We had "overshot" it slightly by hiking all the way to Littlefield Reservoir, but the thick, woody manzanita covering all the hillsides left us little option. After another short break, we started the last segment of our hike, the mile-plus hike to the top, and another thousand vertical feet.
From the reservoir, a couple wide paths start up the slopes, plainly obvious yet still marked liberally with cairns every few yards for some reason. In a few places, side trails branched from the main trail, but keeping to the correct path was simple. We kept at this for about forty-five minutes, approaching Mount Bangs' summit from the north. The footpath degenerated into scragglier tracks, then disappeared completely at the base of the rocks. Still, plenty of cairns led the way. We still had 250 vertical feet to the top.
We moved slowly through the lower rocks, our main concern being the looseness of the rocks on the steep slopes. Shortly, we came to the first "real" rocks. From here to the top, we worked our way up easy chutes and around obstacles, battling the thick brush to bypass the tougher rock segments. The rock up here were large blocks of talus, generally about 4- to 8-feet long, set haphazardly. They'd form voids and other places where an ankle could get busted in no time, plus a few spots with exposure to the cliffs below. However, actually falling would have taken deliberate effort. The views in these spots were remarkable. After another thirty minutes of slow movement through the top-most rocks, we arrived on top of Bangs, its highest point a lovely flat rock just perfect for sitting.

Panorama from the summit of Bangs Peak. Littlefield Reservoir is to the right,
and the plateaus of the Arizona Strip rise behind.
On top of Bangs, we took a well-deserved rest. The views in all directions were astounding. The steep cliffs of the west face gave way dramatically to the lower slopes and the Mojave Desert below us. Looking north and south, we had million-dollar views of the rugged Virgin Range. East we could see the big flat-topped mesas and peaks and land of the Shivwitz Plateau. Way off east, we saw a big plume of smoke. Back at Bangs, the USGS benchmark was set in a rock slightly lower than the summit, its name reported as Hancock Peak. In the log, the last visitors had been here in August, and before them, in March. It was just after 10 a.m. when we summitted, a six-hour one-way hike, with nearly 5,000 feet of net gain. Scott's trusty GPS said we had walked 9.7 miles one-way from his car. As good as it felt to be up top Mount Bangs, we knew that we had a long downhill walk ahead of us. After about 20 minutes, we started the trek down.
Getting down the rocks was easy, as was the walk back to Littlefield Reservoir. We stopped here briefly as I needed a drink-break. We were amused to ponder that at some point in the past, a rancher thought it worth his trouble to bring in earthmovers all the way up here to build the berms that hem in the reservoir. It surely is not a municipal water supply for the community of Littlefield, Arizona ... at least we hope not. Once hydrated, we continued the walk out, coming back to the road where some guy was in his ATV, drinking a beer. He was surprised to see us, but friendly. We chatted, then continued our trek.
From the lowpoint near Cougar Spring, we had that 250-foot uphill segment waiting us before we were at the pass above Elbow Canyon. This segment was easy but tiring, as by now we had already climbed over 5,000 vertical feet and covered over 11 miles. Along this segment, a group of three ATVers rolled up. We talked to the couple in the lead unit. They were truly impressed we had walked all this way, and they were friendly, too. Impressed may not be quite the right word. They may have wondered about our sanity a little bit. The people in the other units were also cool, and we basically waved hi. In time, we were back to the pass above Elbow Canyon. Excellent, just a little under six miles to go.
The walk down Elbow Canyon went fast, but it was tiring. The first mile from the pass was steep and the rocks were fist-sized rubble that rolled with each step. The views were impressive from various vantage points. As we descended, we saw things we had not seen coming up, like big cliffs, streams and small pools in other areas, a few corrals, a camping area, things like that. We just kept at the walking, stopping about every two miles for a rest and food-and-water break. Toward the end, my body wanted to melt into the rocks, as tired as I was. It was very difficult to get back up and resume walking.
Closer to the bottom, Elbow Canyon widens and becomes much more desert-like. We spooked a herd of cattle, and the beasts walked ahead of us for awhile instead of veering off the road. We still had about a mile and a half back to the car. Finally, cresting a rise, we could see Scott's vehicle off on that knoll, the best sight of the day! We were back to his car at 2:45 p.m., an overall 10-hour and 45-minute day with 19.4 miles of walking and an accumulated gain of over 5,500 feet. I was absolutely beat, but very happy to have summitted Bangs and to have set my one-day hiking record of 19.4 miles (not including bicycles or other contraptions). Scott had a couple beers in a cooler, beers he brewed himself. They were still cool and they tasted wonderful. After changing, we started the drive down a little after 3 p.m.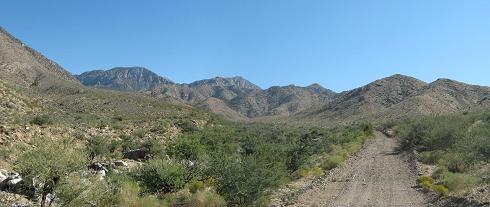 Elbow Canyon Panorama, just before the walls close in.
We stopped briefly in Mesquite to clean out garbage, then drove into Las Vegas, stopping at the Railroad Pass Casino (where highway 93-95 leaves Vegas/Henderson and comes down into Boulder City). At the casino, we had a buffet meal for about $10 each. It wasn't busy at all, and the food was very good. I had pork loin roast and sliced beef, obviously desiring protein. I also had lots of other tasty food items and even then, barely felt like I had "gorged".
From here, we continued the long drive back to the Phoenix area, arriving back to my place around 11 p.m. After getting my stuff together, I shook hands with Scott and thanked him for the driving and company on the hike, he as pleased to have summitted as I was. I greeted my wife and showered, but didn't sleep well, given I was pretty sore by now. Actually, I was sore for about three days afterwards, and unbelievably hungry, too.
Looking back, we had perfect conditions for our marathon hike, and the logistics were very easy. I joked that it was like hiking 8 miles to do a one-mile hike. I wonder if we're the only people to have hiked the peak from where we started. Admittedly, had we a beefier vehicle, we would have driven farther up Elbow Canyon. To my eyes, the first couple miles past the initial corral is rough, but not too bad, and any stock 4-wheel drive high-clearance vehicle could have handled it. After that, the road gets rougher in spots, and steeper higher up. You'd want a Jeep or an ATV preferably, although trucks and SUVs do get up that road. But it will be slow-going in places. As is typical for roads like this, it's 90% smooth, barrier-free road, and 10% crappy rock and ruts.
Historical Note: Mount Bangs was a county highpoint for about a year, roughly 1870 and 1871, topping Pah-Ute County, Arizona's so-called "lost" county. Originally, Arizona's boundaries included both sides of present-day Lake Mead and extended farther west, and included lands that would eventually become Las Vegas. Pah-Ute County was created to encompass these lands, but when most of this land was given to the new state of Nevada, Mount Bangs then became the highest point of the smaller county. In 1871, Pah-Ute County was revoked by the Arizona Territorial legislature.