The Maricopa Mountains are a desert range east of Gila Bend. In 2000, much of this land became protected as part of the Sonoran Desert National Monument. Even 10 years later, it's a basic set-up: no visitor's center or tourist infrastructure. Which is fine. As the cities of Goodyear, Buckeye and Gila Bend grow, protecting this mountain and desert region is a great idea for well into the future.
We've driven through the area along State Route AZ-238 between Maricopa (the town) and Gila Bend, but only recently did I get a chance to explore it on foot. I was accompanied by Marvin Bittinger, a professor of Mathematics from Purdue who has written many mathematics text books, and with whom I have worked with on the 10th edition of his long-popular Calculus and Its Applications. He was interested in seeing desert landscapes, and I proposed this hike as a chance to get a dose of desert into our systems.
We arrived at the parking area off of AZ-238. Our trail was an old road, closed to vehicles, marked as the "Boulders" staging area. We followed this road northwest about 1.5 miles, bypassing a mound of volcanic rock, and coming to the boulders, an outcrop of large basalt (?) rocks sticking up out of the desert floor. From here, we went left (west) into a canyon, hiking to the road's end at a turn-around. Along the way Marv almost stepped on a baby diamondback rattler, lying in the trail sunning itself. It wasn't moving and not in a bad mood, apparently. Probably warming up from the morning's chill. The snake was about 10 inches long, maybe a year old. It looked healthy. On the hike out he was gone.
The hike out went well and we had a good time. The scenery is fantastic, very stark desert scapes with close-by hills and distant big peaks. We were fortunate that the temperatures were cool for early May. It gets hot quick out this way.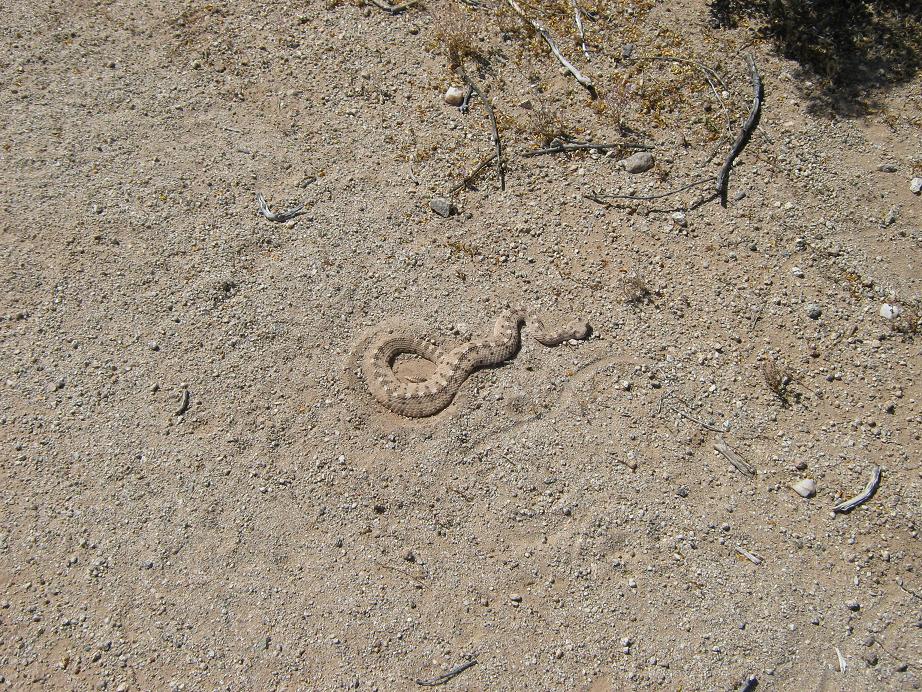 Snake!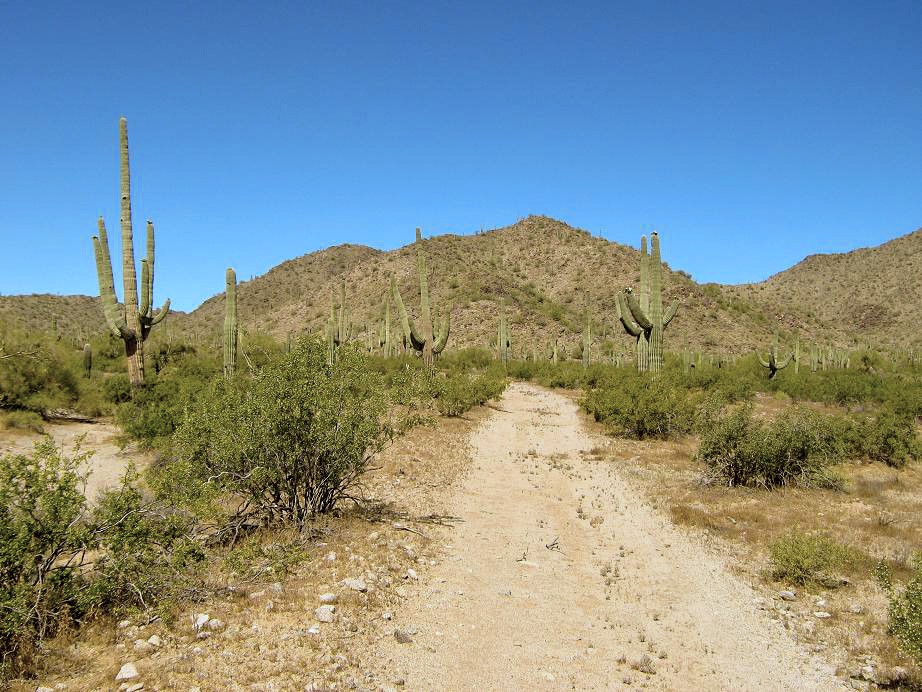 Hills in the Maricopa Mountains

Cactus Views

Hills

The Sierra Estrellas in back
Return