In March of this year, my father proposed a trip to Alaska, with "the boys", me and my brother. None of us had ever been to Alaska before. My father viewed this trip as a "bucket list" trip. Ultimately, those on the trip would be my father, me, my brother Chris and his family.
My father made all arrangements and covered all costs. Timing was important too, as the places we intended to visit needed to be accessible. He settled on early June. The trip would be short but intense: land in Anchorage, take the train to Denali Park, do a day-long bus tour of Denali National Park, take the train back to Anchorage, then fly home. We would be in Alaska for five days.
I flew from Phoenix to Las Vegas on June 1st, then we got an early start on the 2nd. Our flight out of Las Vegas to Seattle left at 6:50 a.m., and my dad was so pumped that we left early, getting to the airport at 3:30 a.m. This had an upside: the security checkpoint took us about five minutes. We then walked to the gate, and not surprisingly, we were the first ones there.
The flight to Seattle went well. The plane was just half full. In Seattle, we met my brother and his family. Then, the six of us flew to Anchorage, arriving about 3 p.m. local time. The descent was exciting, viewing the rugged, snow-covered peaks poking up through the clouds. My nephew remarked that it had taken him 13 years, his whole life, to get here. My dad replied it had taken him 74 years.
We got to the hotel, located near Ship Creek which is located in the north part of the city, near Government Hill, which is where the city was first settled about a hundred years ago. Then we walked into downtown and looked for a place to eat. We ate at a place called the Fat Ptarmigan, which had pizzas, beers and other hearty food with an Alaskan angle. I had a salmon pizza.
The rest of the day we had to ourselves. All of us at one time or another walked to Ship Creek to watch all the anglers fishing for salmon. Apparently, the season had just opened, and the shores were lined with anglers, one every twenty feet. Some were catching big fish, upwards to 20 pounds. It was fun to watch.
Up this far north, and nearing the summer solstice, the sun did not set until about 11:30 p.m. As late as 10 p.m., the sun was still high in the sky, shining brightly, not even "sunsetty" yet. This blew my mind. This was the first time I had ever experienced such late sun. I was thoroughly amused by it.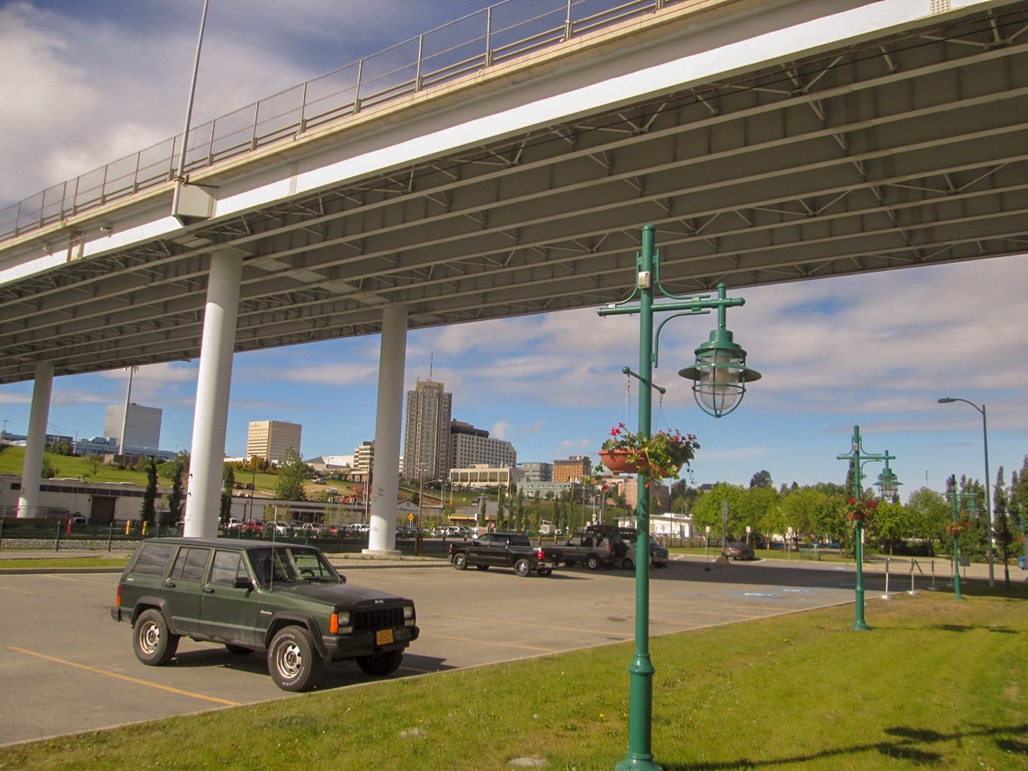 Some of the Anchorage city skyline as viewed under a bypass near our hotel.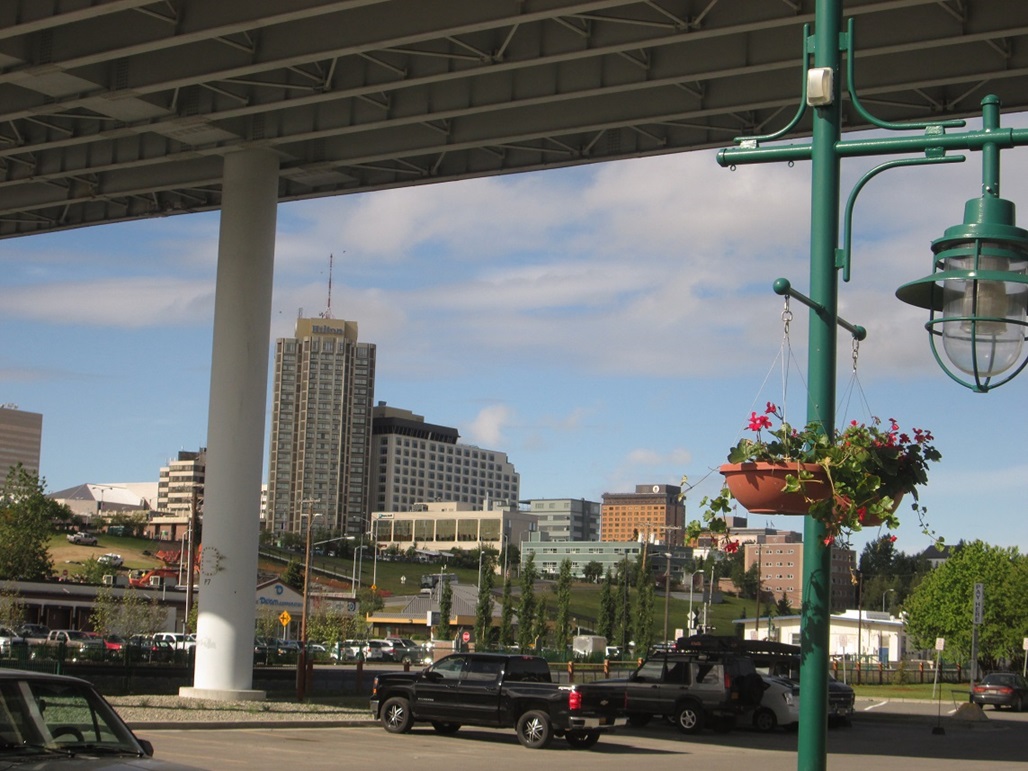 Slight zoom image.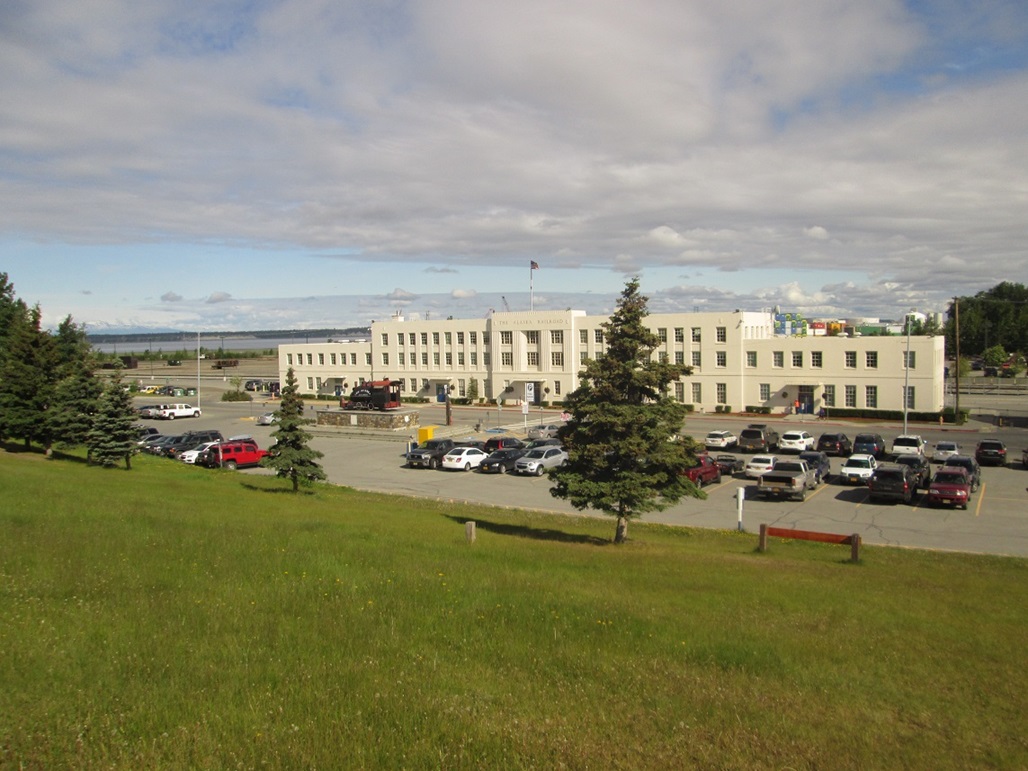 The Alaska Railroad Station.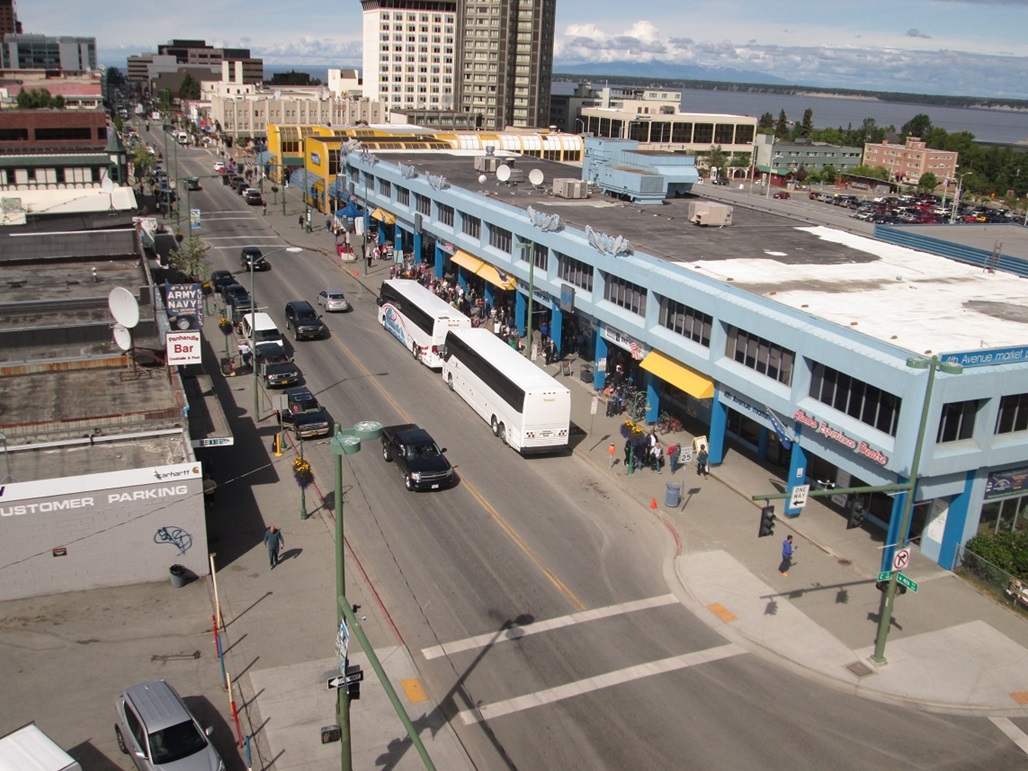 View of the Bicycle Rental Shop and 4th Street, where we met for the hike.

Looking north at our hotel and the bypass, with Government Hill in back.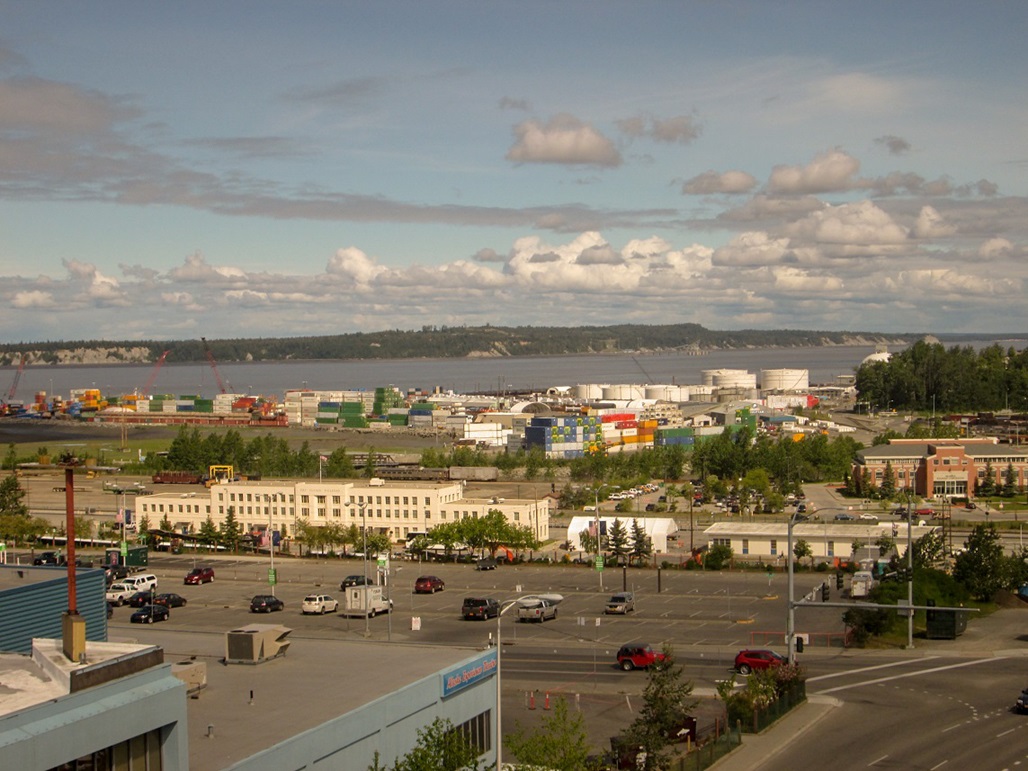 Same view, now slightly northwest.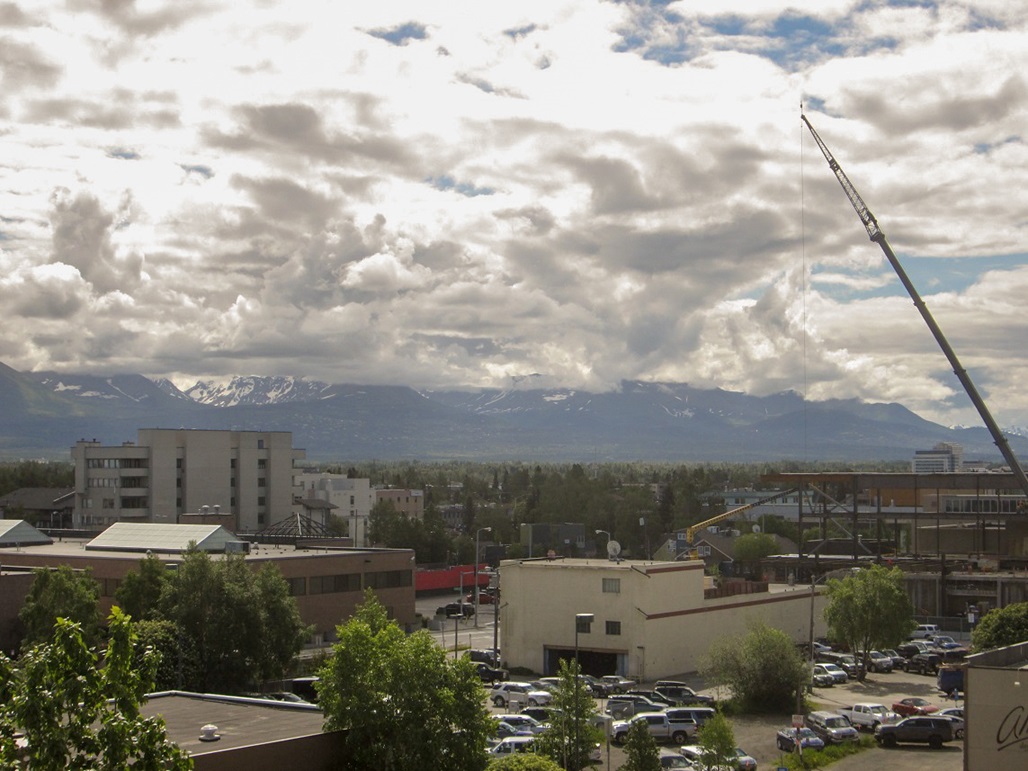 Southeast view of the Chugach Mountains.

East view, same range.
June 3: Hike of Flattop Mountain.