The short road
hike to the top

The summit cairn and building
(looking south)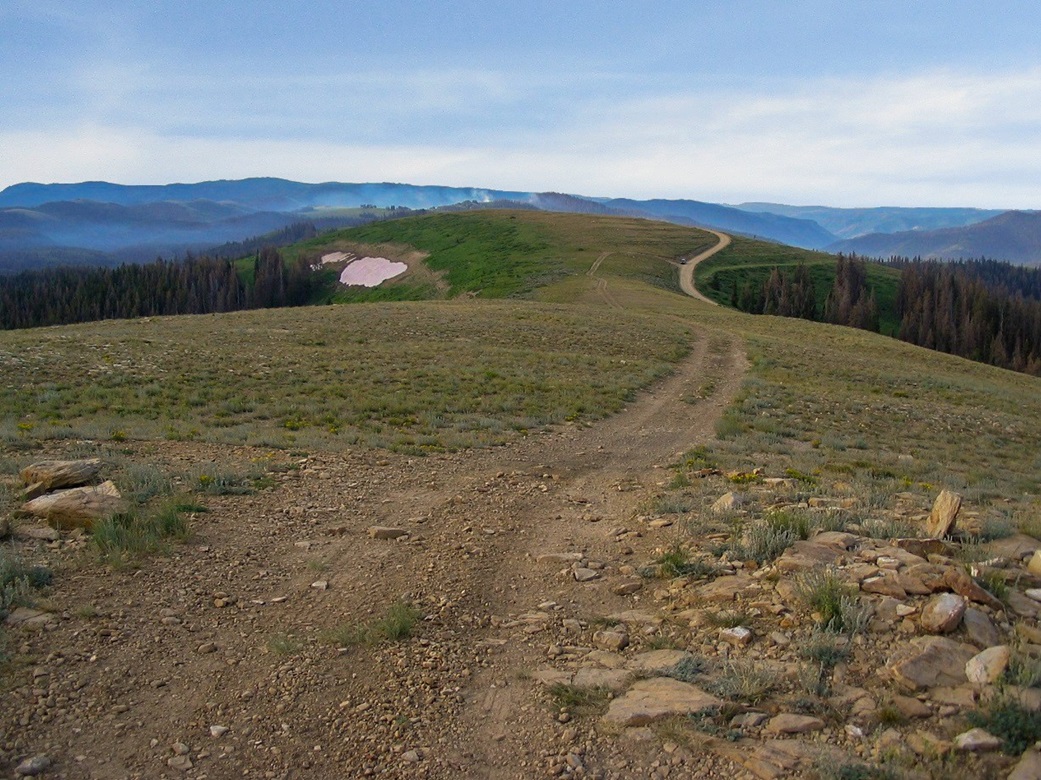 You can see smoke from
a nearby brush fire!
.
Date: July 17, 2006 • Elevation: 10,452 feet • Prominence: 1,617 feet • Distance: 0.5 mile • Time: 1 hour total, 15 minutes hike • Gain: 90 feet • Conditions: Clear but smokey from a nearby burn
I started today in the town of Mount Pleasant, the third day of my central Utah county highpoints trip of 2006. Yesterday had involved two moderate hikes, Fishlake Hightop in Sevier County, then South Tent Peak in Sanpete County. Together, the two hikes made for a long, tiring day, and the awful roads up toward South Tent added to my fatigue, hence my decision to take a cheap hotel in town. Today's plans included two more county highpoints, although both combined shouldn't take more than half a day. First up was Monument Peak, highpoint for Carbon County.
From Mount Pleasant, I followed state highways UT-31 and UT-264 east through the hills and valleys, having the roads mostly to myself at the early morning hour. Monument Peak is accessible by a good mountain road, and sits on the west county boundary with Emery County. The book High In Utah calls this one of the easier highpoints, and I was hoping for a nice morning drive and short hike.
I came to the Forest Road along the Emery-Carbon county line and noted, with some chagrin, an active brush fire in the area immediately south of the peak. But the road was open and the signs didn't prohibit me driving in. I started in, hoping for the best.
Turns out there were no restrictions. The road was in excellent shape, a nice wide, smooth dirt road with mostly gentle slopes. It took about 30 minutes to travel eight miles to the "hairpin" turn as described in High In Utah that doubles back toward the summit. I chose to park here rather than drive. The turn itself was in poor shape, but not so bad I couldn't have driven, but bad enough to prompt me to opt for plan B, a short hike.
I hiked up the remaining road to the broad top, following a two-track etched into the grass and rock. I was on top in 10 minutes, and looked back to view the smoke rising from the fire. Evidently it was just burning grass and not forest, and may have been a deliberate burn started by the fire people. Looking west I tried to pick out South Tent Mountain, but couldn't be sure if I had the right peak. I walked back down and drove out. Total time from the highway up and back was a little over an hour. I proceeded south, backtracking part of the way, toward my next objective, East Peak in Emery County.