Date Climbed
April 13, 2003
Elevation
5,820 feet
Distance
10 miles round trip
Time
7 hours
Gain
2,300 feet
Conditions
Cool, brisk winds

Prominence (Rank)
2,293 feet (#117)
Click on the thumbnail to see a full-size version

Quail Mountain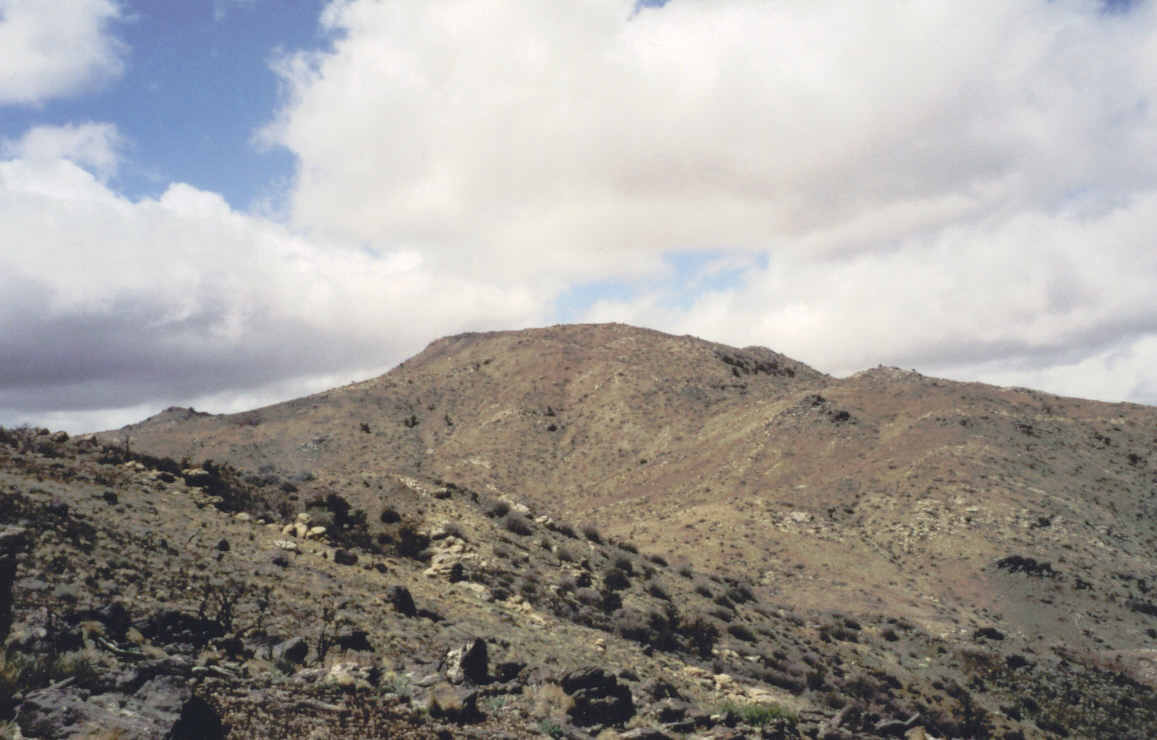 The peak as we come closer

Me at the top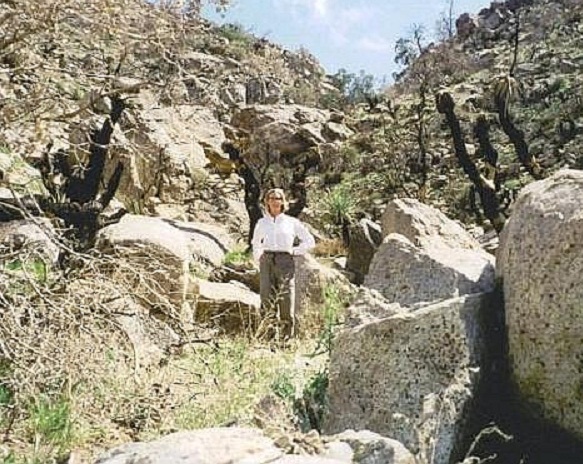 Beth on the descent.

Beth juxtaposed with a
cool Joshua tree and
the peak behind her

A parting shot
Return to the California
County Highpoints Page
Return to the United States Highpoints Page
My fiance Beth and I left Phoenix on Friday the 11th and headed for Southern California for a visit with my brother and his family, and a day hike to the highest point inside Joshua Tree National Park. After a Saturday of visiting and touring my old haunts in Riverside, we drove east along I-10 and CA-62 to the town of Joshua Tree, where we stayed the night at a cheap but clean hotel on the west end of town. The wind was kicking up pretty fiercely most of the day. After a good night's sleep we drove into the park and started our hike of Quail Mountain around 9:30 a.m. Quail Mountain is not too far in from the main park entrance in the town of Joshua Tree along CA-62. I read some previous trip reports and asked around in town for route suggestions, as this is a trail-less peak and not that often climbed. One book suggested hiking up a steep drainage that comes off the summit's northeast flank. Most of the rest of the sources suggested going in via Johnny Lang canyon to the east then walking high ridges for about a mile to the top. We decided to do the latter.
From the main park entrance road at CA-62 in the town of Joshua Tree, we drove southeasterly about 7.7 miles to a paved pullout on the northish side of the road (my left), near an outcropping of granite slabs. From this vantage we could easily make out Quail's summit across the desert flats. I keyed in its UTM coordinates into my GPS and it measured us as 3.75 miles one-way from the top from where we were parked... obviously line-of-sight. I figured at least 5 miles of walking one way. After gearing up we started in. We trekked cross-country across the mostly open desert flat, about a mile, roughly south-southwest, through a sparse Joshua Tree forest. This brought us to a dirt road, long since closed to vehicles. This road is known as Quail Springs Road and comes off the main park road at a picnic site about 2 miles down from where we parked. But our route saved us at least a mile of extra walking one way. We walked west shortly on this road and came upon the junction with a lesser road heading up into Johnny Lang Canyon, at spot elevation 3,812 ft.
Apparently Johnny Lang was an old prospector/settler herein, as there is a "Lang Mine" noted on the map well up into the canyon. The road in started as a two-track, then degenerated into a footpath at a wash. The uphill gradient was very gentle. The footpath grew weaker and often braided in and out with the sandy wash bottom. After about a mile along this path, and just south of where the map shows the "road" to turn into a single-dashed "trail", we decided to start directly up the slopes and make our way into the mountains proper. We hiked up a moderately steep slope on the southeast flanks of peak 5,405, eventually coming to a main saddle just south of that peak. This stretch included some steep gains but there were no technical sections at all. Just steep walking. The wind was now stronger and we often took refuge behind intermittent rock outcrops along the route.
From this saddle (which had a cairn and is evidently a waypoint of the "main" route to the top), we traversed along the southwest ridge from peak 5,405, eventually losing about 420 feet of elevation to come out to a low point at just below 5,000 feet. From here we simply walked up the main southeast ridge of Quail Mountain, arriving at the top at about 1 p.m. in partly cloudy and windy conditions. We took refuge inside a large rock shelter on the elongated summit's south end, where we relaxed, snacked, snapped photos, and even kissed a few times. After about 20 minutes we trekked north along the top to another rock outcrop, where we found the benchmark and a wood/wire thing leaning nearby. The map has this at 5,813 feet; the southern area is clearly higher by about 10 feet. From here we started down to my truck.
We decided to take a chance and descend via the drainage that comes off the summit's northeast flank, as mentioned in one of the guide books. Normally I wouldn'r chance descending via an unknown route but I figured we'd be okay. At first the descent was merely steep... then we found ourselves in the heart of the rocky drainage. For the next 90 minutes we were regularly descending moderate rock slabs and battling vegetation. The downclimbing involved some class-3 boulder hopping and scrambling. After a while, and passing by a nearly complete Bighorn Ram skeleton, we finally found ourselves at the mouth of this canyon, back on the desert flats. It had been a very enjoyable, interesting descent, although I wouldn't suggest it as a way up. Just too brushy and slow going. From here we beelined across the desert pretty much directly back to my truck, arriving at 4 p.m. Six hours later we were back home in Chandler, both a little sore and feeling the buzz of a successful ascent and trip overall.