Date Climbed
August 14 & 15, 1994
Elevation
13,161 feet
Distance
14 miles round trip
Time
24 hours
(Includes overnight camp)
Gain
4,700 feet
Conditions
Clear mornings, stormy afternoons

Prominence
3,409 feet

Click on the thumbnail to see a full-size version

Looking at the peaks
from the Taos Ski Valley

Chris and I before our start in

Chris on the summit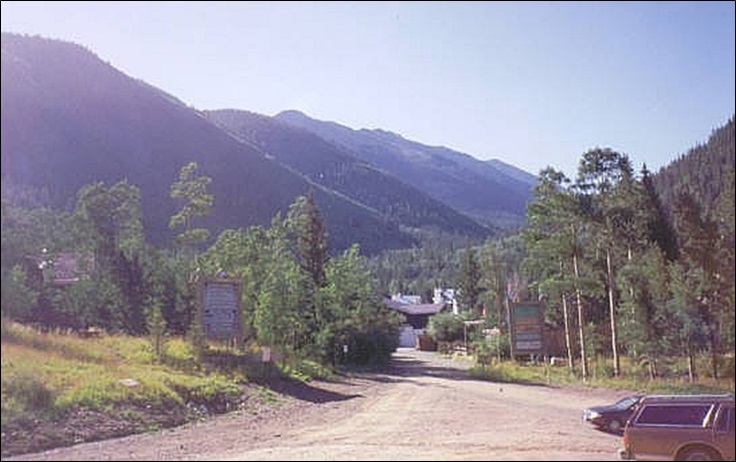 and me, too
&nbsp Summitpost
---
Wheeler Peak is the highpoint of the state of New Mexico, located in the Sangre de Christo Range in Taos County. To this point in my life I had hiked a grand total of three state highpoints, and was admittedly very green to the hobby, and to hiking, climbing and general mountaineering overall. When planning this hike I had nothing to go on. I was unaware of the one or two state highpointing books out on the market back then, and the internet was still a useless curiosity, just coming into the general public at the time.
My brother Chris, 20 at the time, joined me for this hike. The plan was to drive to New Mexico, get maps and figure it all out on the spot. Chris drove to Phoenix from California, then we drove together to Albuquerque, then to Taos, all in one long day from my place in Phoenix. We arrived in Taos in late afternoon in stormy weather, including rain and lightning. We were able to get a topographical map at a map shop along the way. We stayed at a hotel in town that night.
The next day, we checked in with the Forest Service in Taos about the hike. While we gained some good information, this put our actual hiking start off until 9 a.m. The plan was to hike to the La Cal Basin, about 5 miles in toward Wheeler Peak summit, and camp there for the night, then make an early-morning hike to the top, then out all on the second day. The day started out lovely, but we knew enough not to get complacent. The weather called for more storms later in the day.
We followed the Bull-of-the-Woods route, a longer approach but a nicer trail with nice scenery. With packs for a full night, the going was kind of slow, but we made steady progress. The initial hike was through forest, but after an hour we emerged into the Bull of the Woods meadow, then followed some old service road as it encircled Bull of the Woods Peak, eventually cresting at a wooden fence marking the National Forest Boundary. We rested here, the road portion now ended and the long pretty hike along the ridge about to start. A small glade of trees gave us some shade. We had covered about three miles and it was not yet 11 a.m.; we were doing alrigfht and the weather was still in pretty good shape, too.
Moving again, we ascended through sparse forest and mostly open high ridge terrain for about another hour, reaching nearly 12,000 feet of elevation before descending steeply into the verdant La Cal Basin. This proved to be a beautiful camping area, and we set up our tent in short order. It had taken us about 3.5 hours to cover these 5 miles, and the weather was holding steady ... sort of. The clouds started to get puffy and form from nowhere, so we knew we might be in for some more action. We spent some time exploring the area, talking with a father-son team also camped nearby, and doing some exploratory hikes. Mostly we just relaxed and enjoyed the solitude, quiet and scents. Sure enough, by 4 p.m. we got hit with some squally rains and thunder, but within an hour the storms had dissipated and we were able to get some more goofing-off time outside before the sun set for the evening.
Very early the next morning, we awoke and started the hike to the top. We were just a couple miles away from the summit. From out camp we followed the trail as it gained moderately steeply out of La Cal Basin. It switchbacked through some forest, then broke into the open and made two long sweeping switchbacks across grassy slopes to gain the main high ridge. We walked southerly toward an obvious peak, and were happy to gain this peak's summit, only to discover it was Walker Peak, which is lower than Wheeler by a few feet.
Fortunately, Wheeler Peak was just a few minutes' walk away, and we were at the top of New Mexico by 7:30 a.m. in very pleasant, cool and dry conditions. The sky was cloudless, and we had unlimited views in all directions: the big peaks north in Colorado, more big peaks south of us, and high desert and foothills to the east and west. We stayed for about 20 minutes, snacked, took some photos and made friends with a chubby pika looking for some free grub (he got some).
We descended back to our camp after about an hour of downhill hiking. We disassembled everything and within another half-hour or so were making our way back to the truck. The uphill slog from La Cal Basin to the high ridge was slow going, but overall we made decent time. We took a number of rest stops, partly caused by our being low on water. We finally egressed at 1 p.m. and quickly drove into the Taos Ski Valley shops for some desparately needed gatorade and water.
The hike was spectacular, a 15-mile round trip journey with about 4,700 feet of gain to make the summit. While many people do it in a day, we enjoyed the campout at La Cal Basin and made for a wonderfully enjoyable two-day outing.
Once we were sufficiently watered and rested we started the drive toward Pagosa Springs, Colorado, where we crashed for the evening. The next day we visited Mesa Verde National Park and the amazing cliff cities there. That took a few hours out of our day, and we made the long drive back to Phoenix that evening via the Navajo Nation, arriving almost around midnight. Chris stayed the night and headed back to California the next day. I enjoyed my hike with Chris and was happy we had made the summit given our lack of any advance knowledge of the peak. For me, this was my 4th state highpoint.