Boardshack Knoll
&nbsp


Initial hike into the trees
&nbsp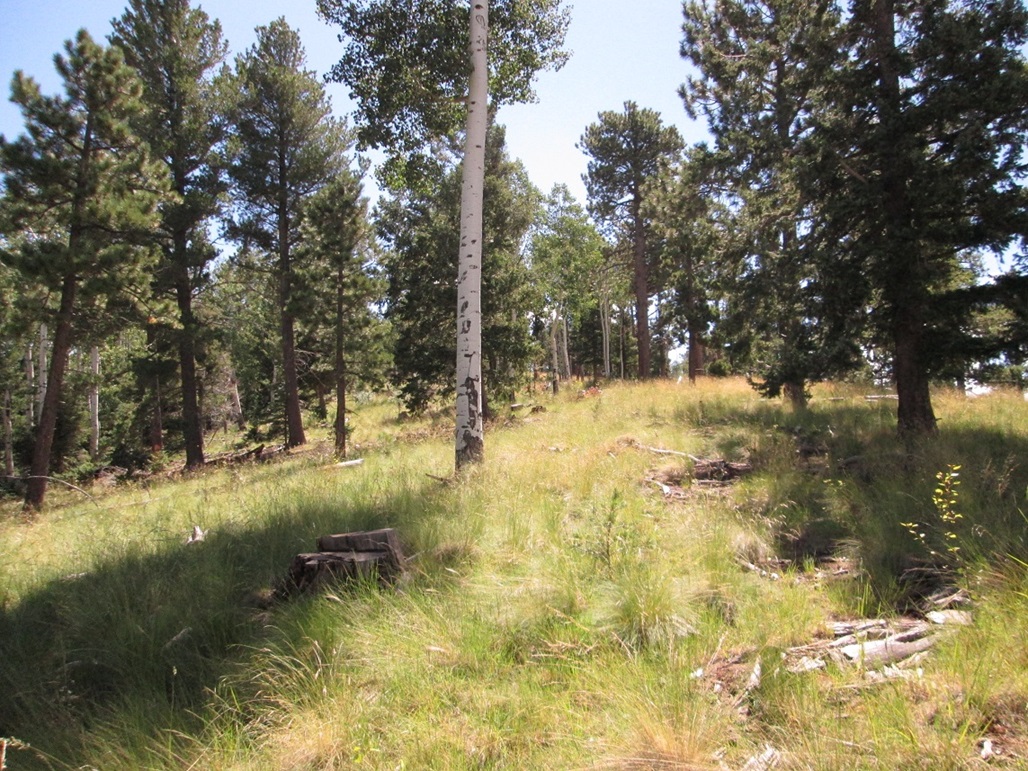 Approaching the top...
&nbsp


...closer...
&nbsp


And we're there
&nbsp


Returning to my truck
&nbsp

&nbsp
Date: August 16, 2014 • Elevation: 9,524 feet • Prominence: 307 feet • Distance: 0.8 mile • Time: 30 minutes • Gain: 350 feet • Conditions: Sunny, humid
Boardshack Knoll is just a simple bump, the easiest of the five hills I would hike this weekend. Coming from nearby Cow Hill, I drove south on AZ-273 to the turn-off to FR-112, the same road that leads to Pole Knoll about four miles to the north. I followed FR-112 north about a mile, then followed a scanter two-track road east a little. I parked in a pullout on Boardshack's north slope, immediately above the lovely grass meadows surrounding the peak.
I started walking south into the trees, following a grassy ridge upwards, then angling through thicker growth and a few downed trees, following open areas as much as possible. Soon, I was on the main top ridge, the trees having thinned out a little by now.
I angled left and simply walked upward until I was at the top. It wasn't much of a summit, the views being blocked by trees. I used this hike as an opportunity to work on my navigation skills, trying to locate visual cues to help navigate through the trees. It's always good to practice. The hike down was easy, and I tried deliberately to follow the same visual cues I had seen on the way up.
I was back to my truck quickly, the round trip taking no more than a half hour. It was an easy little hike. From here, I drove back to the campground to hang with Beth. The weather was heloding steady, for now. Later in the afternoon, we drove down to Big Lake, about 15 miles south. I wanted to hike Big Lake Knoll, but by now a gigantic thunderhead had amassed and it started to rain and drop lightning. Also, Big Lake Knoll had been burned out in the Wallow Fire from 2011. Thus, I decided to skip the hike. We enjoyed touring Big Lake, though.
This was it for my hikes. We packed camp early the next morning and drove back home, arriving Sunday afternoon.