Arrive to Anchorage
June 2: In March of this year, my father proposed a trip to Alaska, with "the boys", me and my brother. None of us had ever been to Alaska before. My father viewed this trip as a "bucket list" trip. Of course I was interested! Ultimately, those on the trip would be my father, me, my brother Chris, his wife Diana, and two children, Emma and Rawlins.
My father made all arrangements and covered all costs. Timing was important too, as the places we intended to visit needed to be accessible. He settled on early June. The trip would be short but intense: land in Anchorage, take the train to Denali Park, do a day-long bus tour of Denali National Park, take the train back to Anchorage, then fly home. We would be in Alaska for five days.
I flew from Phoenix to Las Vegas on June 1st, then we got an early start on the 2nd. Our flight out of Las Vegas to Seattle left at 6:50 a.m., and my dad was so pumped that we left early, getting to the airport at 3:30 a.m. This had an upside: the security checkpoint took us about five minutes. We then walked to the gate, and not surprisingly, we were the first ones there.
The flight to Seattle went well. The plane was just half full. In Seattle, we met my brother and his family. Then, the six of us flew to Anchorage, arriving about 3 p.m. local time. The descent was exciting, viewing the rugged, snow-covered peaks poking up through the clouds. My nephew Rawlins remarked that it had taken him 13 years—his whole life—to get here. My dad replied it had taken him 74 years!
We got to the hotel, located near Ship Creek which is located in the north part of the city, near Government Hill, which is where the city was first settled about a hundred years ago. Then we walked into downtown and looked for a place to eat. We ate at a place called the Fat Ptarmigan, which had pizzas, beers and other hearty food with an Alaskan angle. I had a salmon pizza.
The rest of the day we had to ourselves. All of us at one time or another walked to Ship Creek to watch all the anglers fishing for salmon. Apparently, the season had just opened, and the shores were lined with anglers, one every twenty feet. Some were catching big fish, upwards to 20 pounds. It was fun to watch.
Up this far north, and nearing the summer solstice, the sun did not set until about 11:30 p.m. As late as 10 p.m., the sun was still high in the sky, shining brightly, not even "sunsetty" yet. This blew my mind. This was the first time I had ever experienced such late sun. I was thoroughly amused by it.
Anchorage City Scenes

Some of the Anchorage city skyline as viewed under a bypass near our hotel.

&nbsp


Slight zoom image.

&nbsp


The Alaska Railroad Station.

&nbsp

&nbsp


View of the Bicycle Rental Shop and 4th Street, where we met for the hike.

&nbsp


Looking north at our hotel and the bypass, with Government Hill in back.

&nbsp


Same view, now slightly northwest.

&nbsp


Southeast view of the Chugach Mountains.

&nbsp


East view, same range.

&nbsp
---
Flattop Mountain Hike
Date: June 3, 2016 • Elevation: 3,510 feet • Prominence: 229 feet • Distance: 3.2 miles • Time: 90 minutes • Gain: 1,350 feet • Conditions: Cold with drizzly rain at the top and a low cloud ceiling • Teammates: About 150 other hikers and dogs
June 3rd: The next day, June 3rd, we had open. I had already made advance plans to hike a peak, any peak, just to say I had climbed a peak in Alaska. The Chugach Mountains rise high above Anchorage to the east, and these are not small peaks either. Most of its summits are snow and glacier-bound, with craggy rock, peaks that would take a day minimum to climb. I did not have that kind of time, nor any gear with me more advanced than hiking shoes and a jacket.
However, there is one fantastic option: Flattop Mountain, which is a bump along a ridge that rises to top out at Ptarmigan Peak. I could even see the peak when we had landed at the airport. Flattop Mountain does not have much prominence (about 250 feet), but it does have a trail which gains over 1,300 vertical feet, and includes a little hand-over-hand scrambling near the top. It is Anchorage's most popular hike, and is apparently hiked hundreds of times daily. A wilderness experience this would be not, but it looked like a great hike on its own merits.
Also, there is an outfit in downtown Anchorage that rents bicycles and also offers a shuttle service to the trailhead for a reasonable price. This would absolve me of needing to get a taxi or rent a car. I went through the Hike Alaska website to get my name in their list.
From the hotel, I walked into town deliberately early so I could tour the streets, see what kind of shops there were. I popped into the bike shop to make myself known and sign a couple waiver sheets, plus meet Peter, the owner and shuttle bus driver and all-around cool dude. We were set to depart at 12:45, so I hung out there starting at 12:30, meeting a few other hikers in the interim. The murals nearby depict the great 1964 earthquake, with lots of photos showing the incredible damage.
We piled into the van, about eight of us plus Peter. He pointed out sights in the city. The drive to the trailhead took about 30 minutes. When we arrived, the cloud ceiling was lower—or more accurately, we were higher up, about elevation 2,000 feet. The clouds were bunched up against the peaks, as they always apparently do here.
I was moving quickly. The trail is easy to find and in great shape. It's wide and flat, with no rocks or ankle-twisting ruts to slow one down. It was steep in places, too. The initial hundred vertical feet weaves through stunted fir trees, some with gnarled trunks presumably battered by years of wind and snow. Once above the trees, that was it for the bushes. This far north, treeline can be very low.
I followed the main route—basically, what everyone else was following. I was out ahead from everyone from our group, but there were many other people here, so getting off route was nearly impossible. There are loop options, but I kept to the most beaten path. The route angles up and trends east toward a saddle. Beyond the saddle, the route stays on the south-facing slopes of the ridge, but is augmented in placed by railroad ties, which form steps. Otherwise, erosion would overwhelm the trail due to its high usage. The steps also help with the steeper sections. In many ways, this was similar to Camelback Peak in Phoenix, except that the hikers here weren't 90% naked like they are down there.
The route gains steeply to a second saddle, the last one below the summit. Beyond this saddle, the route goes steeply up a rubble field, then the last couple hundred feet is on the rock directly. Many people evidently get to the second saddle and go no farther. To the second saddle, I had walked a little over a mile and gained about 900 feet. The clouds were low and the weather cool, with sometimes-strong breezes.
I found scant paths in the lower talus and scree slopes. The trails, such as they are, are scant and often braid with other trails, before disappearing. Now on the rock itself, I found the route easily—small orange dots painted in spits help just in case. Up this high, there was still a lot of mud, plus some snow fields not yet melted. I was able to scamper up the rock slopes, rating the worst as easy class-3. It went fast, and soon, I was on "top", near a rock pile holding a post with the American and Alaskan flags.
It had taken me 40 minutes to get here, a 1.6-mile walk with 1,350 feet of gain. I had been moving fast for a few reasons: one, we were under a time limit, needing to be back to the trailhead by 4 p.m. (which I would be easily, now being barely past 2 p.m.); two, I was hoping I would have time to hike over to the appropriately-named "Peak 2"; and three, to my chagrin, the weather started to decay a little, with a steady drizzle now falling.
The top of Flattop Mountain is flat, and the flag-summit is not its highest point. Two other rock outcrops nearby are, so I visited both, the farthest about a two-hundred foot walk to the south. I immediately gave up plans to hike to Peak 2 as the rain was falling heavier and the clouds were blotting out its top. I didn't see the point to hike to it just to stand in white-out. I was a little more concerned about the rain and the slick rocks. I spent about ten minutes up top, then started down.
The initial climb down went slow. The rock was very slick due to the rain, so I went very slowly, scooting down on all fives just to be extra careful. Once off the rocks and back on the paths, I could now move faster. One of the people from our shuttle group, a German woman named Heike (how appropriate), had got almost to the top, but had turned around on the rocks when it started to rain. I caught up to her and we hiked out together. She would stop often for photos, so the last half-mile, I jogged out on my own. Heike was about two minutes behind me.
Everyone else from our group was back in the shuttle! They had all bailed when the weather got wet. Even though it was not yet 3 p.m., it was apparent that everyone wanted to get back to town. They were waiting for me and Heike. Anyway, I saw no reason to stick around. I had got what I wanted, so I piled in and we were off, arriving back to Peter's shop a little before 4 p.m. I thanked him, then got a meal at a nearby sub shop. I heartily recommend Peter's outfit if you are in Anchorage and want to hike the peak. I have no compunctions about giving him some free publicity here.
I was back to the hotel about 5 p.m., where I showered, took a nap, and visited with my dad. I spent much of the rest of the day and evening watching the fishers out on Ship Creek, then staying up to about 11 in the bright sun just wandering.
Flattop Mountain Hike

Flattop Mountain as seen from the parking lot.

&nbsp


Looking over at Mount O'Malley.

&nbsp


Flattop's top again.

&nbsp


The summit from closer in.

&nbsp


Part of the railroad tie section.

&nbsp


A steep push to get to the saddle below the summit block.

&nbsp


The final rocky scramble section. You can see some people near the top.

&nbsp


Looking down from the same vantage point as the previous photograph.

&nbsp


Me holding open the Alaskan flag.

&nbsp


Looking over at Peak 2.

&nbsp


South view toward a summit bump.

&nbsp


North view back where the flags are. The little dog was actually hauled up in his master's backpack.

&nbsp


Northwest view toward Anchorage.

&nbsp


A float plane.

&nbsp


South view. It's impossible to get the scale in a photograph.

&nbsp


Montage: husky puppy, gnarled trees down low, view of the peak from the airport, one more peak view.

&nbsp
---
Alaska Railroad: Anchorage to Denali Park
June 4th: Today we would take the railroad—the Alaska Railroad—about 240 miles north to the small town of Denali Park, which sits east of the Denali National Park boundary. The ride itself would take about 8 hours, since the train usually rumbles along at about 50 miles per hour, with stops along the way. I believe this is the first time I have ever taken a train within the United States, not counting metro-trains in the big cities.
From our hotel, the train station was juts a short walk, and we were there about 6:30 a.m., getting our bags checked. We boarded a little after 7, then started the journey. The route goes northeast to Wasilla, then west, then north, following the Susitna River for most of the way. I learned (as did everyone else) that "na" is a common suffix, the Athabaskan word for "river", so "Susitna River" is actually a little redundant.
The scenery was amazing. We had great views of the majestic Chugach Mountains at first. Then there was a boring stretch around Wasilla. Once on the Susitna, we had the river to one side, steep verdant slopes to the other. Occasionally, the train would cross these large rivers over giant arch bridges. The engineers would slow down to allow us to take photographs. We saw a lot of wildlife, too, including moose, swans and caribou ... but no bears.
The train stopped for about ten minutes in Talkeetna, and as we headed north, the peaks grew in size, but unfortunately, the biggest peaks, including Denali itself, we hidden in the clouds. They say it's like this 90% of the time.
We arrived in Denali Park about 4 p.m., where we were shuttled to our hotel. Later, my dad and I walked into town. The town here is purely to serve tourists. It boards up between October and April. Healy, the closest real town, is about 20 miles north. Fairbanks was still another hundred miles away. This set a record for me: the farthest north I have ever been (GPS Image)
The weather here was cool, with highs in the low 50s, and cloudy, but calm, too. Big Mount Healy rose to the west, its summit barely poking the cloud ceiling.
I had thoughts of quickly "bagging" a peak while here, but I realized very quickly that in Alaska, there is no such thing as "quickie peakbagging". The upper ridges of the peaks are rocky arête, surrounded by long scree slopes. The lower slopes are covered in extremely dense vegetation, the kind that grows 10 feet high and would require a machete to bash through. The vegetation can hide beasts like moose and bears. This is the major leagues up here. I loved every minute of it.
My dad and I ate at the restaurant at the hotel, while my brother and his family went into town for their meal. Today was my birthday, too. I turned 49 today, amused to be celebrating my 49th birthday while visiting the 49th state, which also happens to be my 49th state visited (I now only lack Maine).
The Alaska Railroad

Boarding the train in Anchorage.

&nbsp


The Anchorage sign.

&nbsp


Dad in Talkeetna.

&nbsp

&nbsp


View of the Alaskan Range.

&nbsp


Whimsical sign.

&nbsp


Dad, with Mount Healy in the back.

&nbsp


At the Denali Park Station before we depart.

&nbsp


The train shows up.

&nbsp


Sherman City Hall.

&nbsp
---
Denali National Park Bus Tour
June 5th: So today was the big day, the centerpiece day of our fast trip into Alaska. We would be taking one of the bus tours that are allowed to drive the entirety of the park road, a 92-mile journey west to the locale of Kantishna. This is the only developed road within the gigantic Denali National Park. Non-authorized vehicles can drive in 15 miles.
We were picked up by the tour at our hotel a little after 6 in the morning. We then picked up a few more people, then started the drive to the entrance. The driver's name was Doug or Dave. He was amusing, with a good sense of humor.
The first fifteen miles are paved, to the Savage River Ranger Station. The route cuts west through a broad valley of spotty fir and dense leafy underbrush. We saw wildlife immediately, mainly moose at first, then caribou.
Past the checkpoint, the road continues, now gravel, but well maintained to accommodate the big busses. We stopped about every hour to get out, take photos, and use the restrooms since the busses did not have any on board. We stopped at the Teklanika River at about the 30th mile, then the Polychrome Overlook at about the 48th mile. Here, we were nearly 4,000 feet in elevation, and it was quite cold, but the views were amazing, despite the low clouds.
At times, the road hugs the steep slopes of the mountains, with thousand-foot drops in places. The driver assured us that they have never lost a bus on these trips, that they're always found at the bottom.
We then stopped at the Toklat River, the 55th mile or so. Here, there is a bookstore, of all things. The National Park has a small outpost here. The driver had hot water for coffee, plus cookies. Not surprisingly, everyone beelined for the toilets.
We then stopped at the Eielson Visitor's Center (mile 66), with up-front views of the big peaks, assuming the clouds would ever lift. Somewhere along this stretch we spotted a grizzly bear off in the distance. Two caribou were circling it, but the bear stayed put. Normally, a bear might chase down a caribou, but some people were able to take a zoom-image of the bear and see what appeared to be a carcass with it. Presumably, the bear had caught a baby caribou and was eating it, while the other two caribou were its mom and sibling, trying to scare off the bear. It was sad for the baby caribou, but awesome to see this—nature in its rawest form.
We finally rolled into the Kantishna area. In the olden days, it was an actual town, a remote town of miners and recluses. The most famous resident is a woman named Annie Quigley, who hunted, trapped, farmed, mushed and all those things on her own for many years. She was famous for years, and her home is still maintained by the National Park service. I took a tour of it later.
We stopped at the Denali Backcountry Lodge, where there was a big lunch waiting us. We ate, then had about two hours to wander the area. This is where I visited the old house, plus explore other buildings, the nearby Moose River. The weather was misty with a steady drizzle.
We started the drive out at 2:30, and it went faster since we didn't stop as often, but we did stop again when we saw another grizzly, a momma bear with two cubs high on a slope. I took one image of it but it came out terribly. I was content to watch it without photographing it.
We were back out to the main highway at 6:30 p.m. and dropped off at our hotel. The day had been fantastic, despite the worsening weather. I never did see Denali.
(The name of the peak, Denali, is now official, replacing Mount McKinley. The old name was never popular with Alaskans, who have always called it Denali. The McKinley name got attached to it by a miner back around the time McKinley was running for president. McKinley had no conection to Alaska. In 1980, when the park was formed, it was named Denali National Park. The peak's name was formally changed for good in 2015. It is simply "Denali", not Mount Denali, or Denali Peak. Years ago, I had ideas of climbing it, but decided that I was not that interested. However, I would have liked to seen it.)
Denali National Park Bus Tour to Kantishna

Teklanika River looking West.

&nbsp


Now looking North.

&nbsp


Dad at Polychrome Pass.

&nbsp


Then me...

&nbsp


... and Rawlins.

&nbsp


Dad and Chris at the bus.

&nbsp


Toklat River, southeast.

&nbsp


Toklat River, North.

&nbsp


Toklat River, southwest.

&nbsp


Big peaks, at the Eielson Visitor's Center.

&nbsp


More massive peaks.

&nbsp


Moose!

&nbsp


Denali Backcountry Lodge.

&nbsp


View of the buildings.

&nbsp


More buildings.

&nbsp


A suspension bridge!

&nbsp


Caribou.

&nbsp
---
Return to Anchorage and flight home
June 6th and 7th: With the bus tour done, we returned to Anchorage via the railway, arriving into the city at 8 p.m., and staying at the same hotel. Our trip was done, so we were in the "going home" mindset. The ride south went great, but the clouds stayed low and actually dumped over an inch of rain on Anchorage, a record for the date said the news.
The next day, our flight out of Anchorage was not until 2 p.m., so we had time to kill. I didn't do much except sit and read, and wander a little bit. The flight to Seattle went well. My father and I had just an hour between our connecting flight to Las Vegas, so we bid Chris and his family goodbye at the airport, then hustled to get to the gate for the Las Vegas leg of the flight.
That flight went well, too. It was not very full either. It was dark by the time we descended into Las Vegas. My dad had found some open seats and was watching the lights of the city as we descended. In all his years of living in Vegas, he'd never flown into the city at night.
The trip had been fantastic, and everything had gone well. There were no delays, no lost luggage, no breakdowns, nothing like that. I was happy to have visited Alaska, albeit for such a short period of time.
My father had mentioned repeatedly about this being his big "bucket list" journey. He had a great time. He was like a kid in the candy store. "You can take me out back and shoot me now," he'd tell us. His little way of saying he's seen it all and is a happy man.
As we descended into the Las Vegas airport, I became melancholic, realizing how special this trip had been for him and for us. He did not want to go alone, and he knew that my brother and I would jump at a chance to visit Alaska.
My father is 74 and in pretty darn good health for a man his age. I enjoyed watching him have the time of his life, and I drew a lot of positive energy from watching him. I have rarely seen him happier.
I'm no kid myself, and I realize that I need to be in the moment at times like this, to fully realize how special this trip was. When the inevitable happens, I will always have this wonderful and positive memory. I realized this sitting in the half-filled airplane, my dad's face pasted to the window, my ears popping due to the change in pressure. This may have been the big trip we'll always talk about. I hope we can talk about it in 15 years, but I will be grateful no matter what the future holds. I realize how lucky I am, proud to be my old man's son. Thanks, pop, I love you!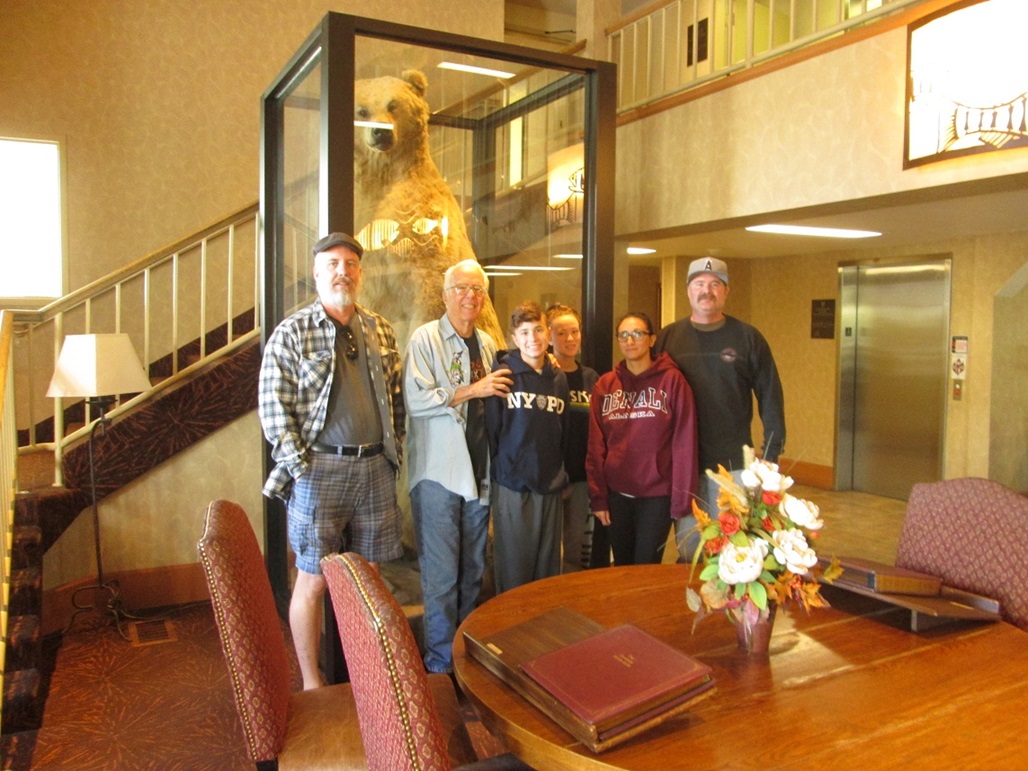 Me, my dad, Rawlins, Emma, Diana, Chris at the hotel before we left.

I still had one more flight, from Las Vegas to Phoenix, which I did the next day with no mishaps. My wife picked me up. I was happy to be home, and very happy overall.

Return to the main page

&nbsp